Duke Inducts New Members into Phi Beta Kappa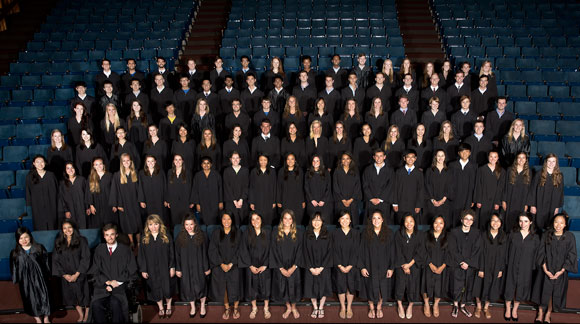 The nation's oldest academic honor society inducted 166 Duke University juniors, seniors and alumni in Reynolds Theater on Thursday, May 7. The Phi Beta Kappa initiation launched the class of 2015 graduation events for family and friends. Initiates too the stage to sign their names into the Beta Chapter of North Carolina registry.
Founded in 1776, Phi Beta Kappa elects over 15,000 new members a year from 276 chapters across the United States.
The Duke Chapter, Beta of North Carolina, was formed in 1920 at Trinity College. The chapter's four Phi Beta Kappa faculty officers welcomed the new members last night with the society's traditional handshake. Officers are: Steve Nowicki, president; Michelle Connolly, vice president; Michael Gustafson, secretary/treasurer; and Betsy Alden, member-at-large. During last night's ceremony, the guide calling each initiate's name was Margaret Lou Brown. Susan Lozier, Ronie-Richelle Garcia-Johnson Professor of Earth and Ocean Sciences at Duke, delivered the keynote address.
Phi Beta Kappa honor society is the nation's leading advocate for arts and sciences at the undergraduate level.
The 2015 inductees are:
Justin Amaral Amezquita
Rachel Sara Anderson
Nicholas Stephen Andrade
Shubhangi Arora
Chun Sun Baak
Mingru Bai
Erik Lane Bao
Kari Bjorn Senkowski Barclay
Sarah Elizabeth Rogers Berman
Katherine Elizabeth Brock
Lindsey Shoemaker Brown
Cara Imogene Buchicchio
David Alan Builes
Jeffrey Campbell
Gregory Humberto Canal
Hannah Meredith Carl
Yvonne Yi Yan Chan
Lefko Theo Charalambous
Mary Christina Chavarria
Catherine Chen
Olivia Ya-Wei Chen
Stephanie Chien-Ting Chen
Suk Hyun Choi
Katherine Jean Congleton
Christine Rose Costello
Christine Alexander Delp
Lucy Marie Dicks-Mireaux
Dwight Raymond DiPasquale
Qi Dong
Heather Jeanine Durham
Emelyn Carrie Erickson
Harish Eswaran
Christine Lynne Farrell
Seamus FitzPatrick
Rachel Lauren Fleder
Maya Caroline Flippen
Blair Elizabeth Ganson
Ashley Kaitlynn Gartin
Anastasia Gazgalis
Stephen Edward Ghazikhanian
Amanda Giddon
Vinay Giri
Michael Joseph Gloudemans
Luke Christerson Glover
Jacob Joseph Golan
Jessica Ashley Gold
Naihua Natalie Gong
Marcus Granlund
Lisa Ning Guo
Elizabeth Hannah
Katherine Ann Hardiman
Taylor Margaret Haynes
Destiny Love Hemphill
Melanie Heredia
Gihan Bhagye Hewage
Alexander Joseph Hish
Kim Lien Hoang
Samuel Hofacker
Emily Holway
Suqi Huang
Alexandra Grace Huttler
Beatrix Esther Hutton
Joshua Michael Izzard
Lauren Elizabeth Jackson
Andrew Seth Jacobs
Caroline Michelle Jacobs
Jie Lisa Ji
Zhiyu Jiang
Chia Wei Jie
Jingxiao Jin
David Jones
Joshua David Kamrass
Manoj Kanagaraj
Lauren Meredith Kane
Andrew Rami Abdul Karim
Woojin Kim
Stephen Joseph Kirchner
Dayoung Ko
Christian Alexander Kreb
Jameson Ye Kuang
Abdul Rahman Latif
Christie Marie Lawrence
Timothy Charles Lerow
Elizabeth Pidcock Lester
Ang Li
David Edwin Lillington
Abigail Lin
Ching Ying Lin
Runjing Liu
Alexis Lauren Lo
Austin Qingfeng Lu
David Torrey Lubkin
John Wiltshire Lucas
Kathryn Alexandra McCormick
Reed Adam McGinley-Stempel
Margaret Taylor Morrison
Jeesoo Nam
Brahma Darshni Natarajan
Jasmine C. Nee
Abigail Rae Ness
Tyler Calvin Nisonoff
Kirsten Carmel Osborne
Juhyun Park
Michael Pelle
Frederick B. Peng
Matthew Allen Peterson
Cinthia Xinbai Pi
Cassidy Amber Pomeroy-Carter
Katherine Mills Prendergast
Thomas Andrew Puglisi
Anand Krishna Raghuraman
Paula Kamini Pushpanjali Rambarat
Carolyn Grace Rath
Jason Edward Rice
Maria Cecilia Romano
Lindsay Diane Rosenthal
John Christian Ruckelshaus IV
Aditi Sabhlok
Clay Michael Sanders
Justin McGreal Sandulli
Caroline Anna Schechinger
Samuel Lawrence Schloss
Victoria Arden Scott
Keshov Kumar Sharma
Liangbo Shen
Jordyn Freddi Silverstein
Jeffrey Ryan Sims
Devin Mukesh Solanki
Won Ji Beth Song
Zhiang Song
Meredith Taylor Stabel
Alexis Ann Stanley
Haley Kirchner Sullivan
Lillian D. Sun
Amee Tan
Christelle Tan
Kevin Tie
Marietta Tung
Christina Vucich
Kirsten Elizabeth Walther
Luxi Wan
Allen Wang
Annabel Zishuo Wang
Jay Meng Wang
Laura X. Wang
Xueyang Wang
Katie Michelle Weidman
Colette Annie Whitney
Grace Gustafson Willert
Daniel Patrick Wood
Angela Rae Woods
Danwei Wu
Stephanie Wu
Yingsheng Xiao
Wenjia Xu
Joseph P Yetter
Victoria Lim Zhen Yi
Katherine Zhang
Yueran Zhang
Emma Jane Zhao
Alex Zihao Zhu
Hong Zhu
Katherine Hou Zhu
Joshua Abraham Zlotnick
Roger Shu-Hong Zou