Staff Go Extra Mile During Winter Weather
Facilities, Dining and other areas respond to two rounds of ice and snow
Last week, crews from across the university and health system took to sidewalks and campus roads, racking up nearly 3,000 work hours as temperatures struggled to get above freezing with snowfall of up to eight inches in some parts of the city.
Crews sprayed 2,100 gallons of brine and dumped 30,000 pounds of salt and 80,000 pounds of sand to clear wintry mixes and help vehicles and pedestrians move safely around campus. They also responded to 25 downed trees.
Read More
"We are extremely fortunate to have such dedicated employees," said Kyle Cavanaugh, vice president for administration. "In some cases, they literally worked around the clock to create as safe an environment as possible for our patients, students, faculty, staff, and visitors."
After one round of wintry weather Feb. 16 and 17, Duke officials began monitoring a second storm system early last week when the National Weather Service projected a "significant" winter storm for the Triangle area. Classes were canceled Feb. 26, and by the next morning, some areas of Durham had received 6 to 8 inches of snow.
During the storm last week, Parking and Transportation Services provided 486 rides from the morning of Feb. 26 through end of the next day as part of its "snow desk," an on-call van service run that offers high-priority medical staff rides from their homes to the Health System and back again.
"Our expectations were to get transportation moving and allow students to get around safely as soon as possible," said Bryan Hooks, director of grounds for Facilities Management. "We were obviously concerned for patient care and worker safety, and situations like that are about concern for everyone's wellbeing."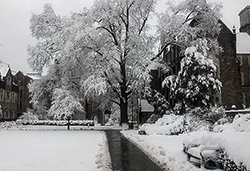 Annette Tillery took this photo of West Campus the morning after an intense snowfall in Durham. She credited Facilities staff for keeping walkways clear overnight. Photo courtesy of Annette Tillery.
Annette Tillery, a senior library assistant who worked at Perkins and Bostock libraries and stayed on campus from 4:30 p.m. Wednesday through 8 a.m. Friday before she could safely travel home to Raleigh.
"Duke was on-point," she said. "There was a person clearing sidewalks overnight, coming through every 45 minutes to keep things clear and safe for students and staff to come in. It was amazing."
Tillery was among the Duke Libraries staff and student workers who kept main libraries on normal hours throughout the storm, including 24 hour access to Perkins and Bostock.
"I love the students, I love what I do and I love the library, so it was imperative to make sure things stayed normal," Tillery said.
The same attitude was found at the Duke Lemur Center, which had staff on-site for 84 straight hours from Feb. 25 through Feb. 28 – which included 17 straight by Wes Phillips, the center's facilities manager. A variety of staff were needed to not just care for the animals, but also keep sidewalks, driveways and parking lots clear so employees could get to buildings safely and check on hundreds of lemurs.
"The staff who stayed overnight worked in shifts, grabbing two hours of sleep at a time in sleeping bags tucked away in offices," said Greg Dye, operations manager for the Lemur Center.
Back on campus, Duke Dining staff kept the East Campus Marketplace and West Campus' Penn Pavilion operating at nearly full service with supervisors and staff serving students.
"On two snow days, we also presented special events – 'Night at the Oscars' and 'Breakfast at Brennan's' with New Orleans-style food," said Rick Johnson, assistant vice president of student affairs for Housing, Dining and Residence Life. "Several managers spent the night in hotels to make sure they were available in the morning to cook breakfast and pick up staff. They all worked very hard and showed care for students."