"Cafe Insectica," which served up crickets, worms and termites, was one of four "subnature" tasting stations. Photo by Jim Wallace
Sophomore Rosalie Cicchinelli examined a chocolate chip cookie carefully before taking a bite.
"This tastes normal," Cicchinelli said and paused. "Oh wait -- there's the head. The head just crunched."
Cicchinelli's encounter with a chocolate chip and waxworm (moth larvae) cookie was just one of many unusual culinary experiences at Thursday night's "Subnature and the Culinary Campus" meal at the Marketplace Dining Hall on East Campus.
The dinner event was part of a semester-long Humanities Writ Large program called "Subnature and Culinary Culture," designed to explore how and why certain foods are excluded from the mainstream palate. Among the program's other components are several undergraduate courses, an art exhibition in Jameson Gallery, a gourmet meal prepared by the chefs from the world-renowned Nordic Food Lab and a smokehouse installed behind the Allen Building.
Co-hosted by Duke University Dining, Thursday night's dining hall event featured traditional Senegalese cuisine alongside more unconventional choices such as pickled pigs' feet and lips, cricket fondue and "heritage head cheese."
But Tom Parker, a visiting scholar from Vassar College and the driving force behind the university-wide project, and Michael Brownlee, the manager of the Marketplace, did not want the event to be about eliciting "fear factor" reactions from students. Instead, they envisioned "Culinary Campus" as a conversation starter about our relationships with food.
Although "subnature" refers to foods that have traditionally been marginalized from the American palette, Parker and Brownlee said that subnatured foods in our cuisine, such as offal and insects, are considered delicacies in other parts of the world.
"We don't want students to be shocked that they're eating a bug but to think about why they are shocked that they're eating a bug," Brownlee said.
"We want people to seriously engage in other cultures by thinking about their food," Parker added.
To this end, Parker enlisted the help of half a dozen other faculty members to put together complementary coursework and educational materials for "Culinary Campus." Each of the four "subnature" tasting stations, featuring everything from cold-cuts in "Charcuterie" to unpasteurized and moldy cheeses in "Stinky-Good," also included informational placards about the origin and history of featured food items.
In addition, faculty, graduate students and staff from all around the university presented brief "pop-up" lectures about subnatured food throughout the evening. Outside on the East Campus Quad, students and members of the public could witness a heritage hog roast, visit an exhibit on North Carolina's native insects and sample "foraged" foods.
For Women's Studies professor Gabe Rosenberg, one of the faculty co-conveners in the Humanities Writ Large program, one lesson of the night came from the Marketplace's main courses of traditional Senegalese cuisine. As one of the key loci in the Atlantic slave trade, much of Senegal's unusual recipes and ingredients migrated to the Carolinas in the 17th and 18th centuries, giving rise to such "local" staples as Carolina Gold rice.
"Carolina Gold rice was considered a subnature food but now you see it popping up everywhere as a 'local' option," Rosenberg said. "(Through this event) we hope to emphasize the exchanges between cultures that determine which foods are acceptable or right."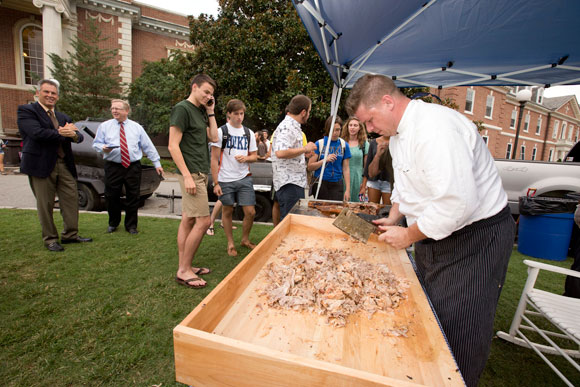 The "Tail-to-snout" table featured a local butcher offering unusual cuts of pork, for example, snout, lips and pig ears. Photo by Jim Wallace
Students gravitated to the the fish, lamb, fried plantains and other Senegalese delicacies prepared by University of Pennsylvania-based chefs Fatou Wilson and Mouhamed Mboup. At the offal station, first-year John David Strickland impulsively grabbed a chicken leg and took a large bite.
"It tastes sort of like chicken," he said in between chews. "But its texture reminds me of an earlobe."
While not all encounters with subnatured foods may be pleasant, Parker hopes that students will make more of an effort to sample them after the meal service.
"I want these students to question what's on their plate," Parker said. "Instead of thinking the foods they tried at the event were weird, I want them to ask, 'why don't we eat this more often?'"
For more information on "Subnature and Culinary Culture's" other events this semester, visit their website.