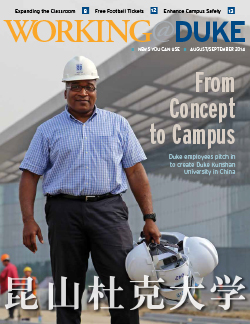 After Dudley Willis wakes up at 5:30 a.m. in his extended-stay hotel room in Suzhou, China, he makes a long-distance call to his wife. Early mornings are an ideal time for catching up with family or joining conference calls with Duke administrators, who are wrapping up the workday nearly 8,000 miles away in Durham.
Read More
But for Willis, a manager of projects and engineering at Duke, the workday is just starting.
A driver picks Willis up for a 50-minute commute among honking cars and mopeds to a 200-acre construction site swarming with hundreds of construction workers. He dons a white hard hat with a Duke insignia and starts crossing off checklist items: select light fixtures, meet with Chinese developers and inspect buildings at Duke Kunshan University, known as DKU.
"I get to learn about a new culture and do something that's important for Duke. It will be the biggest project I have ever done," said Willis, who left home in Raleigh about 17 months ago to oversee construction of the DKU campus. Due to the duration of his temporary assignment, Willis and some others like him were contracted through a third party with special employment arrangements in China. 
Willis is one of scores of Duke staff and faculty members who've worked to bring the concept of a new university to China through a partnership established with the city of Kunshan in 2007. Four years ago, after keeping with a Chinese tradition of lighting firecrackers to ward off bad spirits, construction workers broke ground on a campus that will eventually include six buildings. Construction is continuing on the 750,000-square-foot campus.
From setting up accounting systems to reviewing legal agreements, departments across Duke have shaped the state-of-the-art campus in Kunshan, Jiangsu Province, China. Duke University Libraries is organizing a DKU library with 3,000 print volumes. Office of Information Technology employees have set up wiring and audio-visual equipment to support globally connected classrooms. Human Resources has conducted job interviews, lined up benefits, and arranged travel visas. The Office of the University Registrar has organized course schedules and helped register DKU students for fall classes. And Student Affairs has developed an extensive guide to housing, dining, health care, and recreation as part of orientation for incoming students. It also created a staffing model for student services.
Orientation for the first class of undergraduates and graduate students in global health and medical physics will begin Aug. 20 in Kunshan. This fall, about 25 Duke faculty members will be on-site teaching topics ranging from water resources to Greek civilization.
"We'll look back at this in 10 years and say, 'Wow, that was a terrific thing to have done. Look at all the thriving programs we have in China. Look at all the contacts we have. Look at the way China has developed to be an even more impressive nation and place that we can both contribute to and learn from,' "said Jim Roberts, executive vice provost for Finance and Administration. "That's the hope and expectation."
Erin Hammeke, left, a Duke Libraries special collections conservator, meets with Shilin Zhang, right, deputy director of the archives at Renmin University of China, in the Duke Libraries Conservation Lab in Durham.
More than 40 Duke research services librarians will remotely assist DKU students with finding resources for projects and support classes and research. They will bridge a 12-hour time difference with email, instant messaging and Skype.
For many of these librarians, helping students across the globe isn't new.
Jean Ferguson, one of Duke's librarians for global health, has assisted faculty and students conducting international research in Kenya or Qatar through the Duke Global Health Institute. She is one of the Durham-based librarians taking part in the daily videoconferencing shift to help faculty and students in Kunshan.
"DKU is really going to broaden how many Duke graduate students and faculty members do research in China," Ferguson said. "They have a home base. It makes it easier."
For Duke sociology and cultural anthropology librarian Linda Daniel, Kunshan will become home for a semester. She will serve as interim library director this fall, while DKU searches for a permanent director.
Daniel will help build a new print collection, finalize a DKU library web page and develop an electronic inter-library loan system between the Duke and DKU libraries.
"To be part of this international experience, the fact that it uses the skills that I've developed, I'm just so excited," Daniel said. "I've never been to China, and there are a lot of unknowns, but this is a once-in-a-lifetime opportunity for me."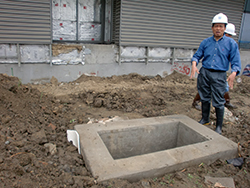 Rey Azares, Duke's director of information technology for DKU, inspects the manholes and conduits made for DKU's fiber-optic network.
In 2011 and 2012, Duke invited librarians from Fudan University, Renmin University, Wuhan University and others to the Durham campus. Visitors toured the Conservation Lab and Perkins study spaces and met with research services librarians. The visiting librarians were impressed with the one-on-one assistance for students, typically a service only available to faculty and Ph.D. students at Chinese universities.
The DKU library will initially include about 3,000 print volumes, in addition to more than 1 million electronic books and journals within Duke Libraries' digital collection.
"We're among the best libraries in the United States in terms of our collections, our services, our staff, the way we interact with faculty and students," said Bob Byrd, associate university librarian for collections and user services. "The exciting thing is to try to reproduce that in a different culture on a smaller scale."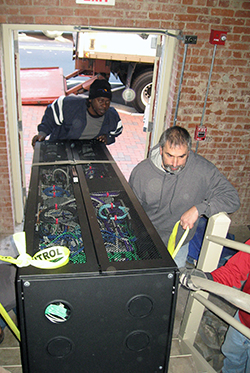 Bob Johnson, right, Duke's senior director of communications infrastructure and global strategies, and Duke IT team members carefully move the "Data Center in a Rack" into a truck parked in Durham. The technology, which will provide storage, backups and new servers to DKU, was shipped to Singapore.
When it's muddy after a rain, which happens frequently in Kunshan due to the subtropical climate, Rey Azares walks around the DKU campus in knee-high, black galoshes. He goes from building to building to check the progress of manholes and conduits for the campus' high-speed fiber-optic network.
Azares, Duke's director of information technology for DKU, has spent most of the year working in China, leaving his family in Cary. He's focused on every aspect of IT infrastructure, right down to card access locks and cable TV satellites.
"How many times can someone have an opportunity to be involved in establishing a university, no less a Western-style university in a foreign country?" Azares asked. "There are hundreds of U.S. universities and colleges who have a presence in China, but they do not have this kind of campus that's being built."
A team with the Office of Information Technology in Durham developed a unique approach for how to bring Internet access to DKU using a 1-ton piece of technology called a "Data Center in a Rack," which was transported to Singapore.
"It's a microcosm of everything we have here," said Bob Johnson, Duke's senior director of communications infrastructure and global strategies. He made the trip to Singapore to bring the piece of technology online. "It's a platform that's set up such that we can use the connectivity we put in place, quickly bring up new servers, new applications, have storage, have backups, have everything out there that we would need."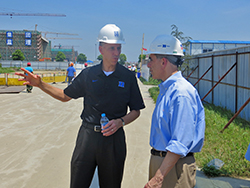 Duke's Kyle Cavanaugh, left, vice president for administration, and Michael Schoenfeld, right, vice president for public affairs and government relations, discuss DKU during a visit to the DKU construction site.
At 8 a.m. or 8 p.m. on Wednesdays, Kyle Cavanaugh joins an international conference call with Human Resources and other staff members who handle travel visas, benefits, recruitment and payroll.
For more than two years, they have waded through complexities that arise with starting a campus in a foreign country, such as bridging changing labor laws, setting up an on-site health care facility, and lining up Duke travelers' medical exams. 
"It makes for some short weekends and long hours, but we're very fortunate to have a group of very dedicated people at Duke, DKU and with our two partners," said Cavanaugh, Duke's vice president for administration. "The collaboration among these people from different organizations coming together for a common goal has been impressive."
Since the summer of 2013, Duke has helped 100 Durham-based employees obtain visas, sort through immigration paperwork and work permits and line up short-term travel to Kunshan. About 60 other individuals specifically hired to work at DKU will be in Kunshan by next spring.
Christy Michels, Duke's senior manager of global administrative policies and procedures, has sorted through the employment complexities from Durham. In June, she traveled to China to serve as DKU's temporary Human Resources director.
During her stay in Kunshan, she will conduct employment interviews and help find answers to questions ranging from top grocery stores to the best local parks to Chinese medical clinics Duke employees can visit.
"This is critically important to Duke," Michels said of DKU. "This is just as important for us as it is for the Chinese government. Kunshan, Jiangsu Province and all of the faculty and staff who are already going to DKU are playing a major part in making this a success. If I can be a small part of that, it's a privilege."
From concept to campus, the Durham-based Office of DKU and China Initiatives has served as the central office for planning the DKU campus. The office's six-member team is Duke's primary liaison to partners in Wuhan and Kunshan and the coordinating hub of all DKU activities at Duke, from curriculum development and long-term planning to faculty recruitment, campus operations and program delivery.
"The creation of DKU is an opportunity for Duke staff to learn about a different higher ed system," said Nora Bynum, the office's vice provost who has traveled nearly a dozen times to Kunshan since 2011. "Since DKU will be much smaller than Duke, at least initially, it can also serve as a platform for innovation in things like teaching methods and length of courses that would be difficult to experiment with at Duke."
When DKU project manager Dudley Willis first arrived at the Kunshan campus, he could visualize classrooms and offices beyond the blueprints in his hands. He had never been to China but quickly immersed himself in the culture, participating in round table dinners, sharing steamed fish, pickled jellyfish and preserved goose eggs with Chinese colleagues.
He brought a glove and baseballs to play catch with construction workers and traveled to areas in China such as Hangzhou (famous for green tea) and to the Huangshan mountains.
Willis compares his project manager role to an orchestra conductor who helps musicians read the same lines of music.
"As long as everyone plays their part and avoids hitting the sour notes, you end up making beautiful music," he said. "Slowly, we are starting to understand one another better, and I think that, ultimately, we will end up with a fantastic project that's a mix of both cultures."
When Willis returns to North Carolina, he'll come back to his role as a Duke Facilities Management project manager.
"I have to admit that it's going to be interesting going back to the old routine after the daily excitement of watching over the construction of a new campus," Willis said. "But I do really miss my wife and having a normal life."