As Rainy Days Clear, Hot Weather Arrives
Rain total so far this year is eight inches above-normal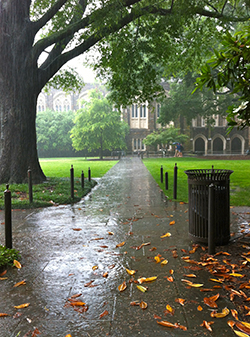 While the recent deluge of rain may have kept Duke faculty and staff indoors over the past few weeks, at least one group enjoyed the summer rain.
Ducks kept wandering up from the Duke Gardens' ponds onto the quad, said Jim Hodges, associate director and manager for Conference and Event Services who oversees summer camps at Duke.
"They normally pop up every once in a while, but with fresh grass and seeds at the top of soil because of the rain, they kept coming back," he said.
It's been that kind of strange start to the summer in the Triangle, which, as of July 16, received nearly 31 inches of rain since Jan. 1. That's just over eight inches above normal amounts and about 10 inches more than last year over the same timeframe. The amount of rain has impacted a slew of seasonal activities and programs at Duke.
Jonathan Blaes, science operations officer for the National Weather Service's Raleigh office, said the reason for all the rain has been because of an unexpected course for the jet stream, the flow of air high up in the sky. Instead of tropical, moist air moving north toward Canada, the jet stream has been stuck along the mid-Atlantic region and up the East Coast. Along with rain, July's max temperatures have been about 3 degrees below normal ranges.
"It's been extremely unusual this summer, especially for things to persist from month-to-month," Blaes said. "We're now entering the hottest period of the year, and we won't be too far from normal, but because of the rain it will probably feel crazy outside now."
The extended forecast going into this weekend shows temperatures in the high-80s and low-90s with slight chances for rain.
That's a big difference for Sarah P. Duke Gardens, which saved hundreds of thousands of gallons of water in recent weeks. Bobby Mottern, director of horticulture at Duke Gardens, said staff has had a difficult time mowing grass because the ground has been so saturated and spent extra time trying to repair path erosion by spreading materials like gravel to keep walkways neat and in place.
"It's been pretty consistent that as soon as we got them fixed, here comes the rain again," Mottern said. "It's one of those unpleasant duties we have to deal with in the summertime, but it's part of the season."
One part of the gardens that has been doing well is weeds. Mottern noted that crabgrass, buttonweed, chamber bitter and mulberryweed have flourished because of all the wet weather.
Staff with Duke's Facilities Management Department has had different experiences because of the rain. Crews didn't need to water and could not trim grass, so some staff stayed busy during downpours by participating in required compliance training and catching up on equipment maintenance. On the flipside, construction projects on Campus Drive, at athletic fields and the water reclamation pond have experienced schedule delays which Facilities Management is working to manage.
"Honestly, the largest complaint we received during all the rainy days was that the buildings were too cold because we weren't getting the afternoon heat," Hodges said.