Bonnie's Battle with Cancer
A Duke employee learns the value of Duke's health benefit
Bonnie McManus waited as the pharmacist checked the price of her medication on a computer.
$4,000.
Read More
"Ma'am," the pharmacist told McManus. "I've never seen a medication that costs $4,000 before."
For McManus, a senior coordinator for the Spanish Service-Learning program at Duke, the drug, Neulasta, was part of a rigorous treatment regimen to fight her breast cancer, a disease that can cost more than $100,000 to treat.
Instead of $4,000, McManus paid a modest co-pay of less than $100 per injection. Over her course of treatment, McManus injected Neulasta six times.
"I can't tell you how many times over the past three years I've said `thank God I have insurance,' " said McManus, 42, who was diagnosed with cancer in 2009 and has worked at Duke for 12 years. "I would be bankrupt without it."
Each year, Open Enrollment for Duke health benefits provides staff and faculty an opportunity to assess personal situations, evaluate needs and enroll in or make changes to benefits.  This year, Open Enrollment is Oct. 22 through Nov. 2.
McManus is among 61,267 staff, faculty, dependents and retirees covered by Duke's health insurance plans, a benefit that Duke spent $219 million to provide in 2011. That same year, the average Duke employee paid just $832 in out-of-pocket pharmacy and medical expenses, in addition to his or her premium.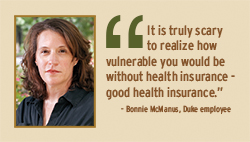 Kyle Cavanaugh, vice president for administration, said the financial security offered through health insurance is the hallmark of Duke's overall benefits package.
In any given year, most plan participants stay healthy, he said. But each year, some face medical treatments that can create devastating financial hardships without insurance. Last year, for example, 9 percent of plan participants accounted for just over $100 million in health costs, slightly less than half of Duke's total health costs.
"If an employee or a covered loved one has a catastrophic health problem, they are not going to lose their home or be financially devastated if they are on Duke's insurance," Cavanaugh said. "That's something we're very proud of."'Like a ton of bricks'
Bonnie McManus was answering emails in her office at Smith Warehouse when the phone rang. She recognized the number of Dr. Sora Yoon, who biopsied McManus' breast after her first-ever mammogram revealed a suspicious shadow.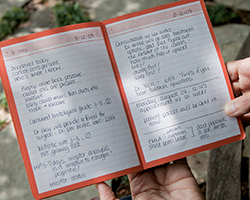 Bonnie McManus kept a journal to document medical details and emotions after her diagnosis in 2009.
"I know you are at work," Yoon said. "Do you want me to call you back at home?"
McManus begged her not to wait. "I need to know now," McManus said.
The news wasn't good. McManus had invasive breast cancer. She needed surgery and chemotherapy. She hung up and sobbed. 
"It hit me like a ton of bricks," McManus said. "It was surreal to me that the rest of the world could keep going on normally while my life had just been turned upside down." 
That night, after sharing the news with her husband, 12-year-old son and two teenage stepdaughters, McManus made the first of many entries in a small, hardback journal she kept tucked in her purse throughout the ordeal. "This is what I know," she wrote in tight, controlled script on Aug. 9, 2009. "I have Invasive Ductal Adenocarcinoma."First Class Treatment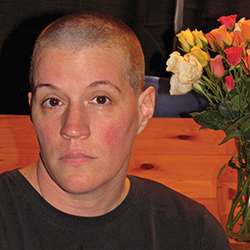 Bonnie McManus cried when her hair was shaved to prevent it from falling out in clumps during chemotherapy. Photo courtesy of Bonnie McManus.
Because McManus was under 40 when she was diagnosed, she was referred directly to Dr. Kim Blackwell, a Duke oncologist who specializes in treating breast cancer in young women.
"My first consultation to plan out my chemotherapy and surgery treatment options cost $800, but I didn't know that until later," McManus said. "I just paid the Duke Select $35 specialist outpatient co-pay. I wanted to get rid of the cancer."
McManus had outpatient lumpectomy surgery to remove the tumor and immediately began 18 weeks of chemotherapy to kill any remaining cancer cells. On the advice of Dr. Blackwell, McManus prepared for chemotherapy's side effects by cutting her long, brown hair. Tears streamed down her face as her husband shaved her head to prevent her hair from falling out in clumps.
"You lose your hair, and it feels weird," she said. "You lose your eyebrows, and you feel like an alien."  
Bonnie McManus tried to capture costs of cancer care in her journal entry, but eventually gave up.
Predisposed to Cancer
During chemotherapy treatments, McManus received genetic testing to analyze her DNA for genetic mutations that increase the risk of breast and ovarian cancer. The test on McManus was positive for the "BRCA2" mutation.
"I'm predisposed to cancer," she said. "It was not what I wanted to hear."
Duke's health care team helped McManus sort through treatment options, from letting the cancer run its course to removing her breasts and ovaries to reduce the chance of cancer returning. Because of the genetic mutation, McManus chose surgery to remove her ovaries, as well as a mastectomy and reconstructive surgery. Insurance sheltered McManus from the true cost of her multiple surgeries and treatments, but she still paid attention to bills. Her surgeries cost nearly $50,000, but she said, "all I had to pay for each surgery was a co-pay of a few hundred dollars."
In her journal, she tried to capture the total cost of the cancer treatment, but she wrote, "Lost count of how expensive this disease has been....Ugh."Making Daily Progress
McManus returned to work in 2010, nearly a year after the diagnosis. Within a few months, she had picked up her X-ACTO knife and reclaimed her hobby of making cards, wall art and other paper-based art. "I knew I was feeling better when I wanted to do art again," she said.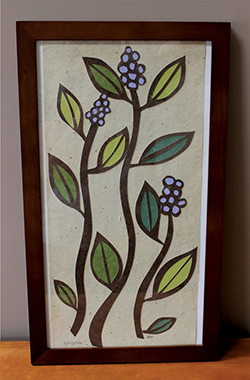 Bonnie McManus created this paper-based artwork, Springtime, after she regained her health.
Today, McManus has no evidence of tumors in her body but continues to take medicine to keep cancer at bay and treat long-term effects of cancer treatment. The medications, therapy and other related medical issues add up to several hundred dollars a month in out-of-pocket expenses.
"I'm still actively living with the diagnosis every day," McManus said. "The good news is that I'm making progress. Some days, I even forget for a few hours that I've had cancer."
What she doesn't forget is how friends and Duke co-workers rose to the occasion, providing weekly meals for six months and donating their vacation time to her to keep her paycheck coming and benefits intact.
"It is truly scary to realize how vulnerable you would be without health insurance - good health insurance," she said. "I cannot fathom what happens to people who do not have it."
Post your comments on this story.