Health Benefits Open Enrollment Begins Oct. 22
Changes include new dental option, modest premium increases and tobacco use fee
For 2013, Duke is expanding its dental insurance program and maintaining its comprehensive health insurance package with no changes in co-payments and deductibles and only modest premium increases.
From Oct. 22 through Nov. 2, staff and faculty can sign up for or make changes to Duke health benefits during Open Enrollment. Employees can also sign up or re-enroll in Duke's reimbursement accounts for health or dependent care expenses. Contributions to these accounts are deducted pre-tax from pay.
Read More
Depending on an employee's medical plan, premiums in 2013 will increase between $1 to $10 per month for individual coverage and $11 to $43 per month for family coverage. There will be no increases in co-pays or deductibles for inpatient or outpatient visits or prescriptions. Vision premiums remain the same. For the dental program, Duke is offering a new Preferred Provider Option (PPO) with lower premiums than the current Plan A. Premiums will increase for Plan A; there's no change to Plan B premiums.
Kyle Cavanaugh, vice president for administration, said the cost to provide health benefits to 61,267 employees, retirees and family members has increased about $20 million per year since 2010. Duke expects to pay about $240 million for 2012 health benefits. 
"We are committed to providing as competitive a benefit as we can, while constantly monitoring costs and planning for the changing landscape of health care reform," Cavanaugh said. "We are self-insured, which means we cover the cost of our own insurance, and our excellent relationships with our Duke providers allow us to monitor costs closely. Things look stable for 2013, but we expect more changes in the coming years as health care reform continues to unfold."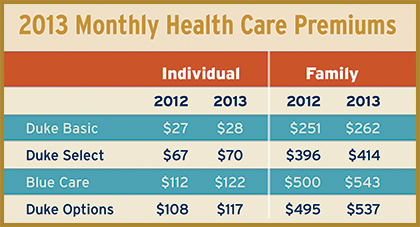 Changes for 2013 include:
New Dental Program
Starting Jan. 1, 2013, Duke will expand its dental insurance by adding a Preferred Provider Option (PPO) to the traditional Plan A and Plan B options. The PPO plan offers similar coverage to Plan A at a lower monthly premium for employees who use dentists within a nationwide network.
The PPO plan includes no deductible, a higher maximum annual benefit than Plan A and Plan B, lower negotiated procedure rates and lower monthly premiums."By moving to a plan with a defined network of dentists, we can offer the same excellent coverage at a lower cost," said Lois Ann Green, assistant vice president of Human Resources - Benefits.
A list of providers is available at ameritas-dental.prismisp.com.
Tobacco Use Surcharge
Starting in January 2013, Duke will charge employees who smoke or use tobacco $10 per month. This does not apply to dependents.
Duke will remove the surcharge if an employee successfully completes a tobacco cessation program. LIVE FOR LIFE, Duke's employee wellness program, offers free smoking cessation options.
Tobacco use is the leading cause of preventable death in North Carolina and is linked to many cancers and health conditions. "Tobacco use pushes up our health costs, and the surcharge is one way to recognize this and create an added incentive for employees to seek support now to quit," Green said.
Federally Mandated Changes
For 2013, the maximum contribution for a health care reimbursement account will be lowered to $2,500, based on national health care reform legislation. Another federally mandated change for 2013 is the inclusion with Open Enrollment materials of a "Summary of Benefits and Coverage."  This document uses a federally required template to explain health plan benefits to consumers.