Help Create An International Cookbook
Duke wellness program seeking global recipes from staff and faculty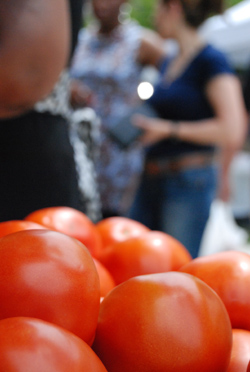 Can you whip up a traditional Spanish gazpacho? How about Indian chicken tikka?
LIVE FOR LIFE, Duke's employee wellness program, is seeking culinary inspiration from Duke staff and faculty for an upcoming seasonal recipe book. The book will be a part of this year's Duke Farmers Market, which opens April 27.
Titled "Local Foods, Global Flavors," LIVE FOR LIFE wants to highlight the variety of food from cultures around the world - many of which are represented at Duke.
"With such a large international community, we hope there's also a nice collection of amateur bakers and chefs who can lend their know-how for tasty and healthy recipes," said Lauren Updyke, health education manager with LIVE FOR LIFE. "By taking these recipes and using fresh ingredients from the farmers market, it offers everyone the chance to try something new while eating healthy."
The booklet will feature nine international recipes - one a month from April to December.
Submissions can be emailed to working@duke.edu and are encouraged (but not required) to include a seasonal fruit or vegetable as one ingredient for a particular month's recipe.
Recipes should indicate which month they're being submitted for:
April - leafy greens
May - berries
June - peppers
July - blueberries
August - tomatoes
September - squash
October - pumpkin
November - sweet potato
December - cruciferous vegetable (bok choy, arugula, cauliflower, kale, etc.)
Staff from LIFE FOR LIFE will select the nine recipes for the booklet. Duke community members who have a recipe selected to be included in the book will receive as a prize a copy of "Dr. Ann's Eat Right for Life" book and cookbook from the LIVE FOR LIFE store. Working@Duke will publish all submissions online at the start of the Duke Farmers Market season.