Students, Police Talk Safety
Duke police officers distribute more than 800 wallet cards with safety information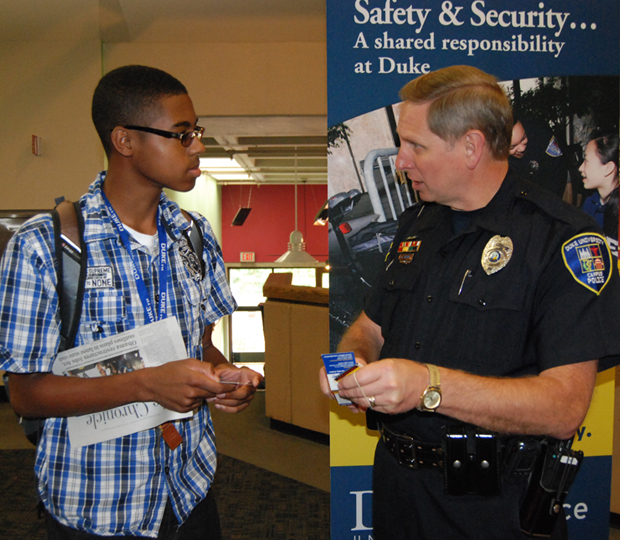 Jordan DeLoatch , left, a first-year student at Duke, talks safety with Eric Hester, crime prevention officer with the Duke University Police Department, during a "Tips `n Treats" event at the Bryan Center Wednesday.
The annual series of meet and greet events took place this week as Duke police officers stopped at East, Central and West campuses to informally meet with Duke community members to talk safety and hand out candy or cookies provided by Duke Dining Services. DeLoatch, who lives on East Campus, spoke with Hester about police contact information and the importance of the DukeALERT emergency notification system.
"It's good to be able to get this info and meet the officers," DeLoatch said.
After hosting Tips `n Treats at the Food Factory at Devil's Bistro, the East Campus Marketplace and Bryan Center, officers distributed about 750 highlighters and 800 wallet cards featuring safety tips and contact information for the Duke University Police Department. Officers also engraved about 40 laptops with owner information at no charge.