Duke Police Hosting Meet And Greet Events
"Tips 'n Treats" sessions begin Oct. 17 with students
The Duke University Police Department will host its annual  "Tips n' Treats" series on East, West and Central campus beginning Oct. 17. During each gathering, police officers will be available to meet informally with students to discuss safety and various services and resources.
Officers will also distribute wallet-sized emergency contact cards, highlighters and cookies (provided by Duke Dining). The last Tips 'n Treats series in February drew about 550 students over three days.
Read More
"This is an excellent opportunity for students to come out, meet with officers from our department and talk about any security or safety concerns they may have about campus," said David Williams, crime prevention manager for the Duke University Police Department. "This gives us a great opportunity talk with community members them about how they can partner with us to keep Duke safe."
Sessions will take place at these locations:
- Oct. 17 at Central Campus' Food Factory at Devil's Bistro, 6 p.m.
- Oct. 18 at East Campus Marketplace, 6 p.m.
- Oct. 19 at West Campus Bryan Center, inside the entrance from the Plaza, 11 a.m.
John Dailey, chief of Duke Police, said Duke staff and faculty are also welcome to drop by each event. Creating Tips n' Treats was important to foster a strong relationship between officers and the Duke community, he said said.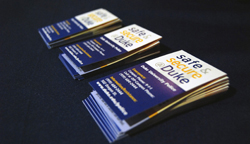 Pick up a safety information card at "Tips 'n Treats."
"It's critical that we understand what concerns or community because we can't help if we're not connected," Dailey said. "Informal conversations can be helpful to build trust and understanding because we rely heavily on our community to play a part in keeping Duke safe."
Student leaders said the gatherings go a long way toward establishing relationships based on respect and mutual understanding.
"This event is a great opportunity for students to hear police officers' firsthand perspective on valuable safety measures that can help make our Duke experience more worry-free," said Pete Schork, president of the Duke Student Government. "These student-officer events are great because they're an opportunity to get to know the men and women behind the uniform while learning a thing or two as well."