Honoring Duke's 2023 Sustainability Champions
Students, staff and faculty members use their passion and expertise to make their communities greener
Image
"This initiative is beginning to, and will continue to, show what we can do together to build a better future for Duke and, more importantly, the world," Price said about the Duke Climate Commitment, which was launched last fall. "That simply wouldn't be possible without the passion and commitment of our students and our staff and faculty. We gather here today to celebrate and recognize just a few of these tremendous leaders who each exemplify our effort to bleed blue and live green."
Nominated by Duke community members and selected by the staff of Sustainable Duke, this year's award winners were honored Monday at a ceremony at Sarah P. Duke Gardens.
Meet the 2023 Sustainability Award winners.
Outstanding Leader in Sustainability – Student
Jessee Steele, Class of 2023
As member of the Green Devils student group, Steele has played a leadership role in a range of sustainability efforts, such as the Zero Waste K-Ville initiative, which cleaned up the area around Krzyzewskiville, and sustainability-themed books clubs.
Steele also procured a grant to distribute zero-waste laundry supplies to students, helped repurpose roughly two tons of material left over from lab relocations and co-directed a program which helped incoming students learn about climate change and environmental justice efforts.
"Jessee enthusiastically spearheads innovative projects on sustainability and environmental justice and actively looks to make a difference in the communities he is part of, both inside and outside of Duke," said nominator and Duke student Sarai Chaidez. "Jessee is an avid leader and he plays a central part in helping Duke achieve its sustainability goals."
Isabel Wood, Class of 2023
As a member of the Undergraduate Environmental Union throughout her time at Duke, Wood has worked tirelessly to increase awareness of sustainability efforts and environmental happenings on campus.
Wood has also served on a task force exploring ways to make campus dining more climate conscious and she co-founded Project Earth, which helps incoming students gain a deeper understanding of sustainability issues and programs.
"Isabel is a natural leader who makes everyone around her feel comfortable and welcome," said nominator and Duke student Emily Nagamoto. "She is a strong advocate for sustainability."
Finnie Zhao, Class of 2024
A double major in Economics and Environmental Sciences and Policy, Zhao has brought her knowledge and passion for sustainability to her work conducting research with Bass Connections projects focused on plastic pollution and coastal resilience. With experience working for environmental causes outside of Duke, she brings valuable perspective to her work as a student advisor to the Duke Impact Investing Group and the Duke Undergraduate Energy Club.
"As an international student, her commitment to sustainability is of a global level, with many of her past experiences not only in the United States, but also creating social impacts to other parts of the world," said nominator and Duke student Annie Cui. "As a classmate of Finnie, I feel constantly inspired by her dedication to sustainability."
Outstanding Leader in Sustainability – Faculty
Drs. Emily Bernhardt and Norman Wirzba
Starting in the fall of 2022, Duke offered students a chance to gain a deeper understanding on climate change and how it affects wider society through the UNIV 102: Let's Talk about Climate Change course. The course was organized by Bernhardt, the James B. Duke distinguished professor of Biology, and Wirzba, the Gilbert T. Rose distinguished professor of Christian Theology.
Bernhardt and Wirzba's course, which is open to students from any corner of Duke and will be offered again in fall of 2023, brings in faculty members from a variety of disciplines – from earth sciences, to English and public policy – together to give students the chance to explore the issues of climate change together while haring from a range of perspectives.
"When you have a biologist and a theologian, and of course both of them are much more than that, but you're speaking not just to your head, but to your heart," said Stanback Dean of the Nicholas School of the Environment Toddi Steelman. "I think we're not going to be effective in making the kind of change that we want to see in this world unless we have that kind of combination. And I found that so beautiful in this particular class."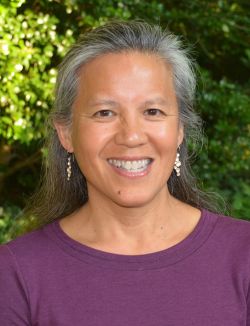 Dr. Jennifer Lawson
Among the research interests of Lawson, a physician who specializes in pediatrics and clinical associate in the Department of Pediatrics and a faculty associate of the Trent Center for Bioethics, Humanities & History of Medicine, is the intersection of health and climate change.
This curiosity led to her serving as an inaugural Climate Change Faculty Fellow, which allowed her to help guide the UNIV102 course on climate change, and spearheading the development of the webinar series "Climate Change, Health and Social Justice: Issues Ethics and Action."
"Jennifer has integrated sustainability into her work," said Diane Sanchez, a Nicholas School of the Environment graduate student and Lawson's nominator. "She has led multiple initiatives for sustainability in her department."
Outstanding Leader in Sustainability – Staff
Katie Kross, Fuqua School of Business
Kross, who is the managing director of Fuqua's Center for Energy, Development and the Global Environment (EDGE), has embraced the challenge of creating and managing student programs such as the Duke University Energy Conference, Energy Week and many more events and initiatives which help students connect with career opportunities in energy and sustainability fields. She has also written extensively about the value of sustainability careers and the purpose they can provide.
Kross also helped build the ClimateCAP Initiative which has grown in include 32 business schools and hosts an annual summit featuring business and sustainability leaders as well as supporting a fellowship program for 12 sustainability-minded students.
"Katie is the ultimate sustainability professional," said Fuqua Associate Professor of the Practice and Executive Director of the Center for Energy, Development and the Global Environment Daniel Vermeer.
Lifetime Achievement Award
Dr. Charlotte Clark
As a Duke graduate and a longtime faculty member, Clark, Nicholas School of the Environment associate professor of the practice of sustainability, has played a central role in advising Duke's sustainability efforts and inspiring students to take up the cause.
Clark was part of the inaugural campus sustainability committee which, in 2009, authored Duke's first Climate Action Plan. Clark also played a key role in developing Duke's Undergraduate Sustainability Certificate and has led several courses about sustainability. And for more than a decade, Clark has offered guidance and encouragement to students who have a passion for creating a more sustainable world.
"She is the epitome of our phrase 'Bleed Blue, Live Green,'" said nominator and Duke Executive Director of Climate and Sustainability Tavey Capps. "She has two Duke degrees, she met her husband here as a first-year student and she is a tried and true Blue Devil fan. And throughout all of her time here, she has been a foundational part of Duke's sustainability efforts."
Send story ideas, shout-outs and photographs through our story idea form or write working@duke.edu.