Meet the Climate Change Faculty Fellows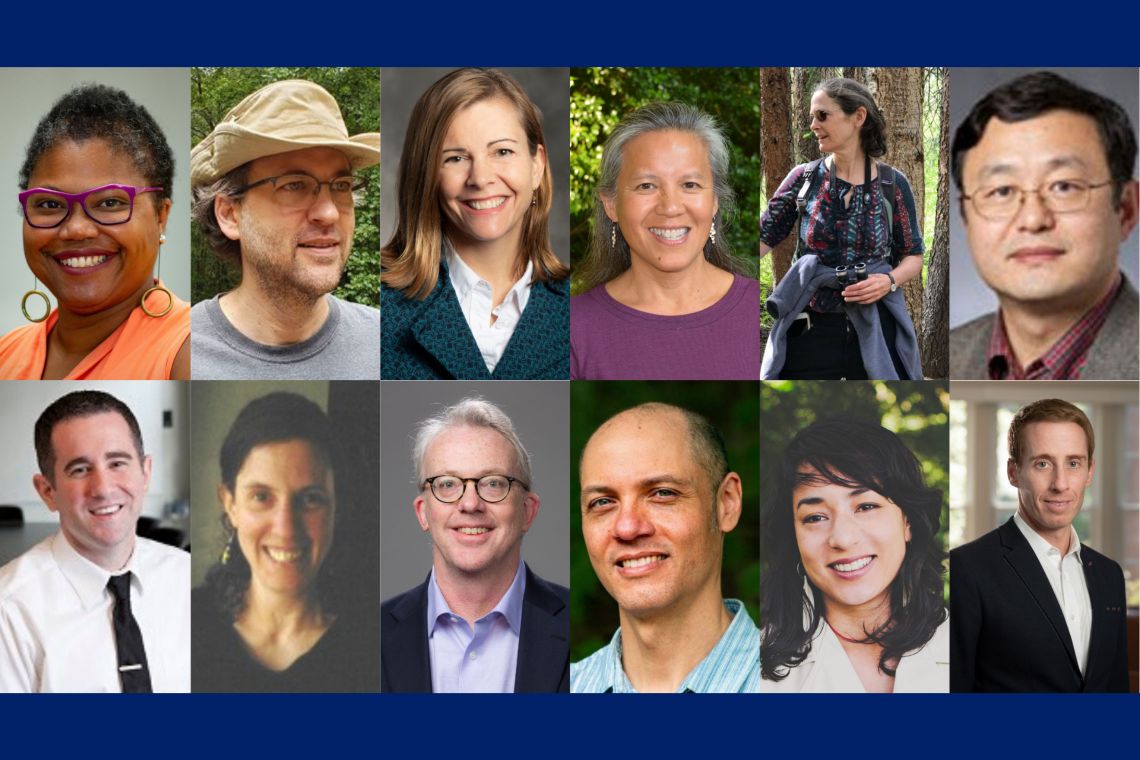 Nicholas Carnes
Creed C. Black Associate Professor of Public Policy and Political Science
Carnes is a political scientist at the Sanford School of Public Policy who studies the causes and consequences of economic and social inequality in American politics. He also, increasingly, studies U.S. climate politics, with an emphasis on identifying new ways to bridge the political divide and create opportunities for bipartisan action on climate mitigation.
In 2021, he received the National Science Foundation's Alan Waterman Award—the nation's highest honor for early-career scientists and engineers—in recognition of his groundbreaking work. The American Political Science Foundation has twice honored him; in 2014 with its Gladys M. Kammerer Award for his book, "White-Collar Government: The Hidden Role of Class in Economic Policy Making"; and in 2013 with its Harold D. Lasswell Award for the best doctoral dissertation of the year in any field of public policy.
Read More About the Climate Change Communication Fellows
Saskia Cornes
Assistant Professor of the Practice of the John Hope Franklin Humanities Institute and Program Director of Duke Campus Farm
In her roles at the Franklin Humanities Institute and Duke Campus Farm, and as co-director of the DukeImmerse project, "Reimagining the Future of Food," Cornes spends a lot of her time thinking, teaching, and researching at the intersection of environmental humanities and sustainable agriculture.
Her courses, "Climate, Culture and Identity," and "Food, Farming and Feminism," introduce students to a new way of understanding the world's food systems, the challenges these systems face, and the changes that are occurring in them. As a team member on the 2018-19 Bass Connections project, "Sowers and Reapers: Gardening in an Era of Change," she helped lead a scholarly investigation of how urban gardeners engage with, and express their views on, climate change, environmental justice and gentrification through their gardens.
"By some estimations, agriculture is responsible for about half of all greenhouse gas emissions worldwide," she said. "We need to be thinking about making changes in the way we grow food."
Kathleen Donohue
Professor of Biology
Donohue was the recipient of a 2013 Guggenheim Fellowship to support her research on the genetic basis of plant responses to changing environmental conditions and the development of new modelling approaches that can be used to predict how entire populations will respond to changes in climate.
She shares her expertise with students through teaching—including the popular 200-level course "Biological Responses to Climate Change"—and through summer STEM outreach programs for area high schoolers.
Donohue is a Fellow of the American Association for the Advancement of Science and the National Institute for Mathematical and Biological Synthesis; a National Evolutionary Synthesis Center Scholar; and a former president of the American Society of Naturalists.
Ryan Emanuel
Associate Professor of Hydrology
Emanuel is widely cited for his studies on water and biogeochemical cycles in mountain landscapes; the effects of saltwater intrusion on coastal freshwater ecosystems; and the impacts of climate change and land-use change on Indigenous lands, water resources and communities. 
An enrolled member of the Lumbee Tribe of North Carolina, he frequently combines tools and ideas from both the academic tradition and Indigenous knowledge systems in his studies and teaching and has applied his cross-cultural expertise to help American Indian tribes address policy concerns related to environmental justice, climate change, and tribal engagement.
He looks forward to sharing his perspectives with students in the new course and learning about the perspectives and insights they bring to the discussion. "I enjoy working with undergraduates, especially first-year students, and this promises to be an exciting way to engage with them," he said.
Alexander Glass
Senior Lecturer in Earth and Climate Sciences
A paleontologist and geologist by training, Glass has over the last 14 years introduced thousands of Duke undergraduates to the scientific wonders of the natural world and the fundamental processes that underlie how Earth works. His informed, impassioned and sometimes irreverent style of instruction has become a calling card for two of the Nicholas School of the Environment's most highly rated 100-level courses, "The Dynamic Earth" and "The Dynamic Oceans."
But increasingly, much of Glass' time and passion is focused on finding innovative ways to teach climate change and biological evolution within the culture of controversy that dominates U.S. public dialogue surrounding those fields of science. This summer, he's leading Duke's first climate-focused study abroad program, taking Nicholas School students to Denmark to explore how human civilizations from the Ice Age to today have been affected by changes in Earth's climate.
Rick Larrick
Hanes Corporation Foundation Professor of Management and Organizations, and Associate Dean for Diversity, Equity, and Inclusion at the Fuqua School of Business
Larrick is a social psychologist who studies the psychology of decision making, including ways to help consumers make better environmental decisions. He was co-lead author of a 2008 paper in Science, titled "The MPG Illusion," that is credited with helping convince the  federal government in 2013 to amend the text on automobiles' miles-per-gallon fuel efficiency tags to include translations of gas consumption to fuel costs and greenhouse gas emissions.
"I have been doing research on the psychology of how people think about energy and CO2 emissions for about 15 years. My main focus has been on the mistakes people make when thinking about the carbon footprints of their car and food choices and how to give them better information so they see the real impact of their choices," he said.
Larrick is a Fellow of Association for Psychological Science, president of the Society for Judgment and Decision Making, and the serves as the faculty director for Fuqua's Center for Energy, Development, and the Global Environment.
Jennifer Lawson
Clinical Associate in Pediatrics and Faculty Associate at the Trent Center for Bioethics, Humanities & History of Medicine
Lawson is a pediatrician whose transdisciplinary scholarship leads her to engage in research, teaching and outreach related to the intersection of climate change and health; medical humanities; and diversity, equity and belonging..
She is co-faculty advisor for the Duke Children's Reach Out and Read program and an associate of the Duke Initiative for Science & Society.
Of her selection as a Climate Change Faculty Fellow, Lawson said, "The issue of climate change is complex and highly interconnected. As someone who has become increasingly engaged at its intersection with health, I am thrilled to have the opportunity to be part of building a transdisciplinary group to deepen, expand and share our learning, amplify awareness of the issue and its complexities, and collaborate toward action." 
Adriane Lentz-Smith
Associate Professor of History, African & African American Studies, and Gender, Sexuality and Feminist Studies
A scholar of African American history and 20th Century U.S. history, Lentz-Smith teaches courses on the civil rights movement, Black lives, and modern America, with a special interest in the Black Freedom Struggle in modern America and Blacks' multifaceted understandings of justice and harm, and resilience and transcendence.
She is the author of the book "Freedom Struggles: African Americans and World War I" (Harvard University Press, 2009), and is currently working on a second book, "The Slow Death of Sagon Penn: State Violence and the Twilight of Civil Rights."
Lentz-Smith is a senior fellow at Duke's Kenan Institute for Ethics, where she hosts the community conversations series, "The Ethics of Now." She serves as associate chair of Duke's Department of History and sits on the advisory board for Duke University Press and the editorial board of the journal Modern American History.
Jie Liu
George Barth Geller Professor of Chemistry
Liu's research focuses on the chemistry of nanoscale materials, including the self-assembly of nanostructures; the preparation and chemical functionalization of single-walled carbon nanotubes; and the development of carbon nanotube-based chemical and biological sensors.
In recent years, as climate change has placed new urgency on developing technologies to boost energy efficiency and speed the transition from fossil fuels to renewable energy sources, he has increasingly applied his expertise to the development of carbon nanostructures for energy storage and the development of catalytic processes for energy conversion.
He is a Fellow of the American Association for the Advancement of Science and the American Physical Society.
Deborah Reisinger
Associate Professor of the Practice of French Studies and Director of Language Outreach Initiatives
Reisinger's research and teaching focus primarily on two seemingly unconnected fields of study: French for professional purposes, and refugee studies. The connection between the two?  Reisinger, who holds an affiliate appointment at the Duke Global Health Institute, uses her dual expertise to explore how climate change is driving global migration by displacing millions of people worldwide, and how the language used by governments to define who a refugee is and what he or she must be fleeing from can limit the aid they receive and undermine their resettlement.
"I have been struck by the rigid definitions that continue to define refugee status, notably that climate change displacement does not 'count,'" she said. "What are the consequences of such population shifts for persons who cannot claim refugee status, not only politically and economically, but culturally? What is the human toll of these massive migrations?"
Steven Sexton
Mark and Lynne Florian Assistant Professor of Public Policy
Sexton's research focuses on energy industry organization and energy policy, as well as environmental and transportation policy, particularly as they pertain to carbon emissions reductions. 
Using econometric methods and insights from behavioral economics, he has evaluated air pollution control policies; policies for rooftop solar technology adoption; the environmental impacts of local foods and genetically engineered crops; household electricity consumption; and renewable technology adoption, among other topics.
"Much of the discourse on climate change supposes we are doomed unless we quickly halt the combustion of fossil fuels. Such conclusions invoke climate science but skip over evidence from climate change economics, which endeavors to establish a value for the risks climate change poses and identify cost-effective measures to reduce them," he said. "This approach presents a less pessimistic view of our future, in part because it admits that humans are a highly adaptable species. I am eager to teach students about the importance of valuing the likely impacts of climate change so they can assess the tradeoffs of alternative climate policies."
Priscilla Wald
R. Florence Brinkley Distinguished Professor of English
Wald studies and teaches U.S. literature and culture, including literature of the late-18th to mid-20th centuries; contemporary narratives of science and medicine; science fiction literature; environmental studies; and film, law, and literature. An associate of the Duke Initiative for Science & Society, her current work focuses on the intersection of law, literature, science, and medicine. A particular interest is how the language we use and stories we tell about climate change influence how the public understands the issue, which in turn affects policy decisions and scientific research.     
Of the university course she'll help teach as a Climate Change Faculty Fellow, Wald said, "I believe the new course will not only deepen students' and faculty members' understanding of the issues surrounding climate change, but also introduce us to a range of ways of thinking about and approaching the issue. It will illustrate the richness that comes out of collaborative teaching and multidisciplinary thinking."