Climate Change Faculty Fellows Aim to Make New University Course 'A Transformative Experience' for Students
Deb Reisinger is a humanities professor who studies how language and culture shape public perceptions and national polices on climate refugees.
Jennifer Lawson is a pediatrician who's working to combat the threats climate change poses to the health and wellbeing of vulnerable populations.
Rick Larrick is a social psychologist who's using his expertise to find better ways to help people understand the carbon footprints of the cars they drive and food they eat.
They each bring a different perspective to the discussion of climate change.
And this fall, they and nine other Duke University faculty members—representing disciplines from geology to global health and energy policy to English—will share their expertise with undergraduates in the much-anticipated new University Course, "Let's Talk About Climate Change."
Reisinger, Lawson, Larrick and their nine peers will serve as Climate Change Faculty Fellows for the course. Each, in turn, will help lead a class discussion based on a thought-provoking prompt that informs their own research and teaching on climate change or represents an opportunity, still unrealized, for making progress.
The prompt, which students will be a given a week in advance, could be a Nobel Laureate's paper on the economic consequences of climate change, a Potawatomi scholar's essay on global warming's impacts on Indigenous communities, or a marketing assignment to use psychology to create a clearer and more informative way to label the carbon footprint of food. It could even be an artwork or musical composition.
What it won't be, is boring. Or easy.
"The goal is to challenge students' pre-conceptions, broaden their academic horizons, and engage them in the type of hard but welcoming conversations we need to be having—across political, cultural and social lines—to find a way forward in addressing the most pressing challenge of our time," said Emily Bernhardt, James B. Duke Distinguished Professor of Biology, who is co-lead organizer of the new course.
"Learning how to talk about hard things and view complex issues through many lenses is an important part of an education," Bernhardt said. "Our Faculty Fellows will play a central role in this by introducing students to a new and critical perspective on climate change each week."
Exploring solutions to the problems caused by climate change will, by design, be a major focus of each week's discussions, said Norman Wirzba, Gilbert T. Rowe Distinguished Professor of Christian Theology and co-lead organizer of the course.
"We very much want students to take away from this course the sense that the world is not completely doomed and that they have agency in their various fields of influence, and so can work for a better future," Wirzba said. "They don't have to be a climate scientist to make a difference. Regardless of what their major field of study is or where their career path leads them, they have something valuable to contribute."
The Climate Change Faculty Fellows embody that idea, he said.
For instance, Alexander Glass, senior lecturer in earth and climate sciences, is trained as a paleontologist and geologist but focuses much of his time and passion on how to teach climate change and biological evolution within the culture of controversy that dominates U.S. public dialogue surrounding them.
Priscilla Wald, R. Florence Brinkley Distinguished Professor of English, is applying her scholarship on how literature, law and science intersect in modern society to explore how the language we use and stories we tell about climate change influence how the public understands the issue, which in turn affects policy decisions.
Steven Sexton, Mark and Lynne Florian Assistant Professor of Public Policy, is working to establish values for the risks posed by climate change and identify cost-effective ways to reduce them—an approach, he believes, that presents a less pessimistic view of our future, in part because it acknowledges that humans are a highly adaptable species.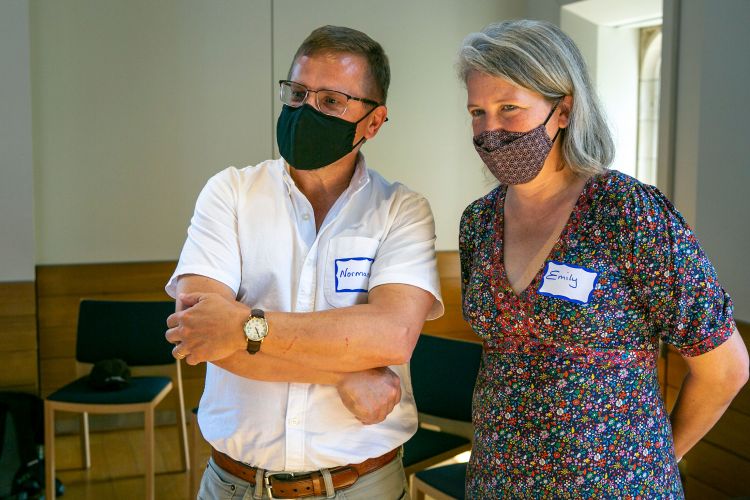 "Each of the 12 Fellows selected for this inaugural cohort brings an impressive portfolio and a real passion for this project," Wirzba said. "Narrowing the field of applicants, who came from dozens of disciplines across campus, was inordinately challenging."
Learn more about the 12 newly named Climate Change Faculty Fellows.
While Bernhardt, Wirzba and the Climate Change Faculty Fellows hope the course they're creating will be "a transformative experience" for students, none of them views it as an end in itself. "If anything," Bernhardt said, "it's just the beginning."
Duke has made the commitment to offer the course for the next five years as part of a university-wide initiative that aims to infuse climate content into every aspect of the university's mission, she said. To support that goal, each year, new Climate Change Faculty Fellows will be selected to help teach 'Let's Talk About Climate Change' and work alongside past years'
Fellows to grow a multidisciplinary campus-wide network of scholars and practitioners who are engaged and working together to find solutions to climate change.
"Climate change is an all-hands-on-deck type of challenge," Bernhardt said. "By acting as role models and mentors to students and engaging other faculty in innovative research and teaching collaborations, Climate Change Faculty Fellows will help us mobilize and marshal a powerful community of thinkers and innovators whose positive influence will extend far beyond our campus borders."
Contemplating our future under climate change can be overwhelming, Wirzba said, but by understanding how we got here, investigating better options, and charting a way forward, we cultivate hope, which is an essential prerequisite for any solution.
"Helping students—and everyone in Duke's global sphere of influence—understand that we still have it in our power to forge a different and better future is what this course and this Climate Change Faculty Fellows program are all about," he said.