Let's Talk About Climate Change: Conversations to Build Climate Literacy Among Students
New university course will draw upon expertise from across Duke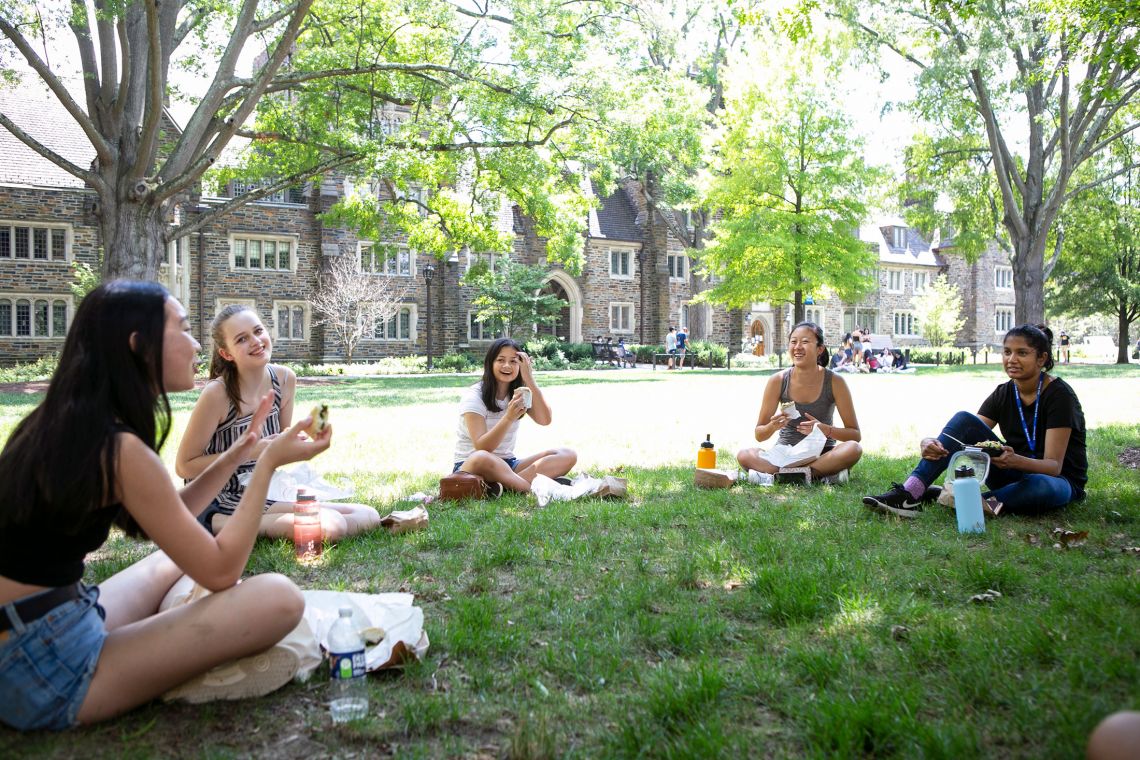 A few months ago, a biogeochemist and a theologian took a walk in Duke Gardens to talk about climate change. By the end of the walk, the two had created the framework for a new university course that will draw upon expertise from across Duke's schools to build climate literacy among students and give them the hope and the ability to take action.
Organized by biologist Emily Bernhardt, James B. Duke Distinguished Professor of Biology and chair of the department, and Norman Wirzba, Gilbert T. Rowe Distinguished Professor of Theology at the Divinity School, Duke's latest university course, "UNIV 102: Let's Talk About Climate Change," will be open next fall semester to undergraduate students from across the university, although it will be targeted to first- and second-year students.
During their walk, Bernhardt and Wirzba discussed a popular 2018 TED Talk by Canadian scientist Katharine Hayhoe, who said the most important thing people could do to fight climate change was to talk about it.
With its strength in multidisciplinary approaches to climate studies, Duke is well positioned to translate Hayhoe's message into a university course, Bernhardt said. For one, that breadth of approaches provides many different doors for students to enter a study of climate change. But in addition, students will see how collaboration across disciplines is essential to effective action on climate change. 
"When we say that we want to be a climate university, the emphasis is on university," said Bernhardt. "Our faculty doesn't just study climate science; we can speak to students from so many more areas of expertise.  Transdisciplinarity is our special sauce."
"We will talk about technical solutions and energy grids in the class," Wirzba said. "But students will not need technical expertise to be part of it. I was recently at the COP26 climate change conference in Glasgow, and every conversation about solutions there ended up talking about culture change, questions of whether we can change the hearts and minds of people of what it means to live a meaningful life. That's a question that requires a more holistic approach."
The two class organizers represent that variety in their own work. While coming from very different disciplines, the course organizers both directly explore how to mitigate climate change. Wirzba's theological studies connect spirituality with philosophy, ecology and environmental studies, while Bernhardt is an ecologist who studies the effects of land-use change, global change and chemical pollution on aquatic and terrestrial ecosystems.
During the walk in the gardens, Bernhardt said, the two discussed their different approaches to climate studies and how the class could incorporate a big-tent approach.
"My initial thought was, 'Okay, how do we make this course, be something that provides an opportunity for all of our students to gain climate literacy,'" she said. "And Norm's perspective was really thinking about how do we help our students develop the moral and aesthetic frameworks they need to think about and implement alternative futures.
"We quickly came to thinking about the primary goal of this course as giving students hope and agency in a challenging space."
A dozen faculty fellows selected from across the university will assist with the course (some three dozen readily applied.) Once the fellows are named, Bernhardt and Wirzba will consult with a collection of students to finalize the syllabus and plan extracurricular activities and classroom conversations.
These conversations won't be easy. Particularly for young people, talk about climate change is shadowed by anxieties about the future, anxieties that easily lead to paralysis rather than action.
Theo Cai (T'21) is a recent Duke graduate supporting the development of the course in his role as the Office of Undergraduate Education's Nowicki Fellow for Student Engagement. Cai said he believes the course approach will help students get over some barriers to taking action on an issue that is important to many.
"The conversations by people my age about climate change often swing into moods shaped by anxiety," Cai said. "At some point a lot of the conversations end up saying we can never have children. I think students will appreciate having a chance to talk about these anxieties and confront these realities. The faculty will present them with tools and provide them with a sense of agency. And they will see that we all have a stake in this."
"It's really important that we have intergenerational conversations," Wirzba said. "We can't just have older people talking to younger. We need younger people telling us what we don't want to hear."
"The conversations by people my age about climate change often swing into moods shaped by anxiety … I think students will appreciate having a chance to talk about these anxieties and confront these realities. The faculty will present them with tools and provide them with a sense of agency."
-- Theo Cai, T'21
The course is also being shaped by the experience of an inaugural university course, "UNIV101: Let's Talk About Race," which will return in fall 2022 for another year. (See accompanying story, above.)
As with the climate course, UNIV 101 offered a multidisciplinary approach to engage students in difficult conversations.  The two university courses reflect the university's strategic goal to build creative learning experiences for students to provide them competencies on large, challenging social issues and to prepare them to serve as leaders in the effort to find solutions.
"The university courses focus on subjects we would like for all students to understand, regardless of what field of study they pursue at Duke," said Provost Sally Kornbluth. "By connecting students with faculty from across the university, the courses also provide an introduction to a diverse range of disciplinary, interdisciplinary and scholarly approaches to the course subjects."
"These courses represent an opportunity for students to confront two great systemic challenges of our time in cooperation with experts here on campus and elsewhere to begin to make this work," Bernhardt said.
UNIV 102 will center around weekly conversations with Bernhardt, Wirzba and the 12 faculty fellows engaging with the students. The semester will start by providing a foundational understanding of how global climate has changed since the onset of the Industrial Revolution and what experts forecast will happen over the next century.
In successive weeks, Duke faculty will share how they explore climate change, point to realizable solutions and provide conversation starters for students to discuss in smaller groups. These starters might be a piece of artwork, a play or book, anything that will provoke ideas and start conversations among the students during small group sessions or in private reflections.
There are challenges in the multidisciplinary approach.
"When you talk about a class that's built to be multidisciplinary, it can end up seeming like a smorgasbord, with student getting just a tiny bit of a lot of different things," Wirzba said. "But we're not just giving a point of view and walking away. We will deliver a sustained engagement. It won't just be how engineers deal with climate change or how doctors have to deliver health care under climate change. But it will be engineers talking with doctors and discerning together how each discipline may need to change in light of the other."

Students will also participate in enrichment activities outside of the classroom and interactions both intentional and serendipitous, the organizers said. These include assignments for students to engage with others, whether it is fellow students, Duke alumni or local community groups.  Students will also be encouraged to seek their own opportunities to explore climate change, such as through nature hikes, book reviews or art projects, Bernhardt said.  
Beyond the course, Bernhardt said she expects the students to continue creating conversations on climate change, as well as use the class as a gateway to the dozens of other climate change courses across the university.
"I hope that our course will be an appetizer for students to take a number of other curricular possibilities," she said. "Climate change is not just about one thing. It's complex and woven into our social fabric and political landscape. Whatever discipline a student goes into after this, there will be opportunities for them to use the climate literacy we'll aim to provide in this course."
The course is part of a larger university-wide climate initiative, which aims to infuse climate content into every aspect of the university's mission — education, research, external engagement, community partnership and operations. 
Duke will offer both UNIV 101 and UNIV 102 in fall 2022.  The courses are not yet available in DukeHub, and interested students can complete this interest form to be notified when registration is available or to learn more about university course co-curricular speakers and events.  A slate of co-curricular speakers and events related to both university courses for fall 2022 will be announced on ucourses.duke.edu.