Tips from Duke's Customer Service Pros
A supportive mindset at work can help you excel and build rapport with others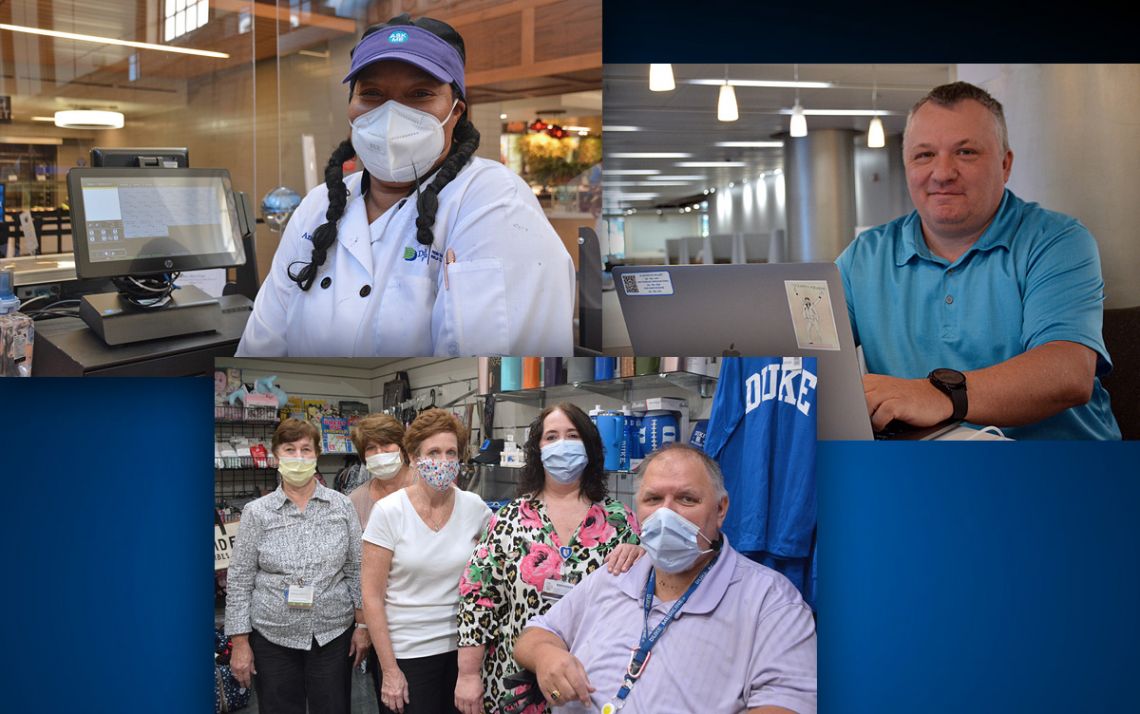 With a decade of experience helping Duke community members as part of the Duke Office of Information Technology's Service Desk, Sinisa Hamaric has a well-established approach to customer service.
The problems that reach his two-person Collaborative Services team arise when some of the many pieces of Duke's network of digital tools aren't working together properly. Often talking with Duke computer users who are frustrated, nervous or stressed, Hamaric starts each virtual or in-person help session by trying to turn it into a more human interaction.
The approach helps the user feel more comfortable and, in turn, makes it easier for Hamaric get the information he needs to solve sometimes-complex problems.
"I try to just have a conversation, like we're just two people talking in a coffee shop and you bring up a computer problem you're having," said Hamaric, the team lead. 
Improving a customer service exchange by making it feel more like a pleasant everyday interaction makes sense because, according to Senior Learning & Organization Development Consultant Don Shortslef, most work interactions have an element of customer service.
"We deal in customer service every day, whether we know it or not," said Shortslef, who leads the Customer Service Excellence course for Learning & Organization Development (L&OD), a unit in Duke Human Resources. "A customer is anyone who needs anything from me at any given point in the workday. It could be a co-worker, it could be your boss, it could be someone who reports to you, or maybe an external person from another department or from outside of Duke. It's whoever is contacting you because they have a need."
Shortslef said that by bringing a customer service mindset to all parts of your role, you can help ensure you're meeting the needs of colleagues who rely on you, and strengthening relationships.
What's at the core of a strong customer service mindset? We caught up with some of Duke's customer service experts.
Lead with Kindness
As a cashier at the Marketplace, Julia Anderson is often one of the first people students see when they come to the East Campus dining hall. Anderson, who has been with Duke Dining for 38 years, said she always tries to greet students with a warm smile and well wishes as they head into a day.
"I just try to treat people the way I want to be treated, or how I would want people to treat my child or my grandchild," Anderson said of the students she serves, most of which are in their first year of college. "For most of these students, it's the first time they've been away from home, so we want to make them feel as welcome as we can in the little amount of time we have with them."
While the encounters may be brief, they are meaningful for the students. Anderson said it's not uncommon for juniors and seniors – who live and eat mostly on West Campus – to make the trip to the Marketplace to see the staff members who, years earlier, helped make Duke feel like home.
"That always makes me feel so great," said Anderson, whose connection with students earned her a 2021-22 Presidential Award, Duke's highest honor.
In the Customer Service Excellence course Shortslef leads for L&OD, he goes through many strategies for how to meet customers' needs. But he said the final part of the lesson is on making the customer leave the interaction feeling good. And by bringing kindness and warmth to any interaction, it can only lead to positive things.
"People may not remember everything you did, but they often remember how you made them feel," Shortslef said.
You Don't Know Everyone's Story
At first glance, the transactions that take place at Duke University Stores' hospital gift shops seem fairly routine. Once known as "Pink Smocks," these stores sell drinks, snacks, books, flowers, and a wide variety of Duke souvenirs and gifts to people passing through the hospital.
Store Manager Linda Moss, who has spent 23 of her 28 years at Duke working in the gift shops of Duke University Hospital, knows that there's often much more going on in those moments than a simple purchase.
While Moss estimates that many of her customers are Duke University Hospital staff members, the rest are mostly patient family members or visitors, who find themselves at the hospital for a wide range of reasons.
And it's these people who Moss is thinking about when she trains her staff to bring a welcoming and empathetic energy to every encounter. She will occasionally remind her team that, no matter how tough their day may be, remember that there are plenty of people at the hospital who are having tougher ones.
"We want our store to be a safe haven," Moss said. "You don't know what that person who just came through the doorway has just been told, or what decisions they're having to make. They could be here for their mother, father, their child, their brother or sister. You just always have to put yourself in people's shoes."
Be a Good Listener
When a Duke student, staff or faculty member meets with Sinisa Hamaric of the Collaborative Services team of Duke OIT, virtually or in-person at The Link in Perkins Library, one of the first things Hamaric often does is let the customer vent.
Hamaric said it's important to let a stressed customer tell the story of what brought them to him before he begins digging deeper.
"It may take five minutes for them to get everything out of their system, but you need to absorb it all," Hamaric said. "Listening is very important."
After he gets a sense of the customer's problem, Hamaric said he listens for specific things in their explanation which can lead to follow-up questions. While he may have a deep knowledge of Duke's digital tools and systems, Hamaric understands that he can't assume he knows what the issue is. The surefire way of diagnosing the issue is by listening to the user's experience and asking the right questions. 
Being good at listening has benefits that go beyond helping to solve problems. Shortslef said that by showing the customer that you're listening to their concerns, it demonstrates that you're invested in their situation, and that they have value.
"It frustrates people when they feel like they're not being heard." Shortslef said. "As soon as you show you're listening, the customer will feel a sense of relief. They're going to feel like somebody's really listening, somebody cares."
Send story ideas, shout-outs and photographs through our story idea form or write working@duke.edu.