Keeping Campus Safe: How the Duke Police Department Can Help You
During Crime Prevention Month in October, get familiar with the resources that keep the campus community safe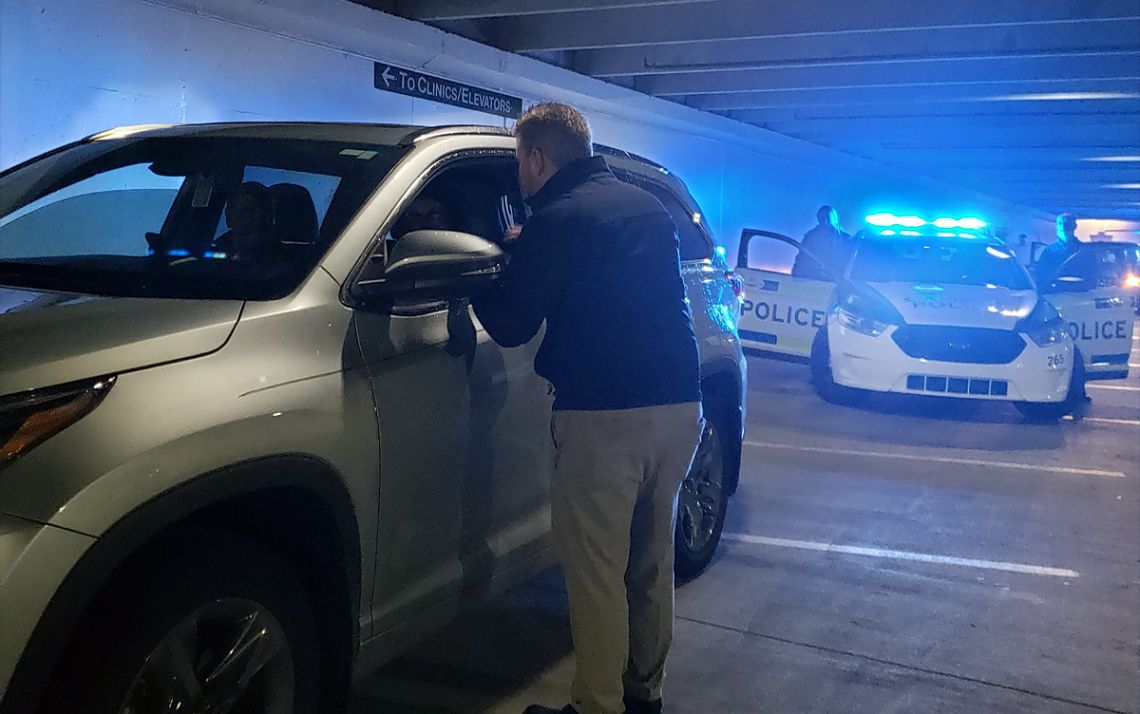 Babatunde Olayiwola-Olosun knew a little about policework before taking part in Duke's Citizens Police Academy this year. 
But over seven weeks of classroom sessions and first-hand simulations in the field, Olayiwola-Olosun, a staff assistant in the Duke Department of Cultural Anthropology, got an in-depth look at what Duke's police department does, and gained a new appreciation of the work that goes into keeping campus safe.
"After every class, I felt different, I learned new things," Olayiwola-Olosun said.
The work of the Duke University Police Department goes beyond handling emergencies, patrolling campus and responding to calls for service.
Whether conducting customized safety presentations, building bonds with community members or providing helpful services such as engraving, the Duke University Police Department is part of Duke's multi-faceted approach to safety.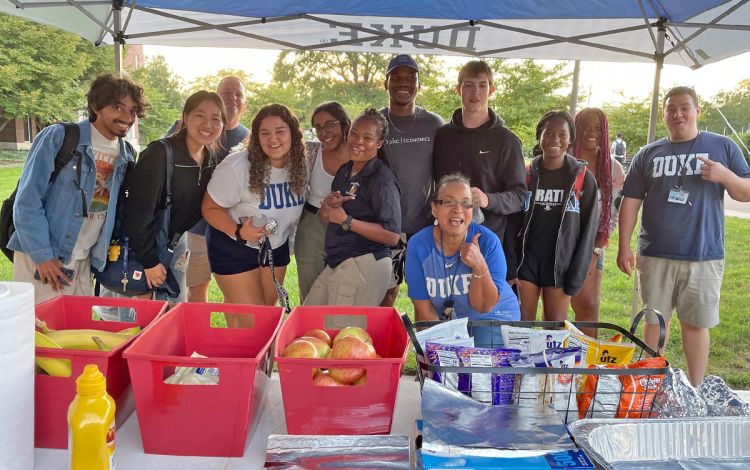 "Safety is a shared responsibility," said Duke University Police Community Service Officer Aaron Pruka. "A big reason why Duke is safe is because everybody is working together."
As we mark National Crime Prevention Month in October, here's how you can take advantage of the services Duke Police and other campus resources provide.
A Safety Mindset
As part of the annual Duke University Undergraduate Admissions staff retreat in August, Departmental Business Manager Jill Wuenschel wanted to help her colleagues be more prepared in case of an emergency.
For part of the day, Community Service Officer Aaron Pruka spoke with an audience of around 40 staff members about steps they'd need to take if they had to shelter-in-place during an emergency and ways to safely defuse a potentially violent workplace situation.
"I was all very practical," Wuenschel said. "I found that to be really helpful."
Upon request, members of the Duke University Police Department can visit groups of students, staff and faculty to give informational sessions on topics such as conflict resolution, crime prevention and more. The presentations can be tailored to specific needs and workspaces.
"I definitely think people felt a little more prepared," Wuenschel said.
To request a virtual or in-person safety presentation for your team, email dupd-communityservice@duke.edu or call (919)-684-6356 or (919) 668-2803.
At Your Service
Several times a day, Lila Rose Edwards and Peter Jeffries welcome visitors to the lower level of Duke University Police Department so they can provide one of the lesser-known helpful services.
Fingerprints.
They are part of the certification process for licenses to practice law and medicine and can be part of background checks for several types of jobs. Instead of having to go to a government office or a fingerprinting service for a fee, students, staff and faculty can get their fingerprints taken for free by making an appointment with Duke University Police.
During the appointments, which last roughly 15 minutes, fingerprints are taken on a machine that scans the prints and records them digitally.
Fingerprinting is on one of a handful of free services Duke University Police offers the Duke community. Another popular one is personal property engraving. By etching your name or Duke Unique ID on your phone, laptop, bicycle, or other items, you increase your chances of recovering the item should it get lost or stolen.
"When we engrave an item, we enter the information into our databases, so if it does get stolen, we already have a serial number, the name of the person it belongs to and its possible value," Pruka said. "Our investigators can check pawn shops or online sales and see if they can locate that property."
Engraving is available at periodic pop-up on-campus events – usually held early in the fall semester – or by request by calling (919) 681-5609 or (919)684-6356.
Building Bridges with the Community
While Duke's Citizens' Police Academy usually caters to staff and faculty members without much of an understanding of policework, Jon Carpenter, security and visitor services manager of the Nasher Museum of Art, is an exception.
Carpenter has security training and has worked in the security field since 2014. But when he got the chance to be part of the Citizens' Police Academy class last spring, he jumped at the opportunity.
The academy gives participants a mix of informal training sessions and first-hand experience in simulated versions of situations police often face, such as traffic stops and trying to calm down domestic disputes.
"I think it's definitely eye-opening for someone who isn't involved in the security field. It puts that person into the shoes of law enforcement and shows them the reasons officers do what they do," Carpenter said.
The next session of the academy will take place this spring of 2023 and registration is now open.
Safety at Your Fingertips
Students, faculty and staff can stay connected with valuable safety resources by downloading the LiveSafe app. Since its introduction to Duke in 2016, the free app available for Apple and Android devices, has helped Duke community members have a simple way to connect with Duke University Police.
Among the popular functions are the ability to request a Duke van or track Duke buses or have someone you know track of your whereabouts in real time for a virtual escort to a destination. Community Service Officer Aaron Pruka said another helpful feature is the ability to communicate with the Duke University Police Department via text, giving a discreet and confidential way to report suspicious behavior.
"People always have cell phones in their hands," Pruka said, "so with a few clicks you can be texting with one of our dispatchers."
Places to Go for Help
October is Domestic Violence Awareness Month, highlighting a problem faced by more than 10 million American adults each year, according to the National Coalition Against Domestic Violence. And according to a survey from the Corporate Alliance to End Partner Violence, 40 percent of respondents reported that their abusers harassed them at work by telephone or in person.
For Duke employees dealing with abusive behavior from a partner, or those concerned a colleague is a victim of abuse, there are resources.
If a Duke community member has been the victim of domestic violence and is concerned that there's a continuing threat to their safety, they're urged to inform their manager, who can enlist the help of one of Duke's behavioral assessment teams in figuring out the response.
Duke's Personal Assistance Service (PAS) also offers short-term counseling and referrals for a range of work and family for Duke staff and faculty at no cost. For team members at Duke's three hospitals, the Caring For Each Otherprogram offers peer support and referrals for those experiencing a crisis.
"It's important for victims to know that they're not alone," said Caryn Christiano, a senior counselor with the Personal Assistance Service. "There's often a lot of shame and secrecy in those cases, so it's important to know that these services are available and can be completely anonymous."
Send story ideas, shout-outs and photographs through our story idea form or write working@duke.edu.