Building A Green Transit Fleet at Duke
With four fully electric buses on campus, Duke plans to add around 10 more in coming years
Duke Parking & Transportation Services Senior Bus Mechanic Michael Turner has been working on Duke's fully electric buses for more than a year.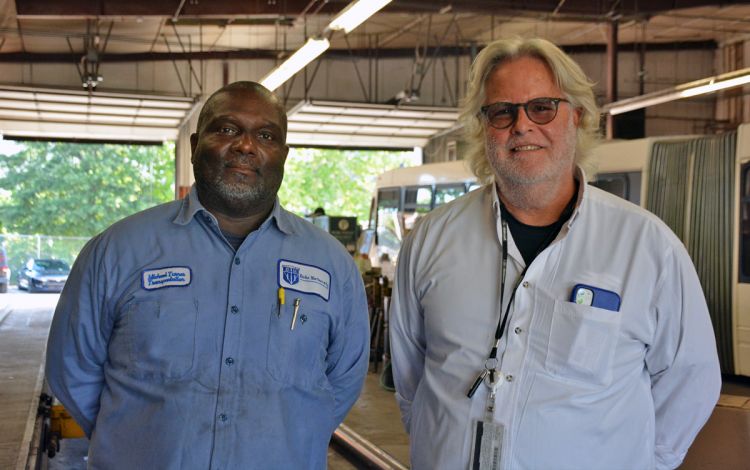 After going through training sessions with the manufacturer, Proterra, Turner knows how the buses work and how to perform maintenance on them safely.
"A big thing is just getting used to not hearing an engine," said Turner, who has been working on Duke's buses for 22 years.
Four fully electric buses are now part of Duke's fleet of 26 vehicles which also includes hybrid and diesel buses. As part of Duke's push to become carbon neutral, the number of electric buses is expected to continue to grow. Duke began replacing diesel buses with hybrid ones in 2014, eventually having as many as nine hybrid buses in its fleet. 
But since last year, Duke has been adding electric buses, bringing two into the fleet in 2021 and bringing two more onto campus roads this year. By 2027, Duke expects to have a fleet of 14 electric buses, nine hybrids and one remaining diesel one.
"The overall plan is to be carbon neutral with all of our vehicles," said Duke Parking & Transportation Services Transit Manager John Trotman.
In August, Duke received a grant from the state of North Carolina for roughly $641,000 to go toward the cost of purchasing its next electric bus and charger. 
"The cost of a new electric bus and charger combined can be well over $1 million, so they are significant investments," said Tyler Dewey, alternative transportation lead and associate transit planner in Parking & Transportation Services. "Being able to get grant money, especially this much grant money, is a huge benefit for enabling us to electrify on a faster timeline."
The 40-foot Proterra buses which Duke is adding to its fleet can carry as many as 40 passengers, are manufactured in South Carolina, and can run eight to 10 hours on a single charge.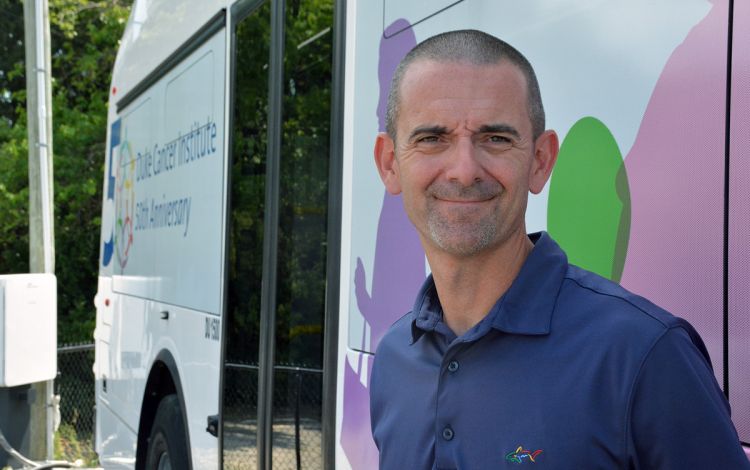 "They're good for a full shift for a driver," said Duke Parking & Transportation Services Executive Director Carl DePinto. "They don't have to come back to grab another bus because one needed a recharge."
The embrace of fully electric vehicles can also be seen at Duke Facilities Management, which added a fully electric 2022 Ford E-Transit Cargo Van to its 75-vehicle fleet. It's the department's first fully electric vehicle.
Supply chain issues and high demand for electric vehicles have made vans such as these hard to come by. That's why officials at Duke Facilities Management were thrilled to be able to purchase the van from University Ford, where it was being used as a demonstration vehicle.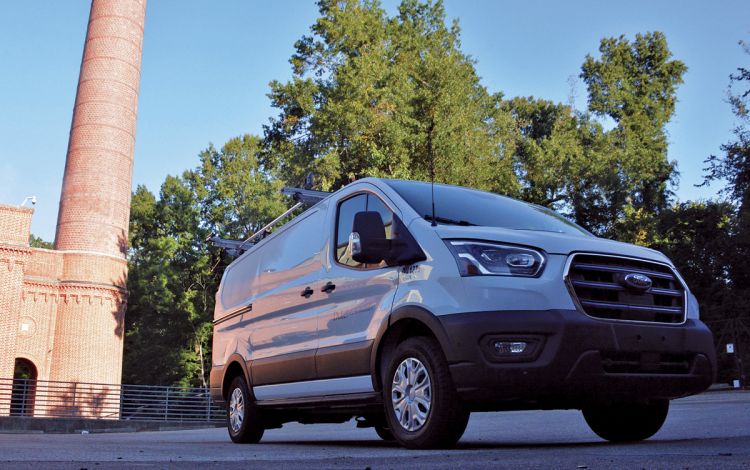 Now, when it's not at Duke Facilities Management's charging station at Smith Warehouse, the van ferries Duke's HVAC technicians from job to job.
"This is a great opportunity," said Duke Facilities Management Senior Manager for Facility Operations and Planning Steve Williams. "This demo just sort of fell in our lap. We had to negotiate for it and wait a little bit, but we're happy to have this." 
The fully electric vehicles represent a piece of Duke's commitment to become climate neutral by 2024. Since setting the goal in 2007, Duke has cut its annual greenhouse emissions by nearly 45% percent, in large part due to changing campus fuel sources, improving building efficiency and a decrease in travel. The switch to fully electric buses has played a role in the emissions of Duke's nearly 800 vehicles dropping by 8 percent since 2007.
"As Duke nears its 2024 goal for carbon neutrality, it's increasingly important that our commitment is visible to the campus community and is an example of the important steps others also need to be taking to tackle the climate crisis," said Duke Executive Director of Climate and Sustainability Tavey Capps. "The rapid electrification of the transportation system is something we have the technology today to make happen, and establishing a sustainable fleet and EV charging strategic plan is one more way Duke is investing now in climate change solutions."
Caring for electric buses is handled by Parking & Transportation Service's Transportation Maintenance Lead Jamie Palmer and his three-technician team. Palmer, who previously worked with electric buses with the Hampton RoadsTransit in Virginia, said that he's often consulting with locally based Proterra engineers, as well as other transit systems that use electric buses, to learn about maintenance needs.
While the brakes and suspension are similar to diesel and hybrid buses, nearly everything else is different. 
Instead of fuel, the buses are powered by a collection of massive batteries. Instead of having to periodically change the oil, as you'd do with combustion engines, the major bit of preventive maintenance on electric buses is tending to air filters and cooling systems. Even the tires are different as electric buses use specially designed tires that create less resistance with the roadway and are easier to propel forward.
"They're the future, there's no getting around it," Palmer said. "These are going to be around for a while."
Send story ideas, shout-outs and photographs through our story idea form or write working@duke.edu.