39 Outdoor Guides to Plan Your Next Adventure
Duke Rec's guides give you what you need to know to chart local hiking, camping, biking and paddling outings
When the COVID-19 pandemic struck in early 2020, Duke Recreation & Physical Education Coordinator of Outdoor Adventures T.J. Beezley was one of the many Duke staff members forced to quarantine at home.
With Duke Rec's hiking, paddling and mountain-biking trips on hold, large numbers of suddenly housebound community members were looking to the outdoors for fun. 
That's when Beezley had an idea.
With plenty of first-hand experience planning trips to local parks and natural areas, she thought it would be helpful to share her knowledge with fledgling outdoor enthusiasts at Duke and beyond. The result is the collection of outdoor trip plans for Duke students, faculty and staff.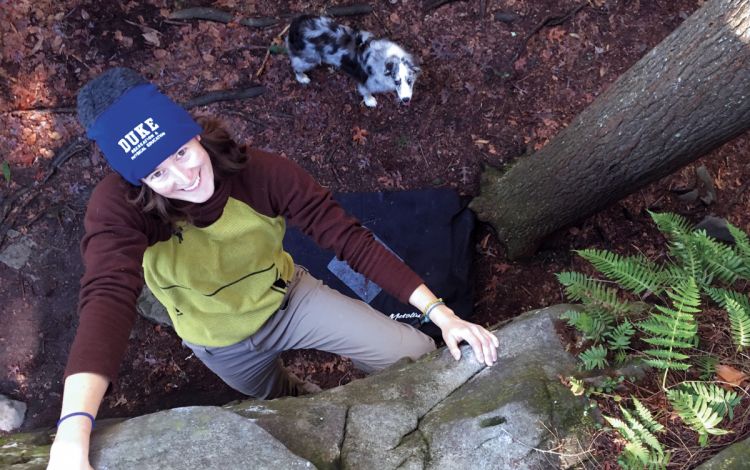 "The outdoors was where people could go and feel safe," Beezley said. "I would have colleagues ask me what areas I could recommend for hiking, or to take their dogs. So I thought of creating a resource for people, not just at Duke, but for anyone who wants to learn about the area."
According to a study from Penn State, nearly half of U.S. adults now participate in outdoor recreation on at least a monthly basis, with approximately 20 percent adopting these behaviors during the pandemic.
In the summer of 2020, a remote-working Beezley began pulling together information from first-hand experiences and online sources about local hiking and camping destinations such as Eno River State Park, Duke Forest and Jordan Lake. She then enlisted the help of Duke Rec's marketing team to design easy-to-use documents that can be downloaded.
With the first batch published in the fall of 2020, the collection grew over the next year.
"I started off with my own personal experiences of places I have gone to and enjoyed," Beezley said. "But I also found it to be an opportunity to explore new areas. Doing that research, finding new areas and then going to them myself to explore was a really fun part of the project."
In addition to maps, driving directions, and descriptions of hikes, paddles and a campsites, the guides also feature helpful information on facilities, fees and what resources are available in case of emergency.
"I wanted to have information for people who might be new to the outdoors and want to make sure they are comfortable and safe or for someone who's maybe been in the area for a while and just wants to try and new place or new location or activity," Beezley said.
All told, there are 39 plans for backpacking, hiking, mountain biking and paddling at area spots such as Falls Lake, Raven Rock State Park, West Point on the Eno and more.
"I love Durham, it's a great area," she said. "But if you have the ability to drive a few hours, you can be in the mountains, you can be at the beach. There are a lot of opportunities locally, in our backyard and just down the road."
Send story ideas, shout-outs and photographs through our story idea form or write working@duke.edu.