Duke Nurse Melissa Babb of Ukraine: 'We Really Wanted to Do Something'
Melissa Babb and husband Mitch Babb, chief operating officer for Duke Regional Hospital, volunteer their medical services in Ukraine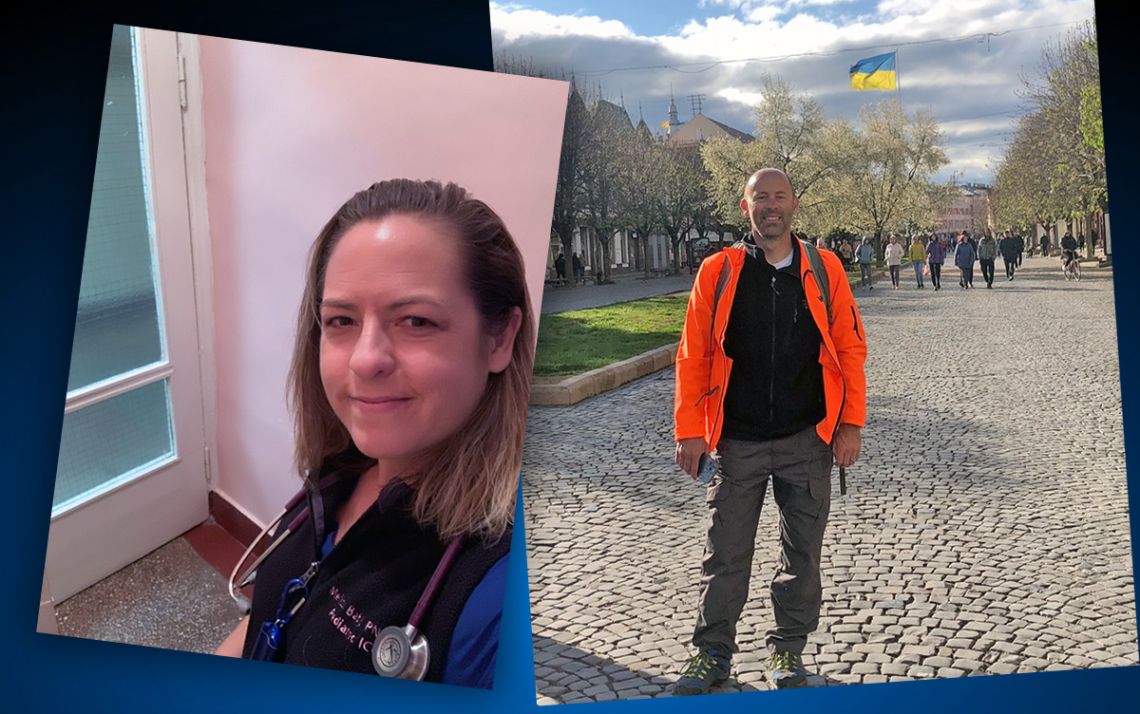 At 4:30 a.m., Melissa Babb sat on a minibus parked under the moonlight in a residential area of Lviv, Ukraine.
After three days traveling through airports without much sleep, she and other healthcare providers from the United States, Serbia, and Canada sat in the minibus, waiting for air raid sirens to end. Only then would it be safe to climb a hill up to the hospital she'd traveled nearly 5,000 miles from Raleigh, North Carolina, to volunteer her medical services in March.  
"I didn't think about it as if I'm going into a war zone," said Melissa, a nurse practitioner at Duke Urgent Care Brier Creek who spent six days in Ukraine. "I was going in thinking, 'We're going to help these kids, and then we're going to get out.'"
At the start of the Russian invasion of Ukraine, approximately 120 health care facilities in Ukraine sustained damage, according to Johns Hopkins University. The medical needs of a nation under attack caught Melissa's attention, and she couldn't let go. It would be her first medical mission, and soon after her return home, her husband Mitch, chief operating officer for Duke Regional Hospital, would go on his own volunteer mission in Ukraine for nearly a week.
As of early June, according to the World Health Organization (WHO), there were 269 verified attacks on health care in Ukraine. The WHO has trained at least 1,300 health care workers on trauma surgery, mass casualties, burns, and chemical exposure.
"We wanted to do something," said Melissa, a 2006 graduate of the Duke University School of Nursing, who has worked at Duke for seven years.
Katie Galbraith, president of Duke Regional Hospital, wasn't surprised to see the Babbs go to Ukraine. To her, their dedication is an example of the way they live the values of Duke Health in caring for patients, their loved ones, and the larger community.
"This is who we are as Duke, Duke Health and Duke Regional," Galbraith said. "At our core, health care is people helping people and people caring for people, and we care every day."
'Go'
Around 9 p.m. on March 9, Melissa Babb was sitting on the couch in her house in Raleigh, scrolling through Facebook when she came across a post from Novick Cardiac Alliance, asking for trained nurses to go to Ukraine to help pediatric cardiac patients.
Melissa showed the post to her husband.
"What would you think about this?" she asked.
"Do it!" Mitch replied. "Go."
About 12 hours later, she had a plane ticket. That weekend, she flew from Raleigh-Durham International Airport to New York, then to Amsterdam and on to Krakow, Poland. There, at the airport, she joined the rest of the medical team with Novick Cardiac Alliance and began what ultimately became a 12-hour minibus trek east into Ukraine to care for pediatric patients.
Melissa and the team of nurses, surgeons, and medical professionals arrived at the border of Poland and Ukraine around midnight. She saw refugees with small children walking into Poland in the darkness. The families left their cars near the border and walked into Poland with strollers, bags, and other belongings they could carry. The refugees were greeted on the other side with lollipops, a hot meal, and hugs.
Melissa arrived with two duffel bags packed with supplies, including syringes, central line kits, alcohol swabs, tubes, diapers, stuffed animals, pens, paper, and calculators. The supplies were hastily prepared by colleagues at Duke Regional Hospital who wanted her to feel the support of Duke.
"We knew that she was going to help pediatric cases," said Melodie Goswick, director of Hospital Supply Chain at Duke Regional, who helped collect supplies. "That made it even more imperative that we supplied her what she needed to take care of the babies."
The supplies became critical when Melissa was tasked with creating an intensive care unit out of an empty room in Lviv's Clinical Municipal Communal Emergency Hospital. While in Ukraine, she worked, ate and slept at the hospital and watched over some of the most critical pediatric patients she'd ever encountered. The children recovering in the ICU had complex cardiac conditions and were operated on by Dr. William Novick, a Memphis-based pediatric surgeon who makes trips annually to low- and middle-income countries to train other surgeons.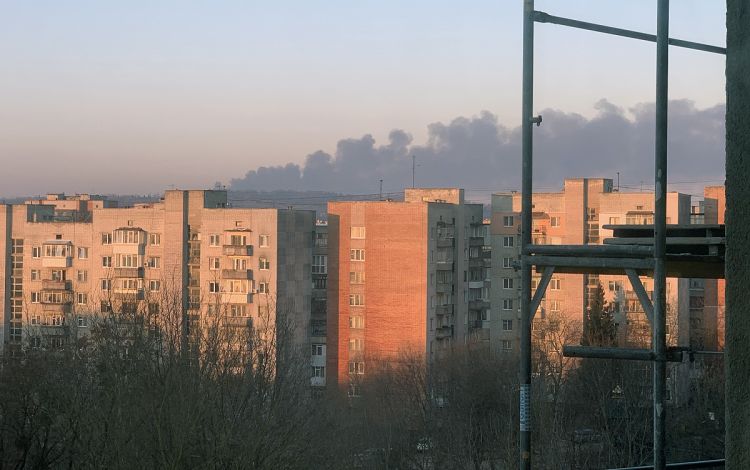 On her fourth day in Ukraine, Melissa was in the ICU monitoring children with another nurse when a bomb exploded a few miles away. The vibrations and explosion rocked her. Though normally calm in medical crises, her first instinct was to gather patients and retreat for cover. But when she looked around, she saw that everyone was continuing work. The other nurse in the room calmly reassured her that this explosion was far away.  
"You couldn't be scared," Melissa said. "You just had to sit and experience it."
'I needed to go there'
Meanwhile in Durham, Melissa's husband, Mitch, kept up with his wife through the Air Alarm Ukraine app. It often woke him up in the middle of the night, giving him an alert to check on his wife. No matter what he was doing, he stopped and closed his eyes to pray for the safety of his wife and others.
Mitch and Melissa have been married almost nine years and met through mutual Duke colleagues on a date. Though he often worried about her, Mitch was inspired by her bravery.
"It just solidified for me that I wanted to go and serve," said Mitch, who worked 30 years as an emergency department and air transport nurse at Duke before moving to hospital administration. "It did not scare me. We both wanted to go, and it just solidified my willingness in knowing that the need was there, and I needed to go there."
When Melissa returned to North Carolina in March, Mitch had already signed up for his own trip to Ukraine with Baptists on Missions. That journey, taking place a few weeks later in April, gave him a better understanding of his wife's experiences.
In Ukraine, Mitch worked in small towns at the foot of the Carpathian Mountains, near the border with Hungary, helping internally displaced people who had untreated medical and psychosocial needs. More than one third of Ukrainians have been forced from their homes since February 2022, according to the United Nations Refugee Agency.
Mitch's experience in daily operations at Duke Regional Hospital came in handy in Ukraine. Collaborating with local medical organizations, he helped streamline a process for doctors to connect with the community, an important part of understanding how to meet the physical and mental needs of people who fled their homes.
During that work, Mitch met a 13-year-old boy who hadn't spoken in almost two weeks. His mother was concerned and asked someone to talk with her son. Mitch learned that the boy and his mom had been at a train station that was attacked a few weeks earlier. After escaping when many others didn't, the boy had post-traumatic stress disorder and survivor's guilt.
After a few minutes with Mitch, the boy opened up and cried.
Outpouring of Support
Since they've been back, Mitch and Melissa have had many conversations about what they saw. They both agree that they'd like to go to Ukraine to help again, and Mitch will be back this fall. The outpouring of support for their trips has been touching, but the number of questions from strangers, friends, and colleagues has also been important to them.
The most common question is, "How can I help?" Using her in Ukraine as an example, Melissa's advice is for people to find ways they can use their skills to contribute, even if it's at home.
"So many people here want to help, and they just don't know how to," Melissa said. "It's really encouraging to see people and talk to them. It doesn't have to be this big brazen thing like what I did. I didn't even realize how big or brazen it was until I got home."
Send story ideas, shout-outs and photographs through our story idea form or write working@duke.edu.