PUBLISHED
Duke Flags Lowered: Jacob Joseph Blum, Physiology Professor Emeritus, Dies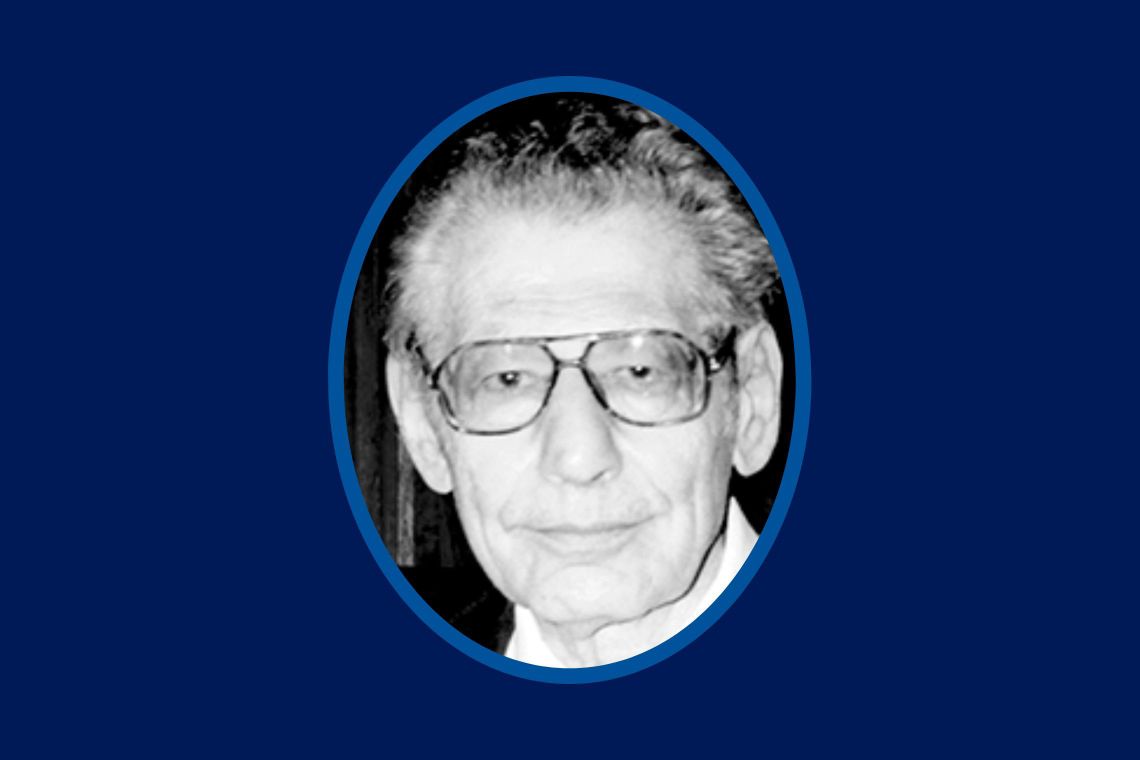 Jacob Joseph Blum, a James B. Duke professor emeritus of physiology at Duke University who delved into numerous fields of inquiry, died on August 16 in Chapel Hill, N.C. He was 95. His family confirmed the death, saying that his spirits remained high, but that his physical health deteriorated after several bad falls in the past year.
Dr. Blum taught at Duke's Department of Physiology (later renamed the Department of Cell Biology) and conducted experiments in his laboratory at Duke Medical Center. Though most physiologists focus on one area throughout their careers, he began studying the metabolic pathways of cilia and flagella in the four-membrane protozoa Tetrahymena and ventured into cats' vision, bats' hearing, and E. coli in rats' livers and frogs' tongues before making his mark as a Leishmaniac (the designation given to observers of the parasitic protozoa Leishmania donovani).
Two decades into his lab experimentation, Dr. Blum additionally took on theoretical research in collaboration with Duke Professor of Mathematics Michael Reed. The duo explored the biochemistry of pituitary cells and the organization of the auditory brainstem, among other topics.
"Joe was deeply committed to understanding human physiology and saw early on that mathematics and computation would be helpful," Reed said about his collaborator of 19 years. "He brought rigor, creativity and a penetrating intelligence to his science and math." Dr. Blum published more than 250 articles in peer-reviewed journals and books. Yet his breadth of knowledge extended far beyond science. He read widely in literature, history, art and religion and, although self-avowedly tone deaf, was a lifelong lover of music.
His enlightenment would come to shape a campus bastion. In the mid-sixties, as Duke medical center was poised to construct a new science building, Dr. Blum was made privy to the blueprints. No windows were planned. Having suffered from sunlight deprivation at the Naval Medical Resident Center in Bethesda, he now searched out quotes from Shakespeare and the Bible to build his case.
Natural light, he argued, was essential for the creative thinking involved in science: inspiration took illumination. The cultural omnivore presented his case at the next faculty meeting. It roused the humanity of the powers that be—and the Nanaline Duke Building got its windows. "It was my greatest contribution to Duke and to science," he mused at his retirement party.
Jacob Joseph Blum was born on October 3, 1926, in Brooklyn. His Ukrainian-born father, Paul, was a furrier whose garment district shop Joe helped out in. His mother, Anna (Braun) Blum, from Poland, stayed at home to raise three children.
Joe, also affectionately known as Jay and J.J., enlisted in 1944 in the U.S. Army, which assigned him to a team of electrical engineers that was working on radio communication systems during World War II. After his military service, he majored in chemistry at New York University, courtesy of the G.I. Bill of Rights. His father wanted him to become a doctor, but he was drawn instead to scientific research. Joe earned his bachelor's degree in 1947 and made plans to go on to graduate school. At the University of Chicago, he earned a Master of Science degree in 1950 and a PhD in physiology in 1952. He pursued post-doctoral work at the California Institute of Technology in Pasadena with two-time Nobel prize winner Linus Pauling.
Other early stints included serving on the staff of the Naval Medical Research Institute in Bethesda (1953-1956), teaching as an assistant professor at the University of Michigan at Ann Arbor and acting as chief of the biophysics section in the gerontology branch of the National Institutes of Health in Baltimore (1958-1962). Duke University recruited Dr. Blum in 1962 and endowed him with a James B. Duke chaired position in 1980.
Among his other distinctions and appointments: Merck postdoctoral fellow (1952); Guggenheim fellow (1969); Fogarty senior international fellow (1992); president of the American Physiological Society, Society Protozoologists (1991). He retired from Duke in 1997.
Dr. Blum protested against segregation in the South throughout the sixties. Already on his first day at Duke, he tore down the signs for "White" and "Colored" bathrooms, risking his new place at an institution that had a quota on Jewish faculty. In 1964, he bailed out fellow Duke scientist Peter Klopfer, who was jailed for participating in a civil rights protest at a local restaurant.
Later in the decade, Dr. Blum led teach-ins criticizing the Vietnam War. He was also long active in bringing Soviet scientists to the United States and in rallying support for Israel. His moral compass did not end with political activism. He had compassion for all walks of life and exuded warmth and humor to anyone within earshot. Tributes from peers, friends, community admirers and family members praised his legendary love of laughter that touched the lives of so many people he loved and who loved him so dearly in return.
J.J. was married twice. He is survived by his two sons, Mark (Duke B.A. '75) and Douglas; two daughters, Lisa and Laura (Duke B.A. '79); six grandchildren and seven great-grandchildren; a brother, Harold P. Blum; and a sister, Roslyn Goldner.