Blue Devil of the Week: Making Duke A Better Place For Learning
Kim Manturuk is the associate director of Research, Evaluation and Development for Duke Learning Innovation
Position: Associate director of Research, Evaluation, and Development for Duke Learning Innovation
Years at Duke: 8
What she does at Duke: As associate director of Research, Evaluation and Development for Learning Innovation at Duke, Kim Manturuk connects faculty with resources to conduct research on teaching and learning. She consults with faculty across campus to help them determine the focus of studies; how to best collect and use data; and ethical considerations of research involving students.
When Manturuk joined Duke in 2014, her work aiding professors with research began with consulting on three projects, but her work has since expanded to a portfolio of at least 50 projects with faculty across campus. Projects include the effects of team-based learning in STEM classrooms and how class format and assessment methods affect student performance in math classes. That growth underscores the importance of her work, especially given the disruption of traditional teaching and learning caused by COVID-19.
"Being able to facilitate that expansion of the research community around teaching has been really cool," she said.
With a doctorate in Sociology, Manturuk's research focuses on how to make learning experiences and environments more equitable and inclusive for students at Duke. Her recent papers cover how faculty members learned to effectively teach remotely during COVID-19 as well as a case study for how professors can support LGBTQ+ students living and learning at home during the pandemic.
Because the pandemic increased use of new learning technologies, such as Zoom, she studies the effectiveness of digital learning tools like Nudge, an app developed by Learning Innovation that sends a multiple-choice question about a topic discussed in class 24 hours after the class meeting.
"It's been really exciting to get to create a new infrastructure for support around teaching and learning research," she said.
First ever job: As a teenager, Manturuk's first job came with an unusual uniform: a full tuxedo, cummerbund, and top hat.
The fancy garb was part of delivering pizza for the restaurant Papa Harry's Pizza in Columbus, Indiana, which operated with the tagline "pizza with a touch of class." 
"It definitely made me feel comfortable not worrying what other people were thinking because you look ridiculous and that's just part of the job," she said. "Unexpectedly, it ended up being a big confidence booster."
What she loves about Duke: Since joining Duke, Manturuk has been impressed with the spirit of collaboration of colleagues across campus. For example, she recently collaborated with the Office of the University Registrar to streamline the process for how researchers at Duke can request demographic information on Duke community members to contextualize research.
"Their attitude from the very start was 'let's figure out how to make this work,'" Manturuk said. "Consistently, I've run into that time and time again at Duke, people have this attitude of 'that sounds like a good idea. Let's figure out how to make that happen.'"
Lessons learned during the pandemic: When the pandemic began in March 2020, Learning Innovation was flooded with hundreds of requests to help transition in-person classes to online over the course of about 13 days.
On the first day of quarantine, Manturuk had also closed on a house. With no Wi-Fi at home, she worked from a McDonald's parking lot to access the internet for several crucial days when her expertise was needed to continue courses. The experience is indicative of lessons in adaptability that gave an old adage renewed meaning to her.
"Don't let perfection be an enemy of getting something done as best as you can," she said.
When she's not at work: An accomplished long-distance runner, Manturuk completed Michigan's Lighthouse 50 ultra marathon in June, a precursor for a pair of 100-mile events she'll run this fall. She finished the 50-mile race in 12 hours, a new best and eighth among all women competitors.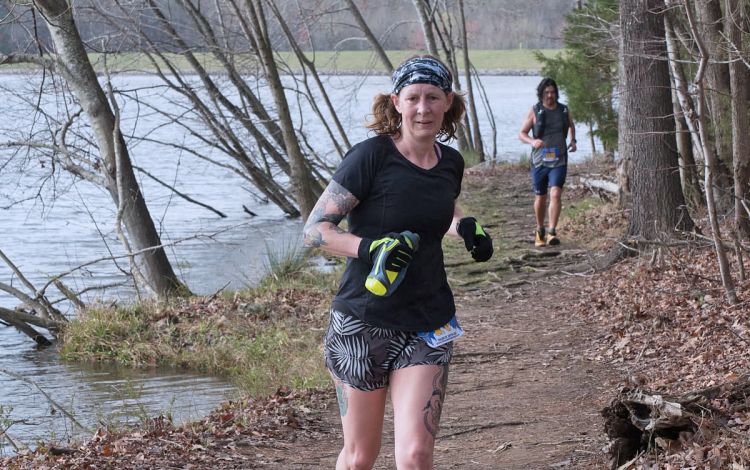 She has run 500 days in a row – running between three and 20 miles per day – compiling approximately 2,500 to 3,000 miles per year.  
"It's a really nice way to get centered and get ready to come into work," she said.
Most memorable day at work: Manturuk helped organize the Pandemic Pedagogy Research Symposium, a virtual event at Duke about research into the ways the pandemic has changed teaching. Sessions and topics led by experts across the country included how to approach grading during the pandemic; lessons learned for teaching STEM classes remotely and other innovations that grew out of necessity.
Last year, about 500 people attended the symposium. This year, nearly 1,000 attendees from across the country.
"It was phenomenal," she said.
Is there a colleague at Duke who has an intriguing job or goes above and beyond to make a difference? Nominate that person for Blue Devil of the Week.