Meet a Resilient Duke Management Academy Class
Class members from 2020 cohort complete program, gaining leadership experience in real-time after COVID-19 disrupts their journey
In late February of 2020, a group of Duke colleagues met for the third session of that year's Duke Management Academy. Selected for their promise as leaders, the group was in the early stages of what was supposed to be a year-long program on navigating challenges and developing the individual skills and collective potential of teams.
Coincidentally, the topic of that third session – held roughly two weeks before the pandemic halted the program and irrevocably changed the work landscape – was leading in times of change.
"I don't think any of us had any idea what we were about to go through," Liz Milewicz, a 2020 academy scholar and head of digital scholarship and publishing for Duke University Libraries.
The Duke Management Academy was paused by a pandemic and gradually restarted more than a year later, it ended in late June when members of the 14-person 2020 cohort gathered for a graduation ceremony in the auditorium of the Nasher Museum of Art, celebrating alongside Duke Executive Vice President Daniel Ennis, who shared stories of his own journey into leadership.
The Duke Management Academy, which started in 2019, is one of several manager and leader development programs offered through L&OD. Among the other professional development and career track programs are the Front Line Supervisor program, which helps new managers guide their teams, and the Duke Leadership Academy, a 12-month initiative that has been an incubator for leaders around the institution.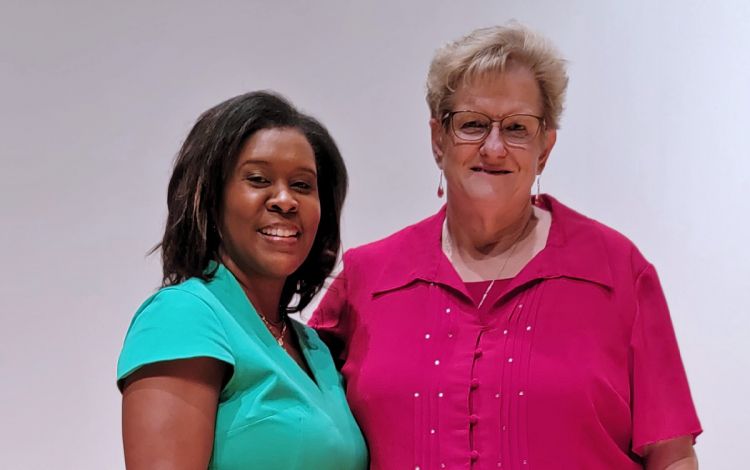 The Duke Management Academy halted work in March 2020 when the pandemic abruptly forced thousands of staff and faculty to quarantine and work from home. While the Management Academy scholars didn't see one another again until the summer of 2021, when they began doing virtual and in-person coursework, throughout the process, they took the lessons learned and used them while facing pandemic-era leadership challenges.
"The endurance and commitment of this group makes them unique," Joy Birmingham, associate director of Duke Learning & Organization Development (L&OD), a unit in Duke Human Resources. "They were determined to see this through."
In a pre-pandemic class about leading through change, Milewicz, the 2020 class speaker, recalls Duke Health Chief Human Resources Officer Rhonda Brandon sharing her philosophy for letting people deal with change at their own pace. Brandon shared a laminated reference card showing effective ways to communicate with colleagues in times of uncertainty. Over the next two years, Milewicz kept that reference card next to her computer, sharing images of it with colleagues who, like her, found the guidance invaluable.
"That card reminded me that, as managers, we couldn't jump to saying things were just going to be OK," Milewicz said. "We had to acknowledge that this isn't what any of us wanted and recognize where people are and let them work through the process."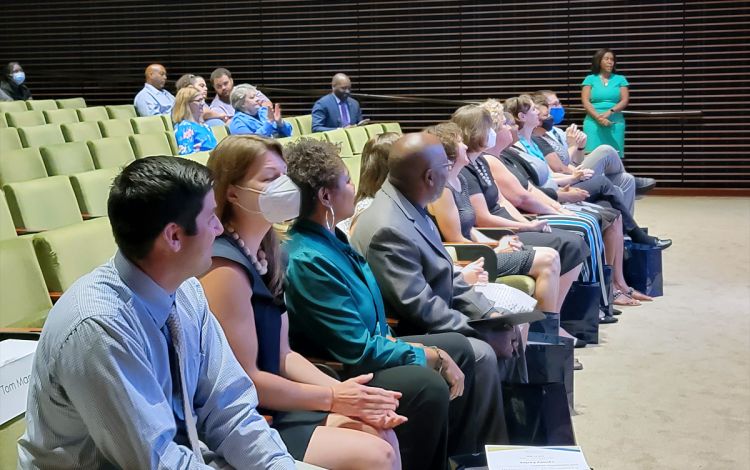 During the program, the Management Academy scholars were split into three teams to work on group projects that dove into topics coloring the post-pandemic work picture at Duke and beyond. A panel of evaluators read their case studies and watched their final presentations, which were delivered earlier in June.
The project by the team of Milewicz, Duke Health Development & Alumni Affairs' Stacy Davis; Duke Health Technology Solutions' Tom Maniaci; the Duke School of Medicine's Christie McCray; and the Duke School of Medicine's Melissa Murad, provided insight into the issue of employee retention and development at Duke.
Among the team's conclusions were that investing in employees' career advancement through a supportive work culture, professional development opportunities and system of identifying relevant skills could lead to promotion and reduce employee turnover.
The team of Performance Services' Nathan Russell; Duke Health Access Services' Jennifer Vance; the Fuqua School of Business' DeAnne Harrison; and the Nicholas School of the Environment's Erika Lovelace-Young researched the challenge of managing remote teams by providing strategies for maintaining work-life harmony, navigating tech issues and keeping employees engaged.
With their project, the team that included Duke General Internal Medicine's Robin Byrd; the Duke School of Medicine's Lynsey Easley; Office of Research Support's Alejandro Martinez; and University Development's Sarah Mine explored ideas and strategies that will likely shape management in the new remote and hybrid work landscape.
The team found that strong communication – whether it be by onboarding new employees, building healthy employee engagement or articulating team values – would be a common thread for effective organizations moving forward.
"I have a profound respect for the people in this program," Milewicz said. "We really got to know each other, we just connected. I'm so honored to work with managers like this at Duke. It's an amazing group of people."
Send story ideas, shout-outs and photographs through our story idea form or write working@duke.edu.