Family Reunion Delayed Due to Pandemic Earns Duke Time Off Photo Prize
Duke staff and faculty are invited to share pictures of summertime off – near and far – for prizes from the Washington Duke Inn, Duke Lemur Center and University Stores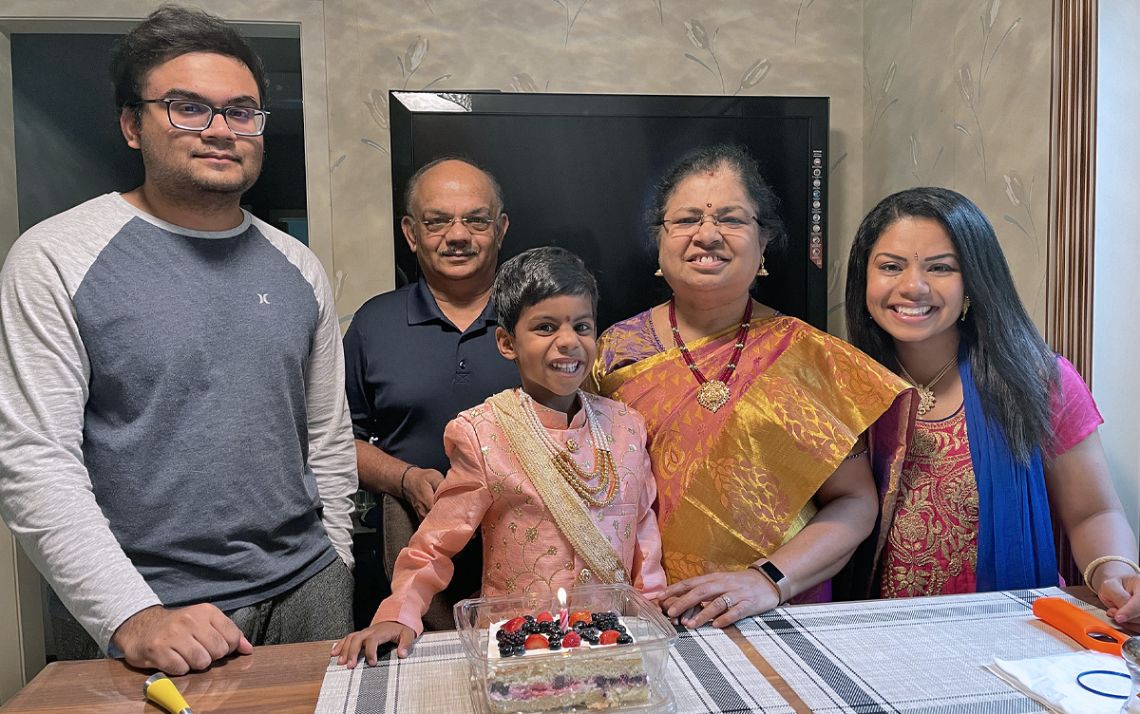 In the middle of a celebration, complete with traditional Indian clothing and a berry-topped birthday cake, an excitable grin from Duke gastroenterologist Dr. Anna Veerappan's 5-year-old son, Aadhi, stands out.
For two years due to the pandemic, Veerappan and her family were unable to visit her parents (Aadhi's grandparents), but in June, they made the trip to Farmington Hills, Michigan, for a birthday celebration.
"This picture is precious to me because it symbolizes unconditional love, pure childhood joy, and the desire to connect to one's heritage no matter one's age or surroundings," said Veerappan,  Assistant Professor of Medicine.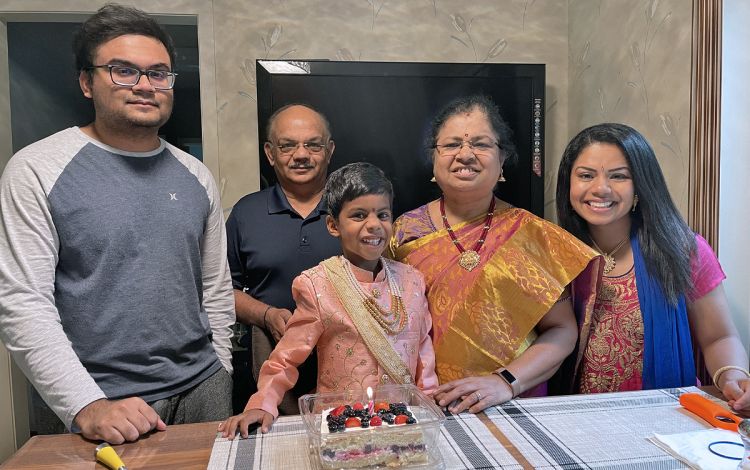 The photograph, taken on June 4 while celebrating Veerappan's mother Muthu's birthday, earned her a prize in the Duke Time Off photo campaign. Veerappan will receive a Duke themed beach chair, courtesy of Duke University Stores.
The special trip was made possible after Veerappan's son, Aadhi, turned 5, making him eligible for the COVID-19 vaccine.
Veerappan recalled her son asking, "where's my shot? I want to be able to get on an airplane. Let's go get my shot," as his birthday in March approached. "I think he was more excited than we were, but we were obviously very excited to finally have some protection in place for our very vulnerable child," Veerappan added.
Over a four-day stay in Michigan in June, the family took trips to the Detroit Zoo and the Henry Ford Museum of American Innovation.
"They loved every second of it," Veerappan said of the family's excursions. "It's like, 'Finally, finally, we get to do this.'"
To be eligible for prizes in the 2022 Duke Time Off photo campaign, photographs must be taken between May 25, 2022, and Aug. 8, 2022, and shared by current University and Health System staff and faculty during the same time
During the campaign, the Working@Duke editorial team will award Duke-themed merchandise from the Duke eStore. All pictures shared throughout the course of the campaign – May 25, 2022, to Aug. 8, 2022 – will be in the running for these grand prizes:
A "Classic Package for Two" at the Washington Duke Inn, which includes a king or double/double room for one night and full breakfast for two in the Vista Room or room service. Sunday brunch is not eligible.
A Walking with Lemurs tour for four with Lemur Center Executive Director Greg Dye –courtesy of the Duke Lemur Center.
How to share your 2022 summer pictures:
Post and tag a photo on Twitter, Instagram or Facebook with #DukeTimeOff. Tell us what you're doing with your time away from work. Remember to include #DukeTimeOff in your post, so we can find your snapshots on social media.
If you're not on social media or prefer to share your picture another way, upload your picture here.
For submissions with multiple photos, only the first picture will be considered for the contest. Collage photographs and videos are not eligible for prizes. The deadline for submissions is 12 p.m. Aug. 8. Winners will be announced on Working@Duke in late August.
Send story ideas, shout-outs and photographs through our story idea form or write working@duke.edu.