Research, industry and entrepreneurial leaders from across North Carolina met last week to set the stage for realizing an internationally recognized network of excellence in plant research. Their aim: Solving major challenges associated with climate change and its effects on crops and food.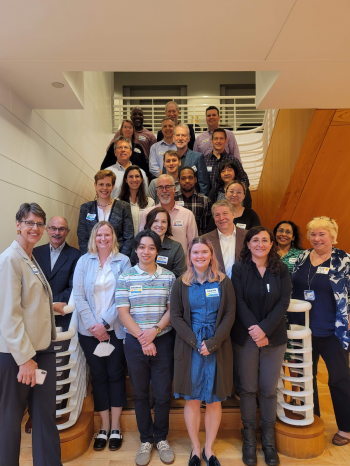 This emerging collective of regional partnerships, called the Climate-Plant Innovation Network, will conduct cutting-edge basic and translational research in plant biology to improve productivity and quality of agriculturally and ecologically important crops and train a diverse workforce to contribute to these efforts regionally.
Jenny Lodge, Duke's vice president for research and innovation, welcomed the more than 30 participants representing universities, industry, the public sector and nonprofits from the Triangle to the vision workshop held at the NCBiotech Center.
"Duke has a longstanding, deeply-held commitment to pursuing knowledge in service to society," Lodge said. "There has never been a more pressing need than for us to tackle the grand challenge of how we take better care of the earth while feeding the world's population than there is right now."
Philip Benfey, Paul Kramer Distinguished Professor of Biology, and Duke biology professor Lucia Strader organized the event in partnership with the Office for External Partnerships.
"Our agricultural future is dependent on a continuing commitment to two key factors," said Strader. "High-level basic biological research and dramatically increasing the translation of fundamental discoveries that have the potential to positively impact the world's food and environmental security."
The network — led by facilitator Susanne Kjemtrup of Phyta Biotech Consulting — engaged in a full day of discovery brainstorming activities, identifying its mission, overarching goals and path to success.
Five plant biology graduate students from Duke and NC State were invited to assist Kjemtrup with managing the workshop and contribute their ideas and insights from a trainee perspective. Such industry interaction opportunities for students are a core part of the Office for External Partnership's mission.
The Climate-Plant Innovation Network plans to develop a community communication platform, establish a steering committee, prioritize the innovative ideas formed at the vision workshop and seek seed funding to develop a robust strategy within the next six months.