Pentagon Leaders Get Briefed on Innovative Duke Research
Army Under Secretary Gabriel Camarillo leads tour of Duke research labs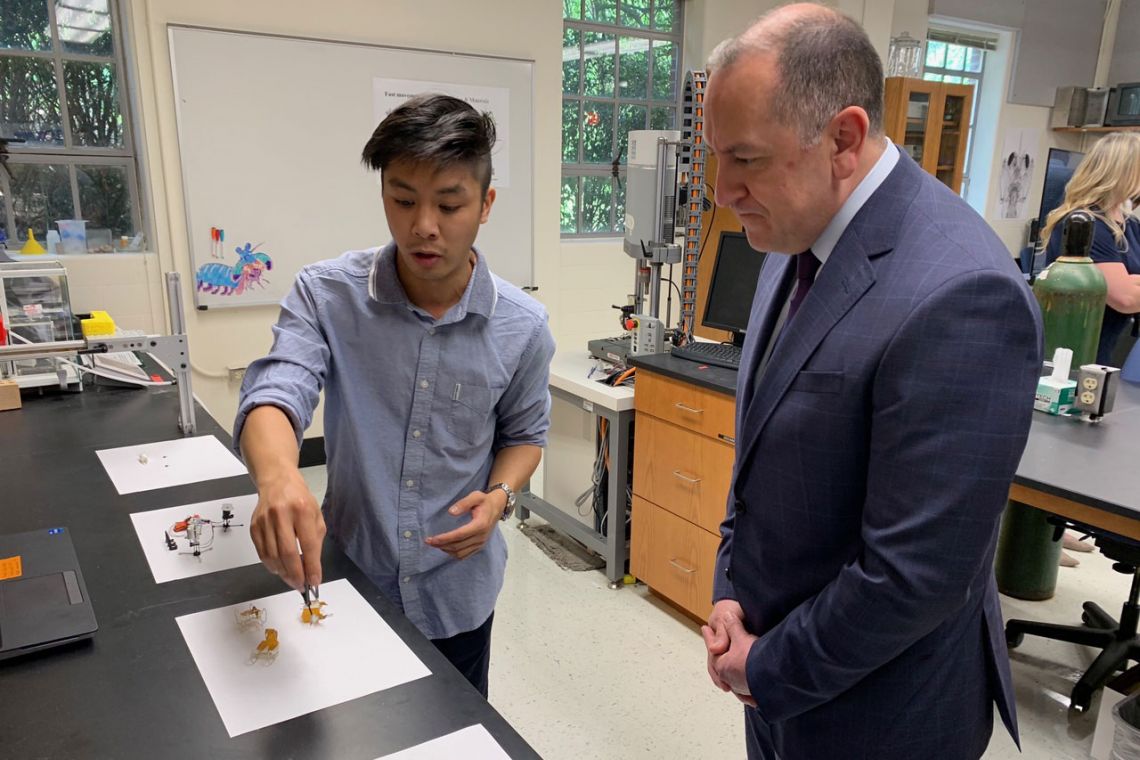 A team from the U.S. military that included Gabriel Camarillo, under secretary of the Army, learned how shrimp, ants and quantum computing could improve military operations and technology during a tour of three Duke University research labs Monday.
Camarillo spent the afternoon getting briefed by Duke faculty members leading projects funded by the Army and other government agencies.
"This research is absolutely critical to making the technological advances to develop war-fighting into the future," Camarillo said at the conclusion of his visit.
Jenny Lodge, Duke's vice president for research and innovation, said the tour highlighted the importance of Duke's partnerships with the Army and other agencies who see real-world applications in the science practiced every day in campus labs.
"We don't want our research to just sit on shelves," Lodge said. "We want it out in the world. These partnerships enable those translations to real-world uses."
Camarillo's tour included stops in:
A biology research lab run by Professor Sheila Patek investigating the evolutionary biomechanics of mantis shrimp and trap-jaw ants to help translate biology to engineering design. Her lab is a multidisciplinary group of biologists, engineers, polymer scientists and physicians across six universities. The work buttresses a similar Army project on biohybrid robotics.
The Quantum Center, where Camarillo was shown a 25-qubit quantum computer, one of the most powerful at a university research facility anywhere. That computer, created with funding from the Intelligence Advanced Research Projects Activity -- within the Office of the Director of National Intelligence -- could have a variety of eventual military applications including data security, encryption and logistics optimization.
The Christensen Family Center for Innovation at the Pratt School of Engineering, where existing partnerships between Duke and the Army focus on transferring innovation effectively into the military's hands.
"It's really hard to visualize the progress teams are making and potential future applications until you see the work," Camarillo said. "It's also a chance to interact with the researchers and understand what the applications might be."
The visit Monday was the latest in a string of partnerships between Duke and the U.S. Army.
Last year, Duke entered an agreement with the Army's 18th Airborne Corps, based at Fort Bragg, N.C. to spur innovation by bringing military situations into the university research lab.
That partnership created "Soldier-Academic Innovation Teams" to collaborate on problems of interest to both the Army and Duke researchers. The agreement – similar to those the Army has with other universities – is intended to spur innovation in the military and increase research and learning opportunities at Duke.
That agreement, in turn, built on Army-Duke collaborations already underway, where Duke scholars helped develop solutions to real-world problems faced by the military.
In one exercise, for example, Duke students worked with officials at Seymour Johnson Air Force Base in Goldsboro streamline the planning and logistics of reservist training weekends through the design of software programs.
Camarillo's visit to Duke also included a visit with recently retired men's basketball coach Mike Krzyzewski. Camarillo presented a statue to Krzyzewski – a graduate of the U.S. Military Academy who also coached the Army basketball team for five seasons prior to taking over the Duke program in 1980