Duke Signs Educational Partnership With U.S. Army 18th Airborne Corps
Agreement seeks to bring innovation to the military, increase learning and research opportunities for Duke faculty & students
A new partnership between Duke University and the U.S. Army's 18th Airborne Corps is expected to spur innovation, help streamline military processes and provide new research and learning opportunities for Duke faculty and students.
The Educational Partnership Agreement signed Wednesday is an umbrella under which future projects linking Army personnel and Duke faculty can be created quickly and with little red tape.
The agreement is similar to partnerships the Army has forged with several other universities – including the UNC system – in an attempt to reduce bureaucracy and spur innovation and entrepreneurship within its ranks.
"These kinds of academic partnerships advance the culture of innovation we're building across the 18th Airborne Corps while allowing us to contribute ideas and innovative soldiers to these top universities," said Col. Joe Buccino, a spokesman for the 18th Airborne Corps. "Our relationship with Duke will manifest in Soldier-Academic Innovation Teams to collaborate on problems both the Army and Duke are working on. While we gain access to cutting-edge labs and top academic minds, we'll give the Duke team access to tech-based problems we are facing."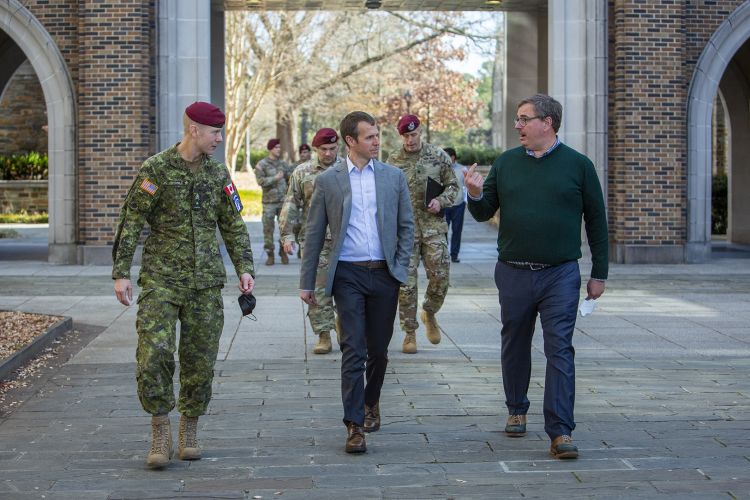 Based at Fort Bragg, the 18th Airborne Corps is a 92,000-soldier unit able to deploy – by land, air or sea – anywhere in the world on short notice.
"I was delighted to welcome the 18th Airborne Corps and 82nd Airborne Division to Duke," said Duke President Vincent Price. "The partnership we finalized today will not only advance our mutual interests in innovation and lead to many new opportunities for collaboration—it will also deepen our relationship with the military community, at Fort Bragg and throughout our region. We are proud of our long relationship with the 82nd and look forward to working closely together in the years to come."
The five-year partnership is expected to largely tap Duke's expertise in science, technology, engineering and public policy, though it could reach more broadly to include faculty in social sciences and elsewhere, said George Truskey, a biomedical engineering professor and an associate vice president for research at Duke.
Truskey, the program manager for the partnership, said the new relationship might yield 10 to 20 projects over the next several years.
"Some of them might be battlefield situations, but others may not," he said. "There may be procurement or logistical issues. It may be how an environment operates, making the military more agile overall. There's quite a range of possibilities students could work on."
After a brief signing ceremony, officials from the Army and Duke toured two campus laboratories, the Innovation Co-Lab and the Cyber-Physical Systems Lab.
The Co-Lab hosted a COVID-19 Engineering Response Team that, during the pandemic, took on a series of projects aimed at creating and improving tools used in the fight against COVID, like isolation tents, surgical hoods and reusable face shields. At the Cyber-Physical Systems Lab, researchers explore issues at the intersection of computing systems and the physical world.
The new partnership formalizes existing connections between Duke and the military. One is Duke's Hacking for Defense initiative, where students use entrepreneurial strategies to solve real-world problems provided by the military. No, Duke students aren't building a better tank. But the military has myriad problems to solve, and organizers of the Hacking for Defense class saw a chance for students to do meaningful work.
"These are problems common to all large organizations," said Steve McClelland, an executive in residence with the Pratt School of Engineering. "For example, how do medics prepare to work in an austere environment? If they don't have access to hospitals, how do they prepare for that? Others are very process-oriented. What are the communication problems on a ship that may lead to ship collisions?"
Duke has offered that class for three semesters, sending students and faculty to military installations around the state to meet soldiers and work on problems.
At Seymour Johnson Air Force Base in Goldsboro, for example, students helped officials there streamline and improve the logistics of reservist training weekends by designing software to organize those very busy events.
"These relationships give us access to real-world problems that our students use methods and processes to solve," said McClelland, also co-director of Duke's Christensen Family Center for Innovation. "Student motivation goes way up because suddenly there's someone who cares if we solve this problem. It's not just the professor. There's a stakeholder on the other end. They want us to find the answer to their problem.  And they learn the process better because it has so much relevance."