Blue Devil of the Week: Enriching the Fuqua Student Experience
Sara Wakefield puts the Daytime MBA Program students in a position to grow
Name: Sara Wakefield
Position: Associate Director of Student Life, Daytime MBA Program, Fuqua School of Business
Years at Duke: 5
What she does at Duke: For students in the Fuqua School of Business' Daytime MBA Program, the lessons learned in the classroom about leadership, collaboration and effective organizations are often put into practice by organizing student-led activities, building partnerships with organizations in the Durham community, and helping shape the culture of the school through student government.
It's Sara Wakefield's job to make sure those parts of the student experience come together. In her role, she connects students with learning experiences in the Durham community by overseeing programs such as Fuqua on Board, which gives students opportunities to serve on the boards of local nonprofits. She also supports Fuqua's student government leaders, helping them understand rules and think through challenges.
And during the COVID-19 pandemic, Wakefield took on the challenge of coordinating the school's surveillance testing program, which entailed working through logistics, answering compliance questions from community members, and helping develop safety protocols that balanced safety with the need to preserve the school's culture.
"We wanted to create guidelines for clubs to follow so they could have events and create meaningful ways to connect, but do it in a safe way that's aligned with larger Duke policies," Wakefield said. "It was a huge learning curve. We made some mistakes but I also think we got a lot of things right."
What she loves about Duke: Working closely with the bright, motivated students who pass through Fuqua, Wakefield said she's perpetually inspired by their ambition and their potential.
"I'm not going to cure cancer, I'm probably not going to develop the next amazing app or technology platform, but this person I'm working with, they might," Wakefield said. "And I'm creating experiences that can help them stretch and grow and maybe get them to that place where they can do that amazing thing. I find that really rewarding."
Best advice received: Through her experiences with students, Wakefield is often reminded to only worry about what you can control.
"With students, you can coach, you can mentor, you can advise and hope they make the right decisions," Wakefield said. "But at the end of the day, it's their call to make. So, I try to do my best to control what I can, but be OK with the outcomes and give whatever support I can."
When she's not working, she likes to: In addition to seeking out fun restaurants and breweries, Wakefield and her husband, Josh Herb, love to spend time on the hiking trails of Eno River State Park, Duke Forest and Umstead State Park alongside their dog Bella. And in April 2021, after she was vaccinated, Wakefield and some close friends took a hiking trip to Arches National Park in Utah.
"There's nothing better than going for a five or six mile hike with your dog on a Saturday, especially if the weather is nice," Wakefield said.
Most memorable day at work: One of Wakefield's first days at Duke in July of 2016 was also the start of the Daytime MBA Program's first-year student orientation. Part of the orientation featured new students gathering in an auditorium and cheering as they were divided into their different sections.
"The level of energy and enthusiasm was on a different level," Wakefield said. "I just remember feeling like this place was really special."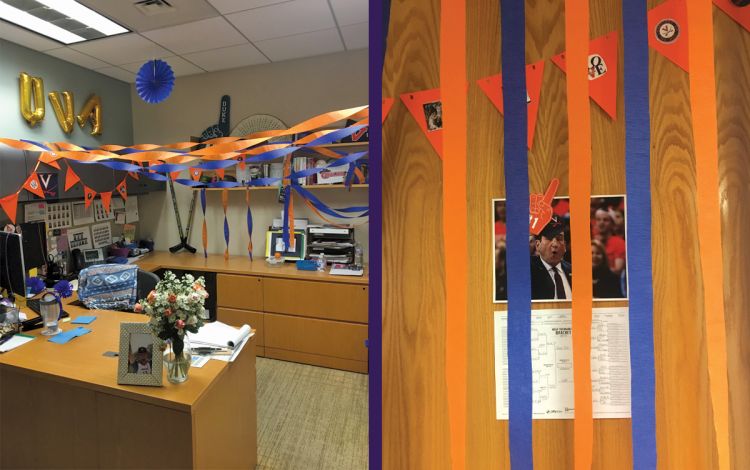 Something unique in her workspace: Wakefield is a graduate of the University of Virginia, which in recent years has grown into a formidable ACC rival to Duke's perennial powerful men's basketball team. In 2019, after Virginia claimed its first NCAA Tournament title, Wakefield returned to work to find that her co-workers had decorated her office door with photos of Virginia coach Tony Bennett and one of her colleagues – die-hard Duke fan and Fuqua Assistant Dean Steve Misuraca – appearing to be clad in Virginia gear. Both of these photos are still displayed on a bulletin board in Wakefield's office.
"It was really touching, and one of many examples of our team going the extra mile to celebrate and recognize each other," Wakefield said.
Something most people don't know about her: While in college, Wakefield was part of a sketch comedy group which posted skits online. While her performing days are through, Wakefield said she still uses some of the ideas she learned from her comedy days in her current role.
One such idea is the "Rule of Threes," which says that repeating a joke or concept three times is the sweet spot for making it funny or memorable.
"The first time it surprises you, the second time, you're kind of getting into the groove, but by the third time, it feels like an inside joke between you and the creator of the sketch," Wakefield said. "I think about the 'Rule of Threes' sometimes in my work. If I'm doing a learning session, and something's really important, I try to point it out three times."
Lesson learned during the pandemic: Because of her involvement with helping develop and implement COVID-19 safety guidelines, Wakefield heard from Fuqua community members with a range of opinions on the best way forward. Through her first-hand experience with these conversations, and by seeing how Fuqua leaders handled the uncertainty of the pandemic, Wakefield saw how important it is to keep an open mind and listen.
"Sometimes it can be hard to listen if people are mad or angry about things, but it is really important," Wakefield said. "People need to feel valued and need to be heard and feel like their perspective is taken into consideration."
Is there a colleague at Duke who has an intriguing job or goes above and beyond to make a difference? Nominate that person for Blue Devil of the Week.