Blue Devil of the Week: Designing a Golf Championship Legacy
With seven national titles and 38 years with Duke, Dan Brooks is true blue
Name: Dan Brooks
Position: Head Women's Golf Coach
Years at Duke: 38
What he does at Duke: Dan Brooks has coached the Duke's women's golf team for 38 seasons, building the program into a national power.
Under his direction since 1984, the Blue Devils have won seven national titles, 21 Atlantic Coast Conference crowns and produced 24 All-Americans. Brooks earned a spot in the National Golf Coaches Hall of Fame, has been named National Coach of the Year seven times and entered the 2021-22 season as the leader among all Division I coaches in tournament victories with 140. And recently, Brooks was inducted into both the Carolinas Golf Association Hall of Fame and the North Carolina Sports Hall of Fame.
The Blue Devils begin play in the NCAA Regional in Franklin, Tennessee, today.
But more than any victories or honors, Brooks, 63 said his biggest thrill has come from getting to know the people who have made up his decorated teams.
"When my days are done here at Duke, the word I will use to describe my experience is 'awe,' just in the character of the individuals that I've been able to coach," Brooks said. "It's been phenomenal. They have had so much asked of them, and have risen to the challenge and exceeded what you'd expect."
In addition to coaching, Brooks, who played collegiate golf at Oregon State, also teaches students at the Duke Golf Club and directs the Duke Academy of Golf, a summer youth program.
While coaching women's golf has kept him busy – the season usually spans both the fall and spring semesters– Brooks earned a master's degree through Duke Graduate Liberal Studies in the 1990s.
"It took me forever to get that because I was doing it while working at this job," Brooks said. "But it was great. I didn't want it to end."
What he loves about Duke: The Duke Athletics Department that Brooks joined in 1984 was a fraction of its current size and operated in a college sports landscape that seemed quaint compared to the big-time version that exists today.
But Brooks said that he takes pride in just how much in Duke Athletics hasn't changed, specifically its enduring commitment to help student-athletes thrive in whatever pursuit they aspire to.
"The thing I love most about most about Duke is that we continue to stand for what we originally stood for," Brooks said. "We stand for the person before we stand for what the person does. You are who you are, not what you do. I've always felt like our athletic department cares more about the person than the athlete. I don't think we've ever lost that."
A memorable day at work: In May 2019, Duke came from behind to beat Wake Forest 3-2 in the NCAA Championship match at Blessings Golf Club in Arkansas, earning Brooks and the Blue Devils their seventh national title.
Brooks said that the manner in which Duke won made it especially sweet.
Playing in their second match-play contest of the day, the Blue Devils were tied 2-2 with the Demon Deacons as the final match of the day, pitting Duke's Miranda Wang and Wake Forest's Letizia Bagnoli, finished up.
After trailing for much of the match, Wang forced the contest to extra holes and, after Bagnoli ran into trouble on the 20th hole, the sophomore calmly recorded a title-sealing par, giving Duke the 3-2 win and setting off a raucous celebration.
"To be on the green, with the team going crazy, it was wonderful," Brooks said.
A special object in his workspace: Since the late 1980s, Brooks' office has been in one end of the sprawling Washington Duke Inn & Golf Club. But on one wall of his workspace is a painting of the building that held his first office at Duke.
Made of Duke stone and a fraction of the size of the current facility, the original clubhouse of the Duke Golf Club was where Brooks worked for his first four years at Duke. While he remembers the building being much too small to meet the program's needs, he still feels nostalgia for the place where his Duke career began.
"It's great for me to see that because that was where it all started," Brooks said.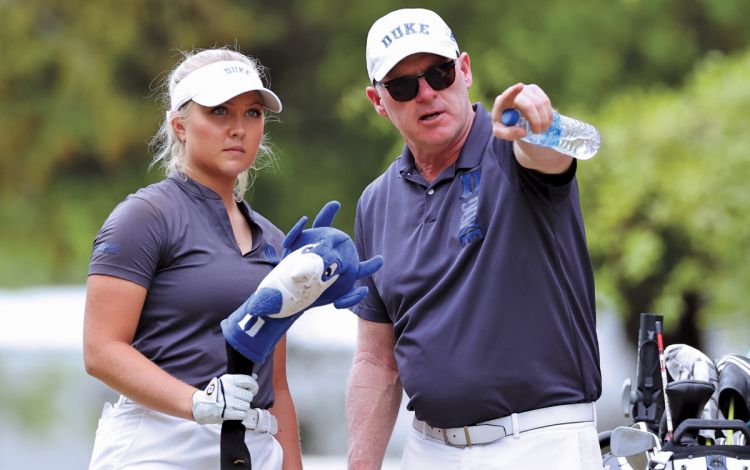 Best advice received: Brooks recalls a conversation he had with a friend early on as a student at Oregon State. Unsure about how to navigate college life, Brooks was looking for any advice.
"Just act like you know what you're doing," Brooks' friend told him.
Looking back, Brooks said that approach has proven useful, both in golf and life.
"That has more good psychology to it that you might think," Brooks said. "The whole 'fake it 'till you make it' thing can help you soothe yourself. If you put action in front of emotion, you can actually move and behave in a way that will instill confidence. I believe in that. It's helped my players, and it's helped me."
Something most people don't know about him: While Brooks has a passion for golf, he's developed a similar love of art.
In recent years, Brooks has nurtured a longtime love of drawing by taking classes through the Durham Arts Council.
"It's something I've always enjoyed doing," Brooks said. "I love to create. Whenever I get the chance, I try to take classes."
Lesson learned from the pandemic: After seeing how his team handled pandemic-era hurdles, Brooks learned not to take convenience for granted. In order to compete during the height of the COVID-19 pandemic, Duke golfers had to take classes online, get daily COVID-19 tests, spend days and nights in hotels in case of exposures and adhere to masking and distancing protocols. And without the ability to fly, all road trips during the 2020-21 featured long rides in multiple vans, with players seated far apart and mostly confined to hotel rooms.
"Everything was so much harder, nothing was simple," Brooks said. "It takes some patience to get through when things become more difficult. And golf is all about patience. I was very impressed by my team through that whole time."
Is there a colleague at Duke who has an intriguing job or goes above and beyond to make a difference? Nominate that person for Blue Devil of the Week.