Blue Devil of the Week: A Conservation Biologist on Duke's Coastal Campus
Andy Read, director of the Duke Marine Lab, documents the effects of human activities on marine animals
Name: Andy Read
Position: Director, Duke Marine Lab
Years at Duke: 27
What he does at Duke: As director of the Duke University Marine Lab, Andy Read oversees the day-to-day operation of the campus on Pivers Island in Beaufort, North Carolina, with about 120 faculty, staff and students on the coastal campus each day.
"Everything that happens on main campus, maybe with the exception of basketball, we do here," Read said. "It's running a small campus, with the added degree of difficulty of hurricanes."
Read, the Stephen A. Toth Professor of Marine Biology, has research interests in the conservation biology of marine mammals, seabirds, and sea turtles, documenting the effects of human activities on species that live in and around the ocean through experiments and field work. Recently, president Joe Biden nominated Read to serve on the U.S. Marine Mammal Commission, which provides oversight for marine mammal policies and programs carried out by federal regulatory agencies.
A favorite aspect of his role is teaching, which puts him into the field with students to explore the applications of course material, including observing dolphins and whales miles out at sea, performing a dolphin postmortem to understand its anatomy, and examining whale bones.
With an interactive teaching style, Read was recognized in 2021 with a Duke teaching award, ranking him among the top 5 percent in the Natural Sciences Category.
"I love teaching at Duke," he said. "When I interviewed here in 1995, the faculty who were interviewing me, who later became my colleagues, were telling me how extraordinary Duke students were. I thought, 'oh, maybe they're blowing smoke a little bit,' but it's true."
Read visits the Durham campus to meet with graduate students, advisees and sometimes to lecture at the Nicholas School of the Environment. But working by the ocean is his favorite place, where he has a moment of gratitude driving into work over the bridge every day.
"I'm lucky," he said. "I get to see the ocean outside my window, and we have dolphins go by the lab regularly. We get the cool summer sea breezes, which is nice. It's a lovely place to work."
Best advice received: When Read settled into a career at Duke and began to worry over whether he would achieve tenure, then-colleague Marie Lynn Miranda gave him some advice that shaped his journey.
"She told me that you should just do what you love and everything else will take care of itself," Read said. "If you do what you love, and you're passionate about it, it'll be fine. So, I stopped worrying about whether I was going to get tenure or not — I did — but I think it's really good advice to follow your heart."
What he loves about Duke: While Read enjoys teaching and research, he said the caring Duke community, including everyone who responded after almost a dozen Marine Lab buildings were damaged by Hurricane Florence, has made his time at Duke special. From the commitment of students to their studies to the dedication of faculty and staff to keep a unique campus running, he loves the tight-knit community.
"We have a supportive community because we're three hours away from Durham," Read said. "It can feel like a long way sometimes, so we really support each other really well."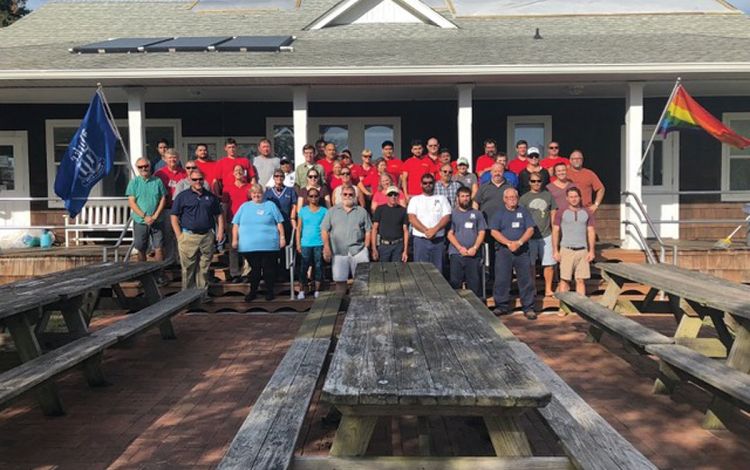 Most memorable day at work: In September 2018, Hurricane Florence wreaked havoc on the Duke Marine Lab campus, pelting buildings with winds that reached 106 miles per hour at nearby Cape Lookout and left up to 24 inches of rain.
The storm left the most damage on the lab's facilities since it opened in 1938, including ripping back the roof of the Repass Center, one of the lab's main teaching facilities, and causing water damage to other buildings and dormitories.
When it was safe to do so, even as many of their houses were damaged and electricity remained out, faculty and staff who worked at the Duke Marine Lab returned to the coastal campus when blue skies returned to assess damage and rebuild the campus. They were later joined by others from the Nicholas School of the Environment and colleagues in Durham.
Read was moved by how the community came together to help, from Duke Dining staff cooking lunch for everyone, to Facilities Management helping to assess and damage so the campus could resume operation.
"It just made me appreciate working in a place where people have shared values and a sense of community that we all looked out for each other…" said Read, who was part of the Marine Lab team which won a Presidential Award for its hurricane response. "When you can go to work and know folks have your back, it's really nice."
Something unique in his workspace: The ocean is Read's workspace. That means he gets to venture out in a 30-foot research boat called The Barber, named after Richard T. Barber, an emeritus oceanographer at the Marine Lab.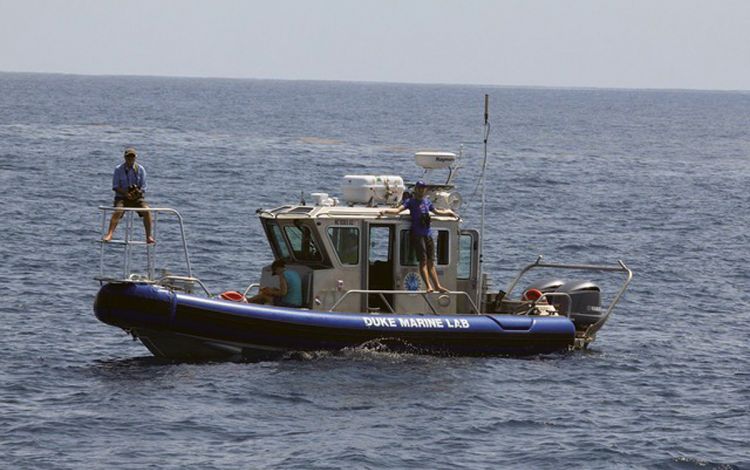 Read's favorite place to take the boat is 40 miles east of Cape Hatteras, out into the blue water of the Gulf Stream.
"That's seriously my happy place," Read said. "We go out past all the charter boats, where they're fishing, so we're off by ourselves in the blue water with whales. That makes me very happy."
When he's not at work, he likes to: Read lives on a farm about 20 minutes away from the Beaufort campus, in an area called Down East, where he and his wife care of a large vegetable garden, fruit and pecan trees and chickens. They also have two wild gelding ponies named Soprano and Jair, who came from Shackleford Banks, an undeveloped barrier island off the coast of North Carolina.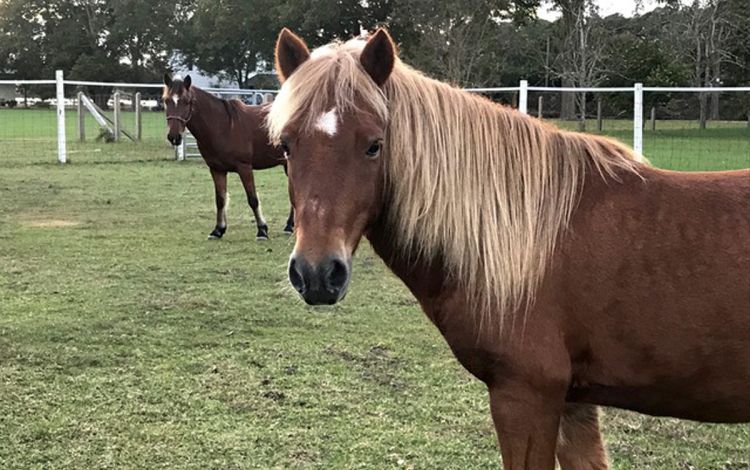 "The farm keeps us pretty busy," Read said. "That's how I decompress when I get back from work. I go work in the garden, weed or harvest veggies."
Is there a colleague at Duke who has an intriguing job or goes above and beyond to make a difference? Nominate that person for Blue Devil of the Week.