Between Two Worlds
In a Working@Duke survey, 77 percent of staff and faculty who responded prefer to work remote two or more days per week
Brittane George, who has worked remotely since joining Duke last year, recently co-hosted an online job fair for patient-facing positions in Duke's hospitals.
Between candidate visits on Zoom with her Duke University Health System Talent Acquisition team members, George got the opportunity to make small talk with colleagues, who shared restaurant recommendations and asked about her move to Durham from Virginia in late 2021.
"Afterward, one of my team members said, 'You know Brittane, this is the first time we've gotten a chance to really chat,'" George said.
George cherishes the opportunity to work remotely, pointing to the flexibility to work outside on nice days and the cost-savings without a commute. While she's taken steps to feel connected by visiting campus and the hospitals, she knows that building bonds with Duke would have been easier had the pandemic not happened.
"I work with an amazing team, but when you're not in the same space, you don't get to connect in the same way," she said.
Her experience typifies the balance employees and organizations are trying to strike in a post-pandemic era, where hybrid and fully remote work arrangements give employees flexibility, while potentially stretching social connections and organizational culture.
Over the past two years, Duke has largely answered concerns about if and how remote arrangements can work. But there are lingering questions as the institution charts its path forward. With hires and departures rising last year, recruiting and retaining top talent, while building and maintaining a positive connection to Duke, remain priority areas for leaders.
In an online survey by Working@Duke in December 2021 to assess remote work preferences, 77 percent of about 2,300 staff and faculty who responded said they'd prefer to work remote two or more days per week after COVID-19 is no longer a threat. That echoes a national trend in a 2021 survey by consulting firm PricewaterhouseCoopers (PwC) that showed 56 percent of employees would prefer to work remotely two-or-more days per week if given the option.
At Duke, thousands of staff and faculty, including many caregivers, aren't able to work remotely due to the nature of their roles. And 4 percent of staff and faculty who took the Working@Duke poll said they prefer not to work remotely at all.
One of those employees is Social Science Research Institute Research Associate Mary Anne McDonald, who worked at home at the onset of the pandemic.
"I prefer to be on-site because I believe in the concept of the academic community," she said. "I am collaborative by nature and value the community of other researchers and scholars ... I missed being able to walk across the hall to ask questions or help solve problems."
Duke's Executive Vice President Daniel Ennis said that the university is balancing its educational, research and healthcare missions – most of which require an in-person presence – with new approaches in a competitive landscape.
"My view is that we're in the talent business, and we've got to listen very carefully to what that talent needs and balance that against the needs of our mission and the ways we need to work together," Ennis said.
Research shows that people want both connection and autonomy. The amount of Duke staff and faculty who listed flexibility as a top benefit of remote work jumped from 16 percent in 2020 to 29 percent last year, according to the Working@Duke survey. And a recent LinkedIn report notes that 63 percent of professionals want "work-life balance" when picking new jobs.
"What we have learned overall is that flexibility is here to stay in some way, shape or form," said Andy Brantley, president and CEO of the College and University Professional Association for Human Resources (CUPA-HR). "It's essential in terms of your ability to recruit, engage and retain talent across your organization."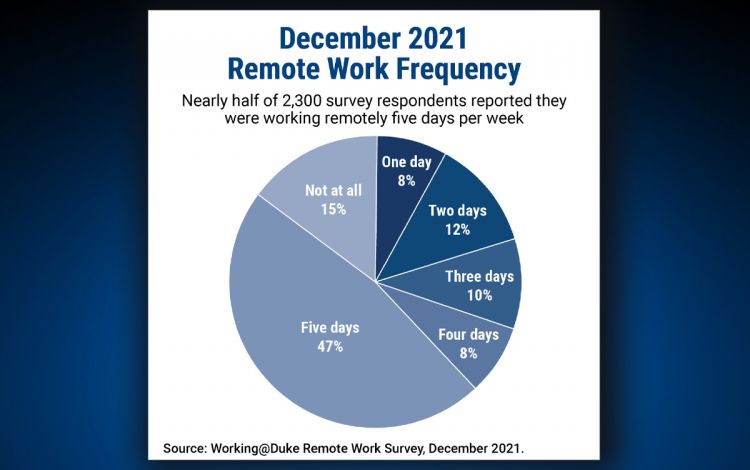 Finding and Keeping the Best
Each morning, Lacey Rhea, a grants and contracts manager with the Duke Department of Medicine's Office of Research, sits near a sunny window at home and fields questions from her team about compliance and funding involving Duke's cardiology, hematology, oncology and cell therapy research.
Rhea, who started at Duke in July of 2021, has never met her colleagues
in-person. In fact, she's never been to Durham.
"I do hope to visit one day," said Rhea, who lives and works in Gainesville, Florida.
Since the pandemic began, hybrid and fully remote arrangements have become a part of the institution's future. A survey of around 300 managers at Duke this year shows that nearly 91 percent expect to have remote or hybrid employees moving forward.
Offering versions of remote work arrangements for compatible positions will be part of keeping pace with other employers. A January 2022 PricewaterhouseCoopers survey shows that 48 percent of U.S.-based executives saw talent acquisition and retention challenges as the biggest risks for organizations. About 43 percent are offering employees hybrid work options
to attract and keep staff.
"In the past year, things have changed dramatically, and people are making decisions as it relates to their life circumstances," said Brantley, the CEO of CUPA-HR.
The opportunity to work remotely is what drew Rhea, a Florida native, to Duke after her former employer required a return to the office.
"I'm thankful that my department at Duke recognizes that many people are perfectly fine working from home," Rhea said.
Flexibility will continue to be a draw as Duke sees an uptick in hiring, adding 10,317 new full-time employees in 2021, up from 7,061 in 2019. While most new hires are in the Health System, the portion of Duke's workforce housing its medical research operations also saw an increase, adding 3,255 jobs last year.
As director of Human Resources for the Duke Clinical Research Institute (DCRI), Dana McDonald finds herself in the middle of a competitive recruiting and retention effort in an industry reshaped by the pandemic. COVID-19 unleashed funding for new medical research, leaving areas such as DCRI with an increase in work.
McDonald estimated that DCRI had at least 50 open job postings at any point in the past year. Prior to the pandemic, slightly more than half of DCRI employees worked remotely at least one day per week. Now, all DCRI employees work remotely for at least part of the week, a feature often cited in job listings.
"Being completely remote is absolutely a hook," McDonald said. "You know you'll get more people to apply when they know there's a possibility they don't have to relocate."
Assistant Director of Central Recruitment for Duke Human Resources Michelle Jones, whose team oversees job postings for all of Duke University and Duke Health's non-clinical staff roles, estimated that the ratio of applicants for fully remote jobs versus hybrid or on-site ones is about 10-to-1.
Currently, Duke is registered as an employer in 10 states beyond North Carolina, meaning it's compliant with the states' labor laws, tax structures and more. By this summer, Duke expects to add eight more states to the list for certain exempt staff positions.
"This just gives us another tool in the toolbox," said Duke Associate Vice President for Finance and Controller Barbara Hough, who is part of the state expansion effort.
Research Administrator Aletta Davis is one of those remote workers. She joined the Office of Research Administration in September of 2021. Working from her Cary home, she closely collaborates with colleagues in Alamance County and South Carolina.
Despite the distance, she enjoys her team members, is fascinated by the research, and relishes the convenience of working from home five days per week. But her appreciation of the flexibility goes well beyond small comforts.
Her parents, Bob and Linda, live in West Virginia, near where she grew up. After her mother had a health scare early in the pandemic, Davis spent time back home helping out. While her parents are doing well now, if they have more issues, she's ready to move to Virginia or Maryland to help.
"If the time comes when I need to move up there so I can be close enough to help, I know I have that option," Davis said. "… so that I can be an excellent employee, as well as excellent daughter. I think that's the kind of flexibility people want."
Together, Even When Hybrid
After 23 years as a Green Beret in the U.S. Army Special Forces, Randy Garcia wanted a career with another tight-knit group.
That's what drew him to his role at Duke, his alma mater, in 2012. Here, he can establish connections with fellow alumni as a development officer in Leadership Giving, raising money for the Duke Annual Fund in Alumni Engagement and Development.
Before the pandemic, Garcia worked among a few hundred colleagues in the 27-story One City Center in downtown Durham. About 14 times a year, he traveled across the United States, meeting with donors, energized by conversations about campus happenings and newfound connections with alumni in various industries.
After working from home for 18 months, Garcia returned to his cubicle as soon as it was safe and has gone into the office every day. But nearly everything is different now; he sees fewer than 10 people on-site and Zoom backgrounds and digital messages have replaced in-person hallway chats.
"Relationships are built by in-person interaction," said Garcia, who is among the 4 percent of staff and faculty who prefer to work on-site daily, according to Working@Duke's survey.
While an all in-person work environment may no longer be the norm, the worry over building relationships represents a concern shared by Duke employees, who ranked "social isolation" among their top remote work challenges in the survey.
The views match national perspectives, including the August 2021 PricewaterhouseCoopers survey in which 36 percent of C-suite executives cite loss of corporate culture as the biggest challenge to hybrid work.
In looking beyond the pandemic, Dr. Sim Sitkin, the Michael W. Krzyzewski University Professor of Leadership at Duke's Fuqua School of Business, said there isn't a one-size-fits all approach for connecting people with each other and an organization's mission. While inclusivity, trust, support, and effective communication are key to engendering pride and a sense of belonging among colleagues, each organization must decide what works best and make togetherness a priority, whether people are on-site or remote.
"There isn't one correct answer to this," Sitkin said. "I think leaders have to think seriously about what the key norms are. What are the key practices that are associated with that culture? Many of them don't require collocation, some do."
Last year, the Office of Information Technology (OIT) permanently relocated to the Power House, a former power plant in downtown Durham that is about a third of the size of OIT's former space at the American Tobacco Campus. With 61 percent of OIT staff working remotely most days, the Power House's shared workspaces offer flexibility for individuals and teams to gather in-person for collaboration.
The department also organizes monthly virtual and in-person events to build camaraderie and maintain office traditions. Last spring, for example, an outdoor scavenger hunt drew 40 participants who searched for clues at King's Sandwich Shop, Durham's bull statue, and Motorco Music Hall.
For the tech industry where many professionals can work from remote locations, flexibility has helped OIT retain staff. In 2021, when three long-tenured staff members decided to move out of state to follow their partner or be closer to family, OIT designed remote work arrangements that allowed them to stay with Duke.
OIT Human Resources Director Martay Smith said one of the employees mentioned that the willingness for OIT to accommodate their move deepened their connection to Duke. As OIT tries to balance the twin desires for flexibility and community, Smith said it's crucial to not lose sight of the people at the center of Duke.
"We've always kept an eye on honoring the talent that's there," she said. "We have some really brilliant technologists here who have done great things for Duke and outside of Duke. Understanding the value of our employees, that was first."
Send story ideas, shout-outs and photographs through our story idea form or write working@duke.edu.