Testing Out the Future of Remote Work
Duke department pilot programs move post-pandemic telecommuting ideas closer to reality
With the drop in coronavirus cases and vaccines proving effective, Duke's schools, departments and units are exploring what remote work arrangements will look like when COVID-19 is no longer a threat. 
In the case of the Duke Disability Management System and the Duke Office of Information Technology, some ideas are getting tested in the real world.
The units recently began pilot programs to gauge the effectiveness of different ways to mix the safety and convenience of remote work with the benefits of being on-site with colleagues and customers.
"I think everybody is learning a whole lot – leaders, managers and employees – as we go through this," said Duke Vice President for Administration Kyle Cavanaugh. "I think now we're looking at all of the various options to see what works, what doesn't work, what are some of the complications we may not have expected and what seem to be the best practices."
Learn more about these pilot programs and how they could shape the future of remote work at Duke.
Same Work, Different Places
Messages arrived in the Duke Disability Management System inbox as commencement in May neared with roughly 200 questions about accessible parking, wheelchair access and sign language interpreters.
In past years, staff members hustled to one another's campus offices at 402 Oregon St. for confirmation that someone responded to inquiries. This year, due to the pandemic, staff members were working apart, but they used Microsoft Teams to stay connected, notifying each other through chat messages about updates and completed work.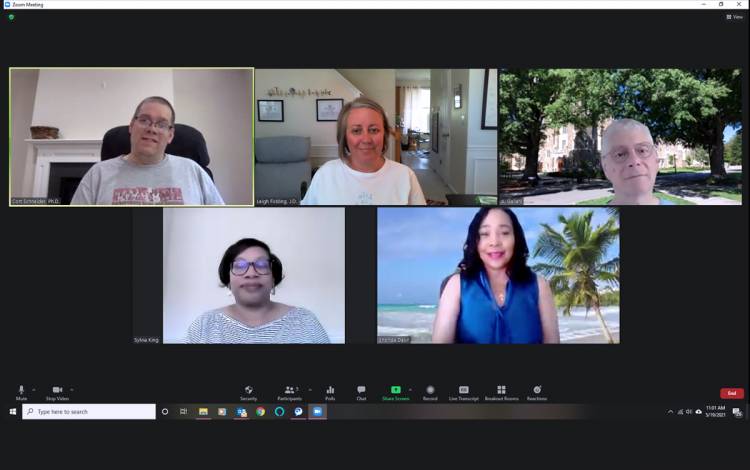 "It's a lot quicker now to message our whole office and say, 'Can someone help me with this?' said Leigh Fickling, director of Disability Management.
During COVID, Disability Management started virtual office hours, in addition to their office presence on campus. On March 1, 2020, the 11 team members began a remote work pilot test that covered three stages.
The first phase involved staff taking computers and work materials home. The second step entailed depersonalizing workspaces by removing items like pictures, coffee mugs and posters from offices.
"There was a lot of emotion attached to this," Fickling said. "It made people feel unsure because it was more permanent."
Finally, phase three examined the office workflow of documents to transition printed items to digital materials.
Fickling said that even if Disability Management permanently moves to a primarily remote work arrangement, which is a strong possibility, the office will maintain several offices and a conference room on-site. She said other campus areas such as the Bryan Center and Lilly Library are spots to "take our remote work on the road, even on campus."
Cort Schneider, who directs student disability access, works from home three days and on-site two days per week. He said the hybrid schedule works well because students often want to meet him in person for the first time and follow up over Zoom, which he can do from home.
"I see the switch to hybrid work as improving access to our office," he said. "People can get ahold of us in a way that suits them. This remote work pilot is perfect for accessibility services."
A New Kind of Home Base
In April, when the Office of Information Technology (OIT) began its hybrid work pilot, Data Engineer Mary Clair Thompson couldn't sign up fast enough. 
After nearly a year of remote workdays, she was ready to get out and put some routine back into her life. 
"I was very over working at home all of the time," Thompson said. "I was talking to my cat way too much."
OIT's pilot gave staff members the opportunity to reserve shared workspaces in the Powerhouse, a 53,000-square foot former power plant leased by Duke in downtown Durham. And Thompson has become a regular, reserving desk space and working on-site five days a week.
"I've really liked it," Thompson said. "The sign-up was easy. It's very new to me to sign up for a desk every day, but I'm getting used to it."
As Duke charts its course toward a post-pandemic future, the OIT pilot program represents a trial run of one potential approach. As many as 35 employees at a time can book short-term use of individual and collaborative workspaces scattered among the Powerhouse's four floors. 
"Each space comes with its attributes, so if you need a stand-up desk, a meeting room, a phone, or whatever you need, you can find it," said OIT Senior Director Robert Johnson.
Thompson said she's found four spots she likes, each one with a standing desk and windows that allow her to look out onto Duke Street or toward downtown.
"I rotate among desks, which gives me a slightly different perspective each day, which is often helpful after having a year with exactly the same perspective," Thompson said.
Duke Facilities Management aided OIT in developing a cleaning protocol and spacing strategy to keep on-site workers safe. OIT also enlisted the help of Duke Athletics in adapting an online event management system to allow staff members to select and reserve specific work stations from a floor-by-floor map and see a roster of colleagues who will be on-site at a particular time.
And throughout the life of the pilot program, which will wrap up in mid-August, OIT will be soliciting feedback from the employees who give the space a try.
"It's an experiment," said OIT's Director of Human Resources Martay Smith. "We're not going to have all of the answers going in."
As OIT employees enter the Powerhouse, often the first masked face they see belongs to staff assistant Julie Williams, who is stationed at the front desk. She said the early days of the pilot felt like the first day of school with colleagues sharing news of the past several months and joking about how out-of-practice they are at preparing to go to an office.
But after nearly a month of being on site regularly, Williams said the opportunity to once again make human connections signals a step toward a future she's looking forward to.
"This is a wonderful opportunity to open the door and show people that it can be done," Williams said. "We're probably never going back to what we knew, but this is our new-ish normal."
Send story ideas, shout-outs and photographs through our story idea form or write working@duke.edu.