Duke in Pics: A Day in the Life of a Game in Cameron
As they bring the iconic basketball venue to life, staff ensures fans get a bucket-list experience
On a recent Wednesday morning, Alli Slater, Duke Athletics' director of game operations and championships, walked out of the December cold and into one of the most familiar settings in American sports. 
With its wooden bleachers, championship banners and rabid fans, Cameron Indoor Stadium is as famous as the basketball stars that have graced its court.
But on this morning, the 82-year-old West Campus arena is quiet. There was a game the night before – the Duke men's basketball team beat South Carolina State 103-62 – and on today, the Duke women's team would welcome top-ranked South Carolina. 
But until then, there's plenty of work to be done.
It's the Gamecocks that are top of mind for Slater, whose job is to oversee what happens in Cameron. South Carolina is scheduled to have a shootaround in about 15 minutes, and the team could show up any second, so Slater makes a quick check of the visitors' locker room and cruises by the benches to make sure there are towels and balls ready for when the Gamecocks arrive.
Everything is in order and, right on time, the South Carolina team strolls through the doors and onto the court, ready to get to work.
Home to Duke's wrestling, volleyball and men's and women's basketball teams, as well as – during non-pandemic times – plenty of campus events, Cameron Indoor Stadium is rarely quiet. And it's the job of a network of staff in Duke Athletics, and elsewhere, to make sure the action in the building unfolds smoothly, while also ensuring the fans get the bucket-list experience they came for.
"The Game Day environment in Cameron remains one of the best in the country," said Duke Women's Basketball Coach Kara Lawson. "This is made possible by our tremendous staff. They make sure every detail is covered and provide great support to our team. We want every fan to have an incredible experience when they attend a basketball game. All of our operations staff behind the scenes make that possible."
Here's a look at the work that went into one day in the life of one of Duke's most beloved buildings when the Blue Devils' women's basketball team hosted South Carolina on December 15.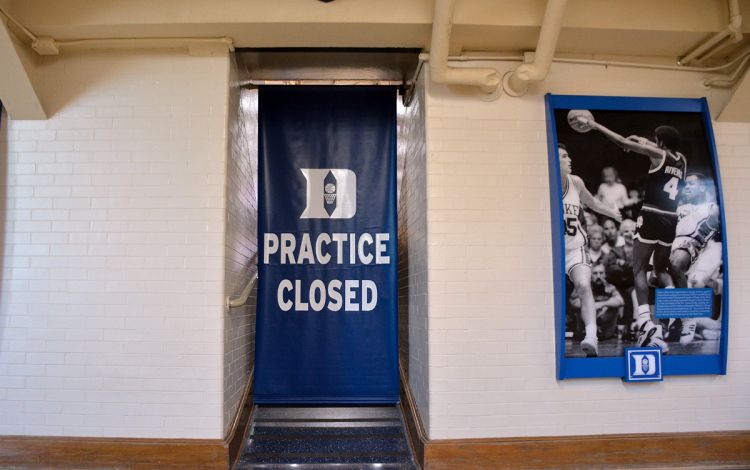 Early in the afternoon, while Duke's campus is filled with students hustling to and from class, the Duke men's basketball team holds a practice session on the Cameron Indoor Stadium court. Only the sound of squeaking sneakers and blasting whistles make it past the drapes lowered in the doorways to provide privacy.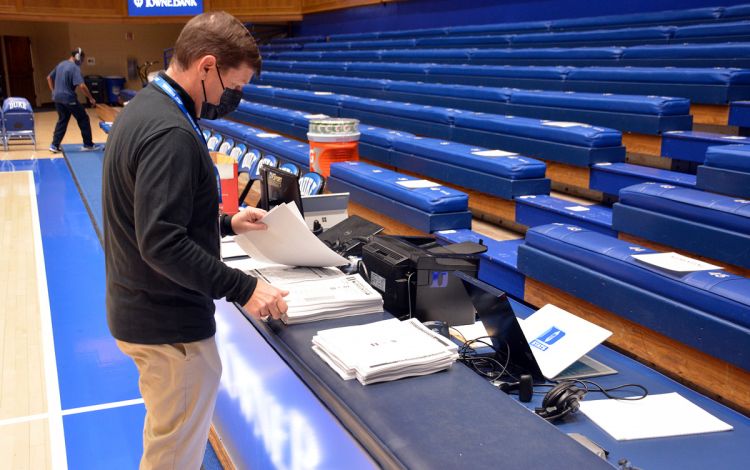 A little before 4 p.m., preparations for that night's game are in full swing. Duke Athletics Senior Associate Director of Communications Lindy Brown, who has worked at Duke for 23 years, collates game notes for the roughly two dozen media members who will watch the game from press row.
"Our communications team works with the media to make sure they have the best experience possible when they attend games at Duke," Brown said. "There are so many outstanding stories to tell throughout out athletic department and we want to make sure they have a pleasant experience on campus and want to come back to cover more events."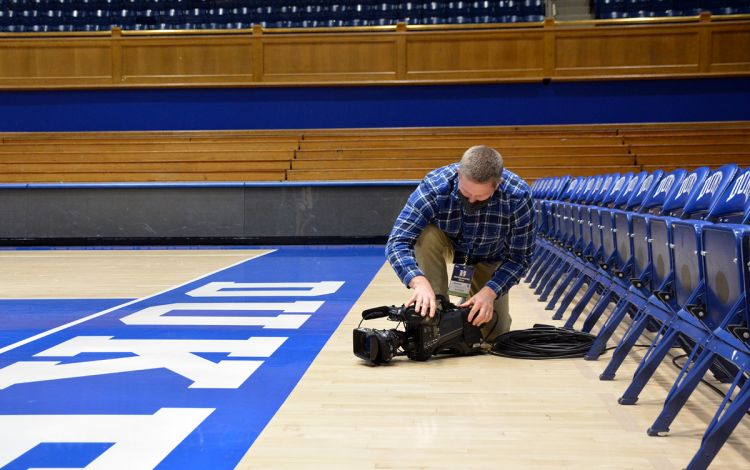 The Blue Devil Network will produce that night's broadcast, which will air on the ACC Network. With 11 cameras and eight microphones scattered around the arena to capture the action, it's up to Chad Lampman, the Blue Devil Network's director of live events and ACC Network, and his colleagues to make sure each one is placed where it needs to be and working.
"This is the best time to check everything," Lampman said. "Once people start coming in here, you won't be able to do it."
For the past two decades, Mark Kitchens, the supervisor for Technical Services with University Center Activities & Events (UCAE), has watched Duke basketball games from the scorers' table, helping oversee the lighting, sound and video display systems that give the arena some of its atmosphere.
But two-and-a-half hours before tip-off, his job is to set up and test essential pieces of equipment such as the scoreboard and clock controls and the possession arrow. To do this, he must dig through a nest of colored cables underneath the scorers' table to connect the correct cords to their devices.
In his role with UCAE, Kitchens works often in Cameron Indoor Stadium and Duke University Chapel, something he says he's grateful to get the chance to do.
"Both of them are such inspiring places," Kitchens said. "When you work in them on a daily basis, they might lose a little bit of their luster. But every once in a while, it just hits you how special these places are."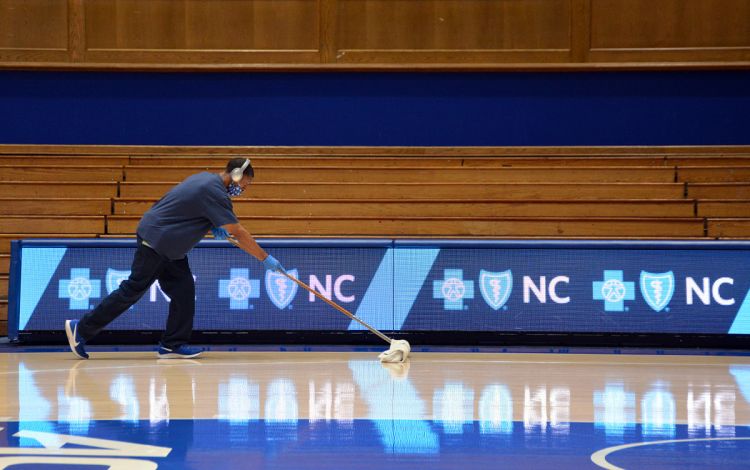 With the area around the court buzzing with activity, the court itself is clear. Just over two hours from tip-off, University Environmental Services Utility Worker William Harris, who has looked after Cameron Indoor Stadium for nine of the 18 years he's worked at Duke, gives the court a final cleaning, pushing a dust mop up and down the floor and making it shine.
About half an hour before Cameron Indoor Stadium opens to fans at 6 p.m., volunteer Pete Moller stashes his coat under a small desk in the Duke Basketball Museum. Soon, fans will wander in this space filled with trophies, jerseys and other first-order Duke hoops relics. But now, the retired Moller, who has volunteered to assist fans at Cameron Indoor Stadium since 2010, is taking a moment to enjoy the space.
A 1961 Duke graduate, Moller is thrilled to share his love of Cameron Indoor Stadium to the visitors, often first-timers, who pass through.
"It's amazing to see the impact this place has on the people who visit for the first time," Moller said. "They're like, 'Oh my God. I've been seeing this place on television for years, and now I'm here.'"
Once the doors open, Moller heads to the Rubenstein Lobby to help fans find the best route to their seats, and to answer questions about the building, which has been a big part of his life for the past decade.
A little after 7 p.m., the game tips off. Undefeated South Carolina, which reached the Final Four in 2021, establishes itself early, leading by as many as 16 in the second quarter. Duke rallies in the fourth quarter, delighting most of the 5,451 fans on hand. But the Blue Devils can't catch up, losing 55-46. It's Duke's first loss of the season.
After the final buzzer sounds, the Duke staff members spring into action. Kitchens begins breaking down the technology at the scorers table, disconnecting touchscreens, laptops and control boards and packing them into hard cases. With plenty of experience stowing his gear, Kitchens and his team make quick work of it.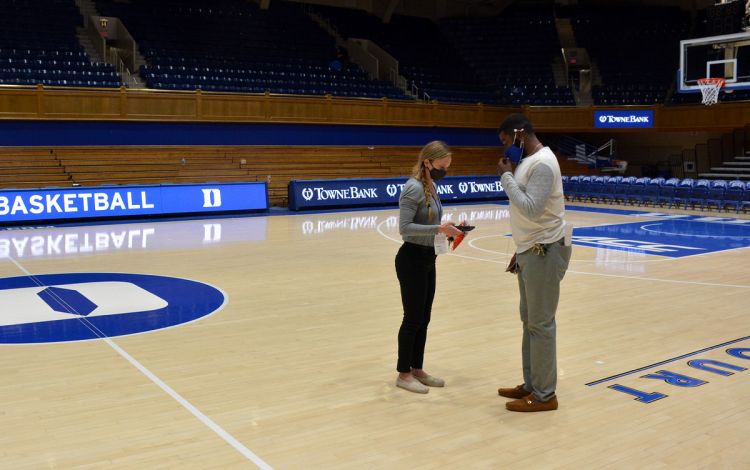 Around 30 minutes after the game, fans linger to get photos on the court and players' families wait until their loved ones emerge from the locker rooms. As the last ones head out into the cold night, Slater and Associate Director of Athletics Facilities and Projects Jamal White discuss how the night went.
All things considered, Slater said the night went well, especially since the number of general admission tickets sold for the game was unusually high given the marquee matchup. But with the Duke men's team hosting Appalachian State in less than 24 hours, there's little time to dwell on the past.
"We're thinking about stuff that could have gone better today, but we also have to start thinking about what we have to get done for tomorrow's game," Slater said.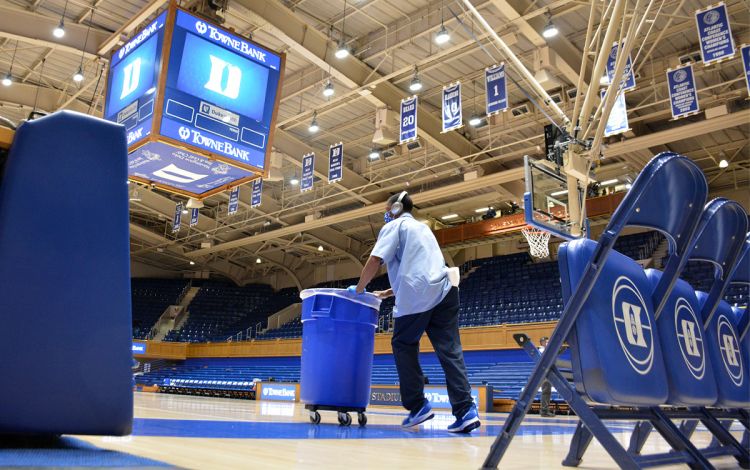 With the familiar playlist of The Roots, Outkast and Erykah Badu playing in his headphones, Harris begins his routine of making Cameron Indoor Stadium pristine again. He starts by pickup of trash near the court and then he'll dry mop the court and the floors near the entrances. Then he'll use a walk-behind floor cleaner on the concourse and the lobbies.
"I don't mind the work because I love where I work," said Harris, who is a part of six housekeepers cleaning the building on this night. "I think everybody realizes how special this place is."
Send story ideas, shout-outs and photographs through our story idea form or write working@duke.edu.