Keeping Duke Fans and Teams Connected
With creativity, Duke Athletics video team stays busy during pandemic
When the Duke women's soccer team returned to campus in late summer, there was plenty that felt unfamiliar.
The threat of COVID-19 forced team members to get coronavirus tests upon arrival, wear masks and spend time on a campus with a fraction of its normal population.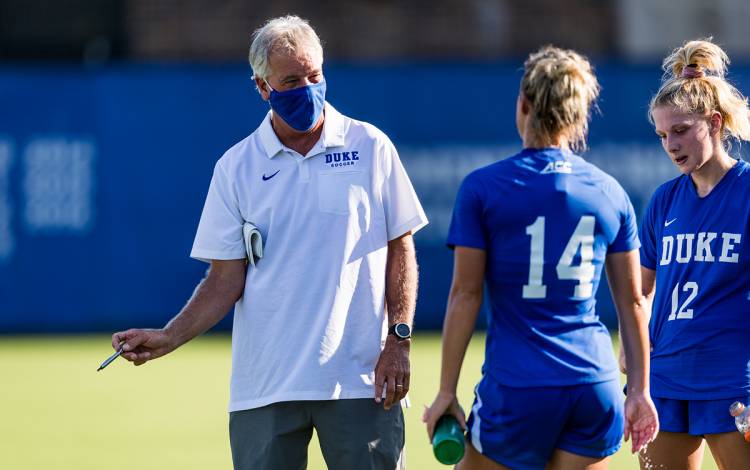 But Duke Women's Soccer Coach Robbie Church noted that one of the welcome constants was the Blue Devil Network, which produces live game broadcasts and video features for fans of Duke Athletics. Blue Devil Network Senior Producer Chris Metzloff was a fixture at many practices, recording interviews and gathering footage for fun features bound for GoDuke.com or the team's social media platforms.
"Blue Devil Network has always played a big part in our program," Church said. "We hear from our recruits, parents and fans that our website, social media and the Blue Devil Network are really good at giving them what they're looking for. It's like the front porch of our program."
While college sports ground to a halt when the pandemic led to stay at home orders in March, the need for teams to stay connected with fans, alumni and potential donors or recruits never waned. And at Duke, a major piece of that effort has been the Blue Devil Network, which continues to produce innovative online video content.
"Although we weren't producing any more live broadcasts when COVID hit, the demand on the content creation side skyrocketed," said Blue Devil Network Executive Director Dave Harding. "We found ourselves as one of the last links between our programs, the student athletes, coaches and the fans."
Created in 2012, the Blue Devil Network produces live and on-demand video for Duke's varsity sports. While watching live game broadcasts produced by Blue Devil Network requires a subscription to ESPN through your cable or satellite provider or through the ESPN app, most of Blue Devil Network's interviews, highlight packages and video features can be viewed on GoDuke.com for free.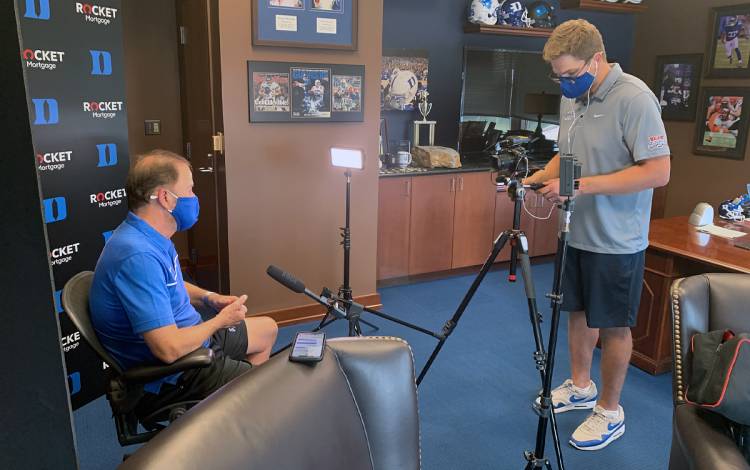 And during the pandemic, those video features and social media content became the Blue Devil Network's top priorities.
"With people having to stay away from campus, the value of what we do with video goes way up," Harding said. "Our student-athletes are still working incredibly hard to prepare for their season. And our student-athletes are tremendous, there are so many personalities and stories to be told. Trying to tell their stories has been our main focus."
Over the past several months, Blue Devil Network produced videos such as Duke men's basketball's message to the Duke community, the story of golfer Miranda Wang's talent on the piano and check-ins with former Duke women's soccer players such as Imani Dorsey, Ella Stevens, Morgan Reid and Kayla McCoy, who are playing professionally in the National Women's Soccer League
With teams returning to the field in September and several live game broadcasts slated for this fall, the rhythm of life at Blue Devil Network is returning to a familiar pace.
"Now that sports are starting back up, we're full speed ahead," said Blue Devil Network Broadcast Engineer Ivan Panarusky.
Instead of Blue Devil Network staff members working side-by-side in the main control room during broadcasts, they're now spread across three different control rooms in the 3,500 square foot production facility in Blue Devil Tower.
"I've never been more grateful for the university and the athletic department for the investment to give us the resources that we have," Harding said.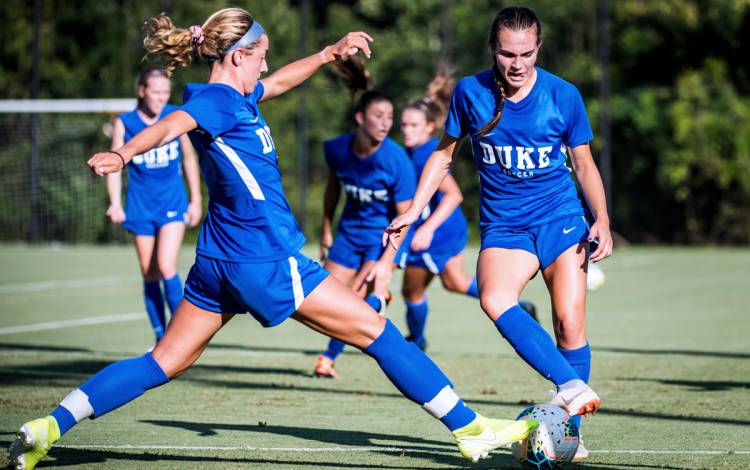 And while Blue Devil Network resumes live broadcasts of field hockey, men's and women's soccer and volleyball, it continues creating fun features, such as a recent one providing a behind-the-scenes glimpse of a little-known part women's soccer practice.
At the beginning of each workout, Duke assistant coach Lane Davis works with goalkeepers separately in what the rest of the team refers to as "Goalkeeper Land."
A recent Blue Devil Network video took viewers inside of that part of practice, showing how the excitable Davis works with goalkeepers. At one point, as goalkeepers deftly flick away a torrent of shots, Davis' instructions devolve into shouts of amazement.
"That's him, that's his energy," Church said of Davis. "I was glad we got it on camera."
Help share the proactive and extensive work being done by all Duke community members during the COVID-19 outbreak. Send ideas, shout-outs and photographs through our story idea form or write working@duke.edu.