Lights, Camera, Action!
Behind the scenes with the Blue Devil Network, which provides live video from Duke's varsity sports
On the first Sunday in May, Blue Devil Tower is mostly silent. Carpeted hallways and wood-paneled lounges are empty. Windows look out on Brooks Field at Wallace Wade Stadium, where commencement preparations are on pause.
But behind a door on the fourth floor, there's a room where the action is just beginning for Blue Devil Network.
Five Duke athletic events will take place on this day at three on-campus venues. Each contest will be broadcast live on ACC Network Extra, the online streaming service of the Atlantic Coast Conference. And each broadcast will come from the dark, busy control room that's the nerve center of the Blue Devil Network.
"This is the calm before the storm," Blue Devil Network Executive Director Chad Lampman says while looking at a wall of glowing screens showing live camera feeds, clocks and graphics to eight people hovering over panels of dials and blinking buttons.
"We've never had anything like this," adds Lampman, who's been at Duke since 2010.
Launched in 2012, the Blue Devil Network provides live and on-demand video from Duke's varsity sports. Game broadcasts require a subscription to ESPN through cable, satellite or the ESPN app, but some content is free.
For most of its life, the Blue Devil Network operated out of a production truck and former file room in Cameron Indoor Stadium. When Blue Devil Tower, part of a multimillion dollar renovation of Wallace Wade Stadium, opened in 2016, the space gave the Blue Devil Network a new, state-of-the-art home.
In addition to offices for the 12-person staff, the3,500-square foot space features three control rooms, video-editing suites and a studio. The facilities aren't solely for athletics. People across Duke use the space to produce high-end video broadcasts.
And when the ESPN-owned ACC Network television channel debuts next year, the reach of the Blue Devil Network studio will increase drastically.
"The value of our Blue Devil Network team and the recent facility construction is immeasurable," said Jon Jackson, Duke's senior associate athletics director for External Affairs. "Duke – the entire University beyond athletics – has benefited immensely from the ability to reach a much broader audience from the network studios."
In the Action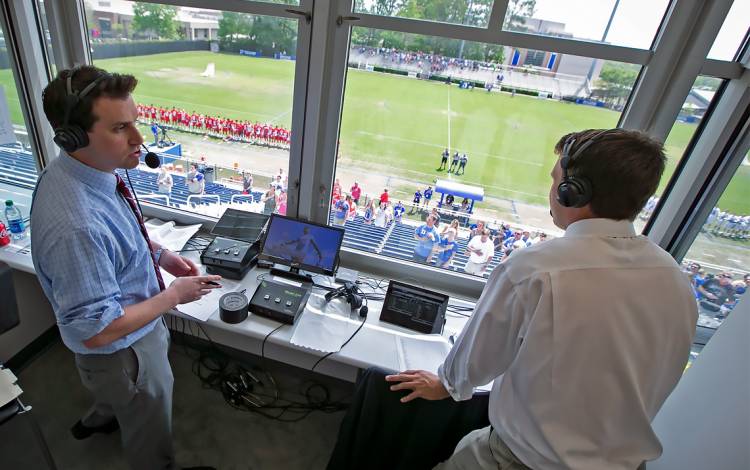 "Hey Lamps?" Ryan Craig asks into his headset.
Minutes before the start of the Duke men's lacrosse showdown with Boston University, Craig, the play-by-play announcer and Duke Athletics' executive director of digital strategy, enlists the help of Lampman in the control room to get his video monitor working in the Koskinen Stadium broadcast booth.
Next to Craig, color analyst and former Duke lacrosse standout Jack Rowe studies notes. In the stadium, five camera operators are in position and Blue Devil Network Assistant Director Rebecca Fiorentino preps for sideline reporter duties.
Monitor fixed, Craig kicks off the broadcast.
"Hello everybody and welcome to sunny Durham, North Carolina …"
In the control room in Blue Devil Tower, the action is in full swing.
Producer Katie Bessell is in constant conversation with Craig and director
Dan Enders, seated to her left. It's Bessell's job to control the broadcast. Enders gives her the camera shots, replays and graphics she needs.
"Katie is painting the picture," Lampman said. "Dan is picking the colors."
To switch between cameras and cue up replays, Enders relies on a small crew of assistants. Tasked with controlling on-screen graphics, Lampman is one of them.
In a small separate room, one staffer mixes audio, creating harmony out of sound from a myriad of microphones. Elsewhere, another person eyes a series of monitors and fixes color differences between the five cameras. Meanwhile, engineer Ivan Panarusky, who remedies technical problems, sits ready to tackle any concerns.
Behind the control room, racks of whirring computers and tangles of fiber-optic cable give the Blue Devil Network its horsepower. This is where sounds and images from fields across campus feed into the machines that the Blue Devil Network team uses to craft a broadcast.
More than the Games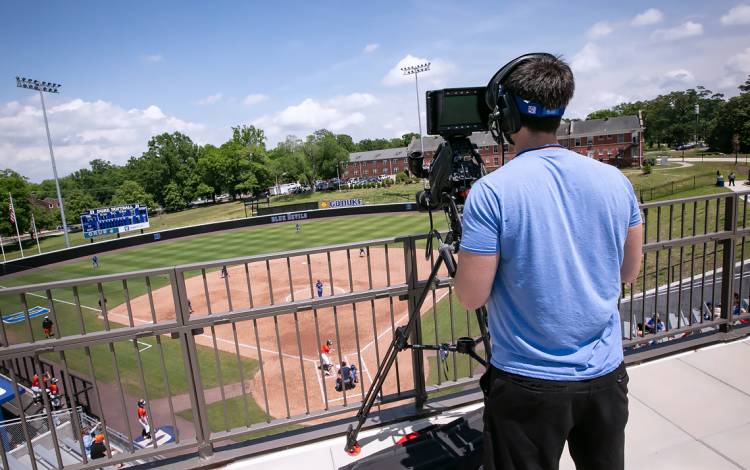 While the men's lacrosse broadcast comes together, simpler broadcasts unfold across campus.
For Duke baseball, softball and women's lacrosse games, solo play-by-play announcers provide audio, which, back in the Blue Devil Network control room, is meshed with video from single cameras perched high above fields.
With her team facing Campbell University on Senior Day, Duke softball coach Marissa Young knows that Blue Devil Network's value goes beyond airing her team's games. The Blue Devil Network creates bite-sized pieces of video content for Duke teams' social media feeds and longer videos on GoDuke.com.
For Duke's softball program, which was announced five years before this spring's inaugural season, content created by Blue Devil Network – such as a behind-the-scenes tour of Duke's new softball stadium – gave the team an identity well before its first game.
"That was instrumental in getting out our brand and showing what Duke softball is," Young said. "The social media content attracted fans and recruits and really became the face of our program."
The work of creating that content is constant.
Once the men's lacrosse game ends on this day in May, Blue Devil Network Assistant Director Rebecca Fiorentino returns to the network's offices to sort through footage and interviews to create catchy highlight videos.
"We always have to think about social media," Fiorentino said. "It's a big part of what we do."
Looking Forward
As the early games end, the pace in the Blue Devil Tower control room slows. Aside from the baseball and women's lacrosse broadcasts, the only concerns are an approaching thunderstorm and whether the Duke men's lacrosse team will be at home for the NCAA tournament the next weekend, meaning ESPNU's broadcast of the game will be done using Blue Devil Network's facilities.
"We'll leave a couple of cameras set just in case," Lampman said.
Either way, the investment in people, equipment and space means the Blue Devil Network will help Duke be ready for whatever comes.