How Hybrid Work Teams at Duke Create Watercooler Moments
Duke staff and faculty build camaraderie among hybrid colleagues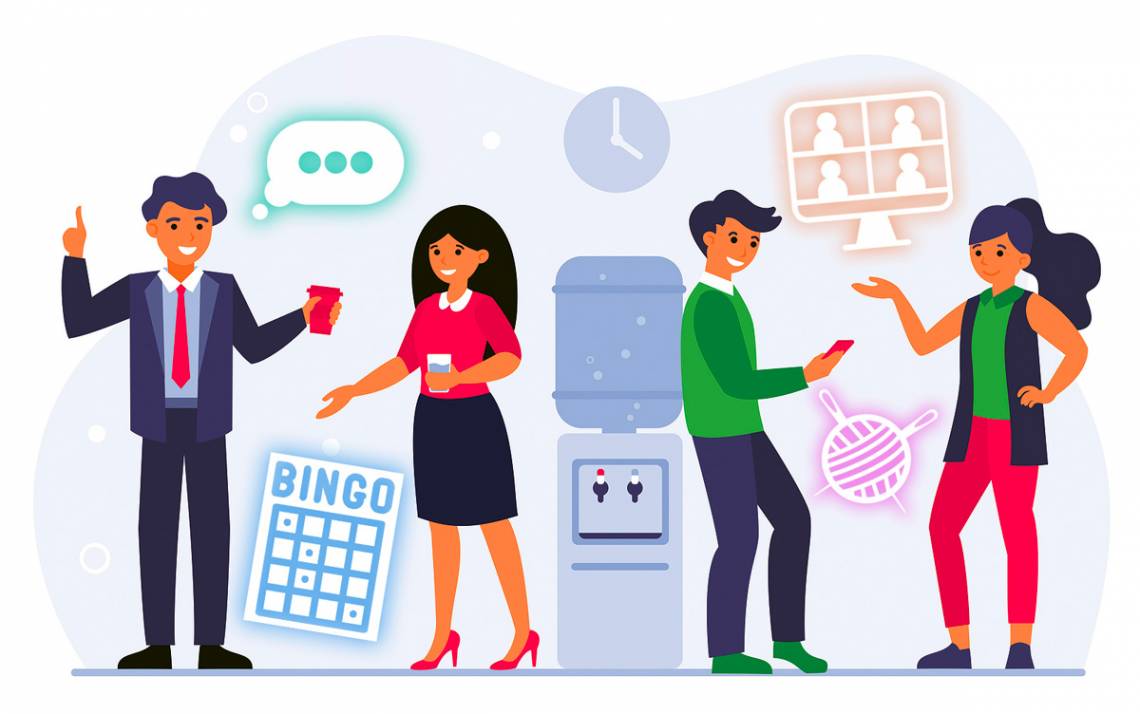 In the months before the COVID-19 pandemic hit in the spring of 2020, Duke University's Campus Grants Management team – a unit of about 20 people that was less than two years old – explored ways it could build a shared culture. 
The team created an employee engagement committee to plan and organize in-person celebrations and team-building events.
"We wanted to get people together, to get them out from behind their desks," said Research Administration Specialist Shelly Currie, a member of the committee. "Our vision was to have fun events as a way to get people together and talking."
The effort didn't get too far along before COVID-19 forced the Campus Grants Management Team to work remotely, leaving the team facing the same challenge as many other units across Duke.
Now, as teams split time between remote and on-site, and members lose opportunities for spontaneous face-to-face encounters or "watercooler" chats, how can members build or maintain personal connections?
According to a PriceWaterhouseCoopers study released earlier this year, 87 percent of workers said the office is important for collaborating with team members and building relationships. 
With segments of Duke's workforce in hybrid remote work arrangements, the goal of maintaining, or enriching, connections for far-flung teams is something units at Duke embrace. 
After going remote, the Campus Grants Management team has found success with a weekly 30-minute, optional Friday afternoon Zoom meeting. Colleagues gather to celebrate birthdays and holidays, catch up on non-work news and get to know each other with ice-breaker conversation prompts.
"We did an employee survey in the late spring and early summer, and we got a lot of positive feedback about how much people like the group," Currie said. "It's been a lot of fun, and I think the new employees, especially since we're working remote, really value that time."
We checked in with a few other groups across Duke to see how they're replicating "watercooler chats" to keep bonds strong.
Friday Fun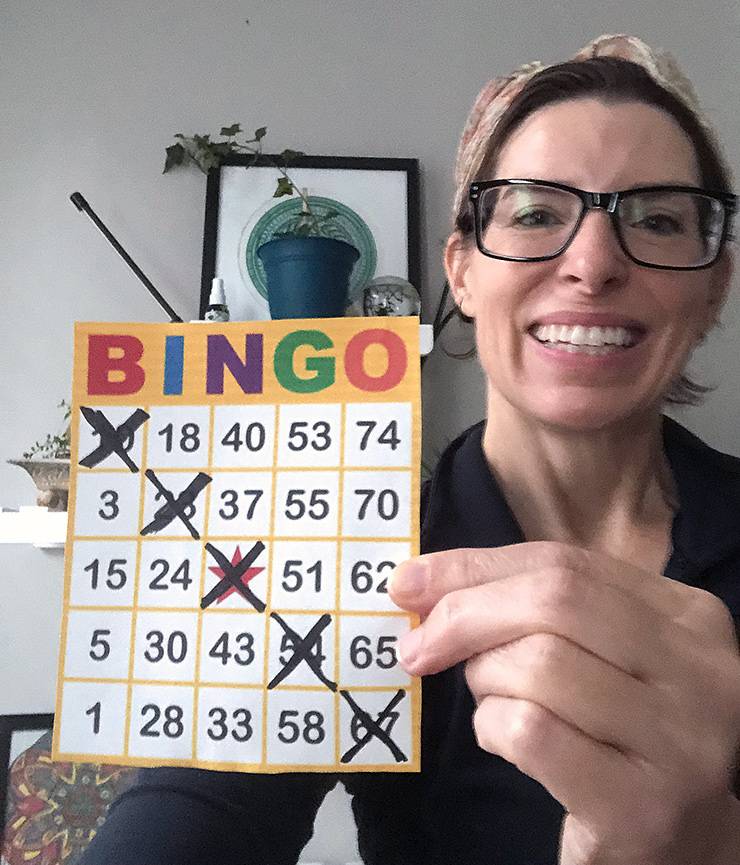 When they all worked on the sixth and seventh floors of the Morris Building in downtown Durham, Chris Clark and her group of staff assistants at the Duke Clinical Research Institute could figure out ways to weave light-hearted fun into a workday by decorating their cubicles for the holidays or catching up in face-to-face conversations.
But during the pandemic, they had to get more creative. Clark stumbled on the idea of playing virtual BINGO throughout the workday on Friday.
After sending out invitations a few days ahead, Clark will send a BINGO card to everyone who opts in. Then, starting on Friday morning, Clark pulls a number out of a cup on her desk at home and sends that number by email to the players. A new number is drawn every hour or so until someone gets BINGO.
"Somebody usually wins by about 3 p.m.," Clark said. 
Clark keeps records of who wins the most games each month and send winners a fun, small prize, such as a candle or organic lip balm.
"People enjoy it," Clark said. "It's just a fun way to converse with people you haven't seen in a long time."
Keep the Conversation Going
Before the pandemic, Duke Cancer Institute Assistant Vice President for Clinical Programs Laura Sample worked just steps away from her eight-person team on the fourth floor of the Seeley Mudd Building. That arrangement allowed them to pop into one-another's offices for quick chats about work, or to catch up on the life events.
"It was great to have that closeness and to be able to pop by and ask how someone's weekend was and get to know them personally," Sample said. 
After the COVID-19 outbreak, Sample wanted a way to keep those more-informal lives of communication open. Sample had some familiarity with the messaging tool Jabber, which is available for download from the Duke Office of Information Technology, so she set up a designated chat room for her team to easily share work questions or non-work news.
With members of her team now working on site around two to three days each week, the Jabber room has continued to be a venue for conversation.
"This has been so important because we don't see each other so often and we can't pop into the offices," Sample said. "My satisfaction from work comes from seeing how my efforts help patients, but it also comes from being around the people I work with. I'm glad we could keep that going."
A Common Thread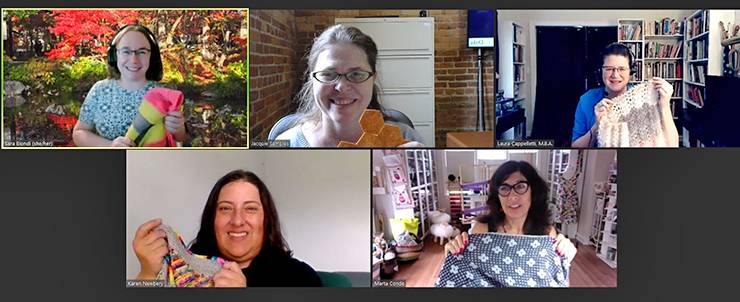 Since 2017, a group of Duke University Libraries employees has gathered for an hour each week at either Smith Warehouse or Perkins Library to knit together and talk about their projects, or anything else that's on their mind. 
The group, called "Knitting for Swellness," features experienced knitters and newbies, and the common theme is camaraderie and craftiness.
When the pandemic forced most group members to work remotely, or take up a hybrid schedule, the venue shifted to Zoom, where knitters participated from on-campus offices, or homes.
Sara Biondi, an order and receipts specialist for Japanese and Korean Language Materials, said the group, which draws between three-to-10 people per week, has been a welcome distraction, giving her circle of colleagues a weekly chance to bond and turn their attention to fun, relaxing pursuits.
"It's been great," said Biondi, who works from Smith Warehouse four days per week, but joins the knitting group from home each Friday. "We have people coming to us from offices and bedrooms and craft rooms, if they're lucky enough to have them. We get to see everybody's pets and kids and houses, it's lovely."
Making Time for Each Other
One Friday morning per month, members of Duke Clinical Research Institute's Clinical Events Classification, Safety Surveillance and Imaging group gather for an Open Forum WebEx meeting.
Unlike most of the team's virtual conversations – which are often about categorizing the outcomes of individual cases in research studies – these talks may dive into team members' first jobs, or sharing photos from their prom nights.
Throughout the pandemic, the team has relied on regular virtual meetings to stay on top of work, and keep up with one another. Matt Wilson, the director of the Clinical Events Classification, Safety Surveillance and Imaging teams, said that the initial idea for Friday morning's open forums was to provide a place where teammates could talk about how they were managing work remotely, and catch up about their lives.
As time went on, and the team figured out remote work and devoted more time to catching up. Wilson said, the work-related content eventually faded out completely.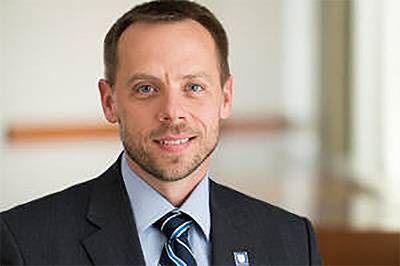 "This is specifically and intentionally a social forum, just for having non-work discussion," Wilson said. "It didn't start out that way, but we knew it would progress that way, so we kept it on the books."
Now held once a month, the virtual gatherings often have fun themes or prompts and have become a highlight of the team's schedule.
"It's just 30 minutes where we can get online, laugh and joke and just see how everyone's doing," said Clinical Trials Specialist Katherine Williams. I think it's brought us closer."
If you have some innovative, creative or fun ways your Duke team has kept the camaraderie going, tell us about it in the comments of the Facebook post below.
Send story ideas, shout-outs and photographs through our story idea form or write working@duke.edu.