4 Ways to Help New Colleagues Get a Great Start at Duke
Recently hired Duke team members share what helped them get settled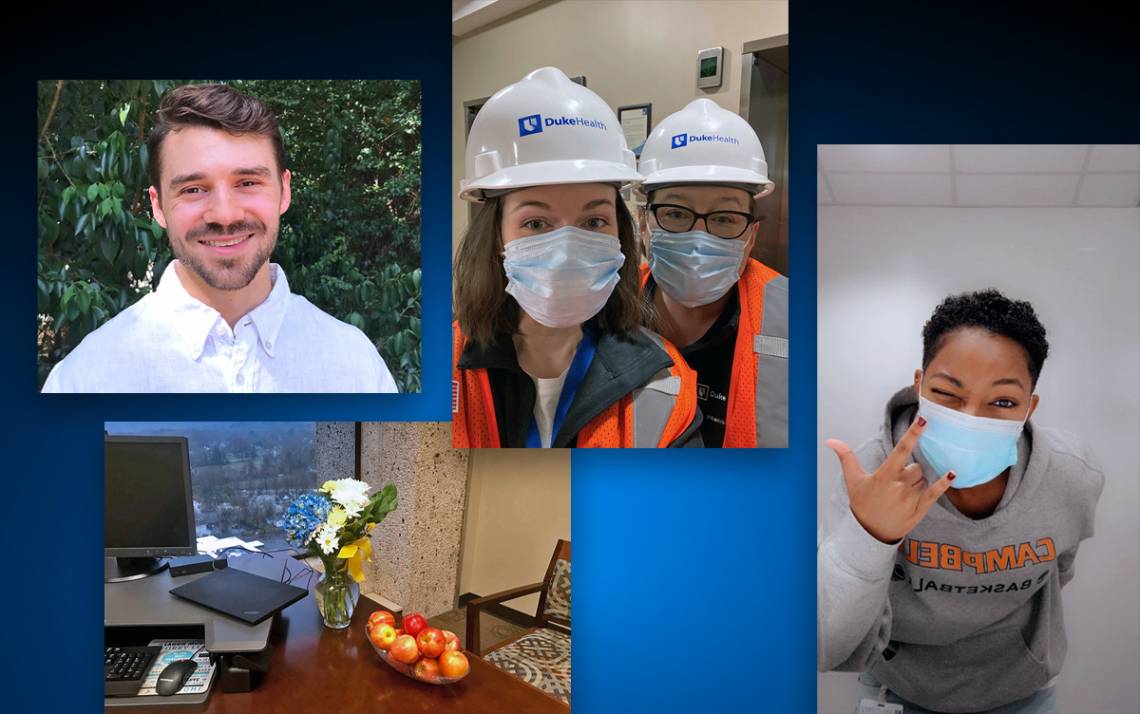 Back in March, when LyTonya Alexander started her position as director of performance excellence for Duke Primary Care, she walked into her office on her first day and found a basket of apples and flower bouquet.
"We knew LyTonya likes apples, so we wanted to have something a little personal for her," said Senior Medical Director of Performance Excellence for Duke Primary Care Dr. Edward Cooner. 
But the most lasting memory of her new workplace introduction came the next day, when the staff of Duke Primary Care's Performance Excellence group put together a socially-distanced welcome breakfast. Over the course of an hour or so, Alexander hung out in a break room, where masked colleagues dropped in to grab bagels and coffee, and chat with Alexander about what they did and about some of Alexander's hobbies such as running, cooking and yoga.
"It was just a really nice gesture, a really nice way for the team to welcome me," Alexander said. "It made me feel valued. It made me feel like the team was excited and eager to have me in their department."
Kicking off a new colleague's start with a warm and welcoming gesture like Alexander's welcome breakfast is one helpful step toward making a new staff or faculty member gel with new teammates and feel at home at Duke. Here are a few things to keep in mind when welcoming a new colleague.
Put Out the Welcome Mat
The early days of Hope Williams' time as a clinical nurse specialist at Duke Regional Hospital featured plenty of virtual training and onboarding. She's grateful for the personal touch her new colleagues provided right away.
With much of her early weeks shadowing nurses she'd be supporting in her role, Williams, who started in January 2021, recalls them greeting her with warmth.
"I feel like it was within the first week that I was there that I saw how they cared for each other," Williams said. "I knew these are people that take care of each other like family. And they were ready to have me be part of that family."
Colleague Amy Wright including Williams in a hard-hat tour of the hospital's new wing, which had yet to be opened. Williams also recalls Ashley Wheeler, an emergency department charge nurse, introducing her to her colleagues, bonding with her over stories of raising toddlers and making sure Williams was included on takeout meal orders.
And Williams was touched when colleague Melanie Brouillette invited her to join her on a walk on Chapel Hill's Morgan Creek Trail with her dog.
"I absolutely felt like they were ready to trust me and let me be included in their group," Williams said.
Make Introductions
As the Duke Office of Global Affairs' program coordinator responsible for managing several of Duke's international partnerships for research and exchange, Hal Matthews needs to have a broad network on campus.
When he was hired in July of 2021, when COVID-19 still had many at the university working remotely, building a network without easy face-to-face access was tricky.
"Because this is a massive environment and I was going to be working with so many offices and stakeholders across campus, I thought, 'How am I going to manage that coming in, in the middle of a pandemic?'" Matthews said.
Associate Vice Provost for Global Affairs Eve Duffy, Matthews' manager, made sure that wasn't a problem by setting up a series of introductory Zoom meetings with people in other departments and schools that Matthews would often work with. These discussions helped Matthews get to know how these future collaborators fit into campus, and it also gave them context for who Matthews was for when he'd soon reach out to work with them.
"It helped so much because if I were to be sending emails to them or basically cold-calling them, asking for help, they wouldn't know who I was," Matthews said. "It helps to have that established relationship. So it was essential for her to act as a connector with the other offices and help ground me while we're still in this virtual space."
Be Mindful of the Example You Set
Research Technician Shardae Oliver joined the team in the lab of Aravind Asokan, the director of Gene Therapy for Duke Medicine, in May of 2020.  While her colleagues had to keep their distance due to COVID-19 safety protocols, they made her feel like a part of the close-knit bunch.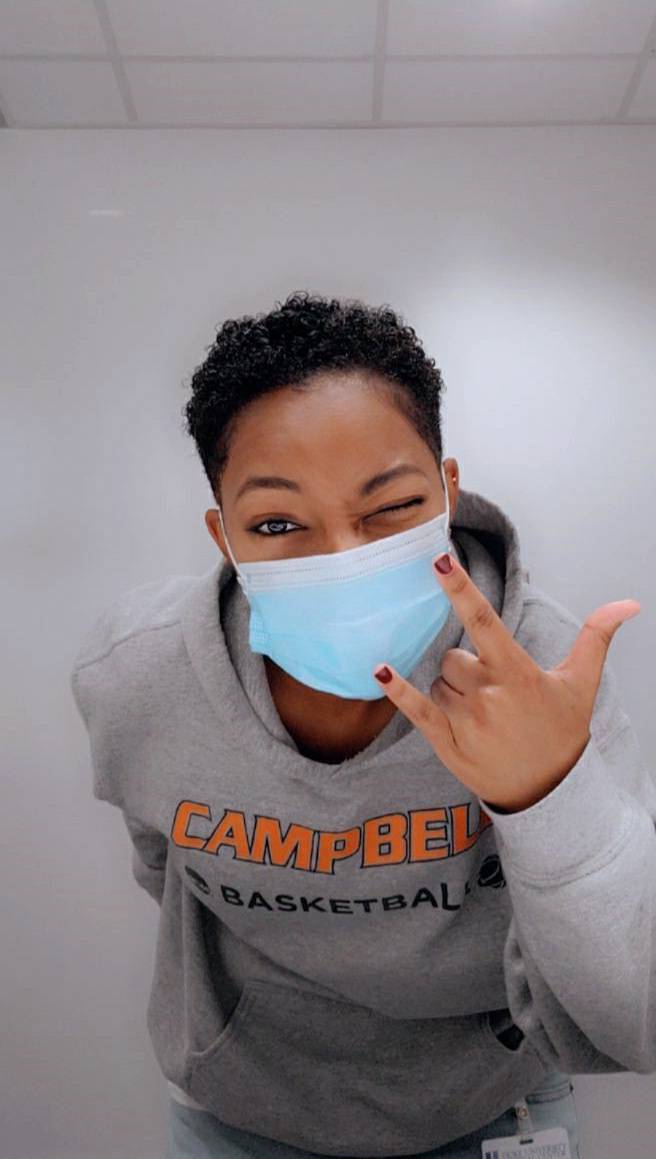 One gesture that stood out to Oliver was when a some of her new colleagues asked her if they were pronouncing her first name correctly. While it's not especially difficult (it's pronounced shar-DAY), some people can have trouble with it.
"It was very comforting, I appreciated it," Oliver said.
In the year and a half since she started, Oliver has seen that welcoming vibe continue as, when COVID restrictions allowed it, the lab team occasionally get together to prepare for road races, go on camping trips and meet for dinner. During that time, other new members have joined the team, and Oliver has tried to welcome them with the same kind of genuine and conscientious approach her colleagues used with her.
"For my team specifically, I was the first and only black person," Oliver said. "I would like to believe I have contributed to the debunking of certain stereotypes and learning to appreciate each person for who they are and how diverse we all can be. I am noticing as we hire more people of color, it's less awkward for them to blend and feel at home."
Be a Buddy
With patients coming into the Duke Specialty Infusion Clinic needing a variety of medications, with complicated insurance situations and specific scheduling needs, Brittany Wilson had plenty to learn when she started as a patient services associate in early summer 2021.


Looking back on her early days, Wilson is thankful for the patient and open attitude of her co-workers.
"From the first day, they told me that everyone here is kind of like a big family, if something goes wrong or if I needed help, I can let them know right away and they'll do whatever they can to help," Wilson said. "And they never made me feel like I was bothering them if I needed help with something."
Patience with new team members is something that Service Access Manager La Shaunda Ross has stressed with her team. She said it's important for more experienced colleagues, and managers such as herself to be ready to answer every question.
"I have an open-door policy," Ross said. "I always tell my new employees there are no dumb questions. I'll answer a question no matter what. I'd rather them ask questions so that way I can help them, and they can learn."
Duke Assistant Vice President for Learning & Organization Development Keisha Williams  suggests assigning new employees, especially new remote employees, a "buddy," who can offer guidance.
"The importance of that role is for that new person to feel like they have someone they can reach out to and not feel alone," Williams said.
Send story ideas, shout-outs and photographs through our story idea form or write working@duke.edu.