Welcome to Duke Amidst COVID-19
Staff and faculty hired during the pandemic reflect Duke's priorities and future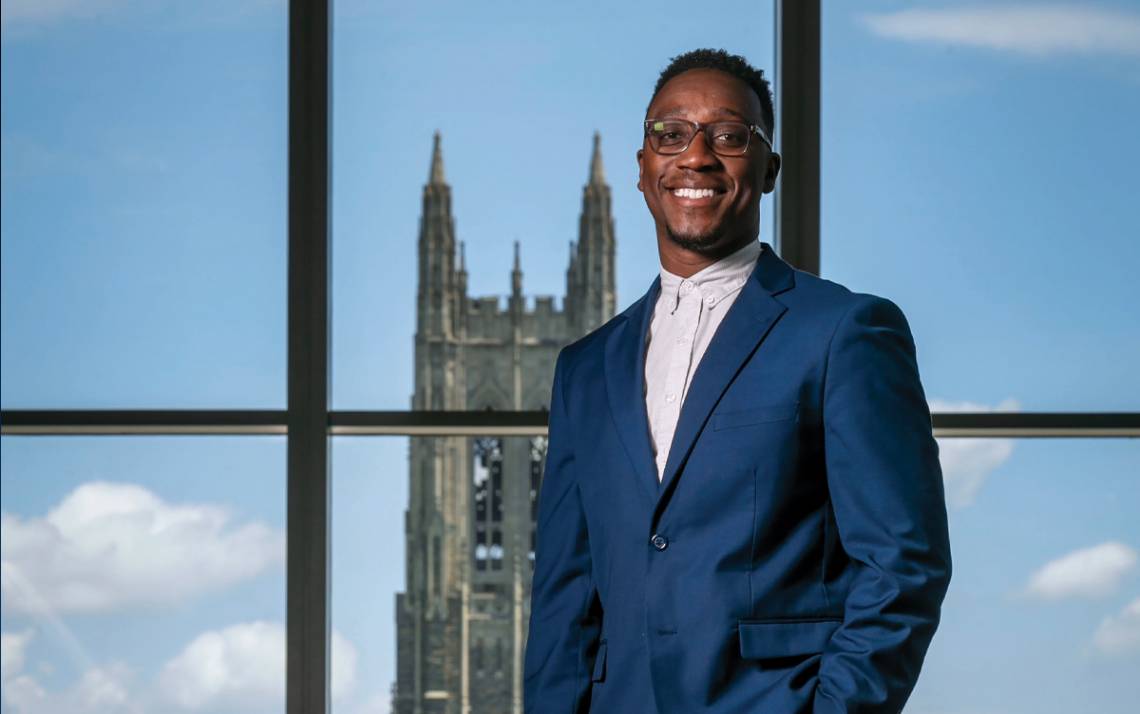 On his first day at Duke, Demah Payne III arrived at the heart of West Campus to pick up his laptop, meet with human resources and see his office in the Student Wellness Center.
Throughout his visit, the building, like the rest of campus, looked like a ghost town.
"It was kind of like your typical first day, just without people. It was eerie," said Payne, a licensed clinical mental health counselor and referral and case management liaison in Counseling & Psychological Services in Student Affairs.
Payne's first day at work last October came amid the pandemic, and in the following months, he continued an unorthodox introduction to Duke, building relationships with students and colleagues over video conference calls. As the spring semester closed, he still hadn't met many coworkers in person.
Payne's story isn't unique as Duke University and Duke University Health System welcomed around 5,100 new staff and faculty between March 2020 and March 2021. Roughly 90 percent of the hires went to work in the Health System, where COVID-19 vaccination clinics, enhanced screening and safety protocols, and three major hospital additions required more team members.
The University's new employees enhanced resources in science, technology, engineering and mathematics, and created a more diverse network of staff and faculty to support core missions.
"While we weren't hiring at the same pace that we normally would, we really focused on strategic areas that the University wanted to move forward," said Duke University Provost Sally Kornbluth.
The addition of Payne, who earned a Ph.D. in counseling and counselor education and supports students with concerns such as depression and anxiety, reflects Duke's commitment to student well-being. He also adds to the diversity of counselors who remain sensitive to the cultural and individual complexity of the community.
"If we want students to feel comfortable, we have to make sure we have counselors that represent the identities that they may have," Payne said.
The new colleagues tell a broad story of where Duke is now, and where it's going.
---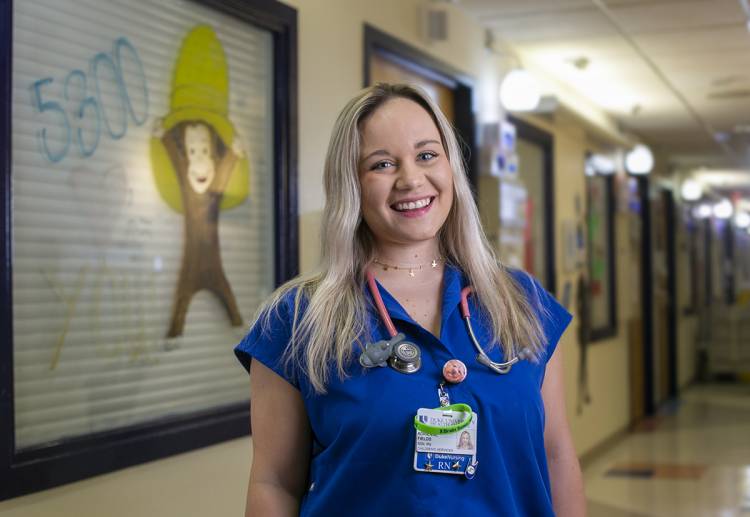 Adrienne Fields
Clinical Nurse II
Duke University Hospital, 5300 Pediatric Unit
How she got here: While Florida had always been home, in recent years, several family members – including her parents – relocated to the Triangle for the job market and less-steamy climate. Early last year, Adrienne Fields, who was working in a hospital in Gainesville, Florida, applied for a nursing position at Duke. She was hired in March of 2020. "As soon as I got the opportunity to come here, I knew I needed to jump on it," she said.
What made her feel a part of Duke: Fields, 24, attended employee orientation virtually and didn't meet any colleagues until her first day. She worked alongside coworkers for several months before ever seeing them without a mask. Despite the unusual start to her time at Duke, she quickly grew close with her team because caring for young patients in the midst of a pandemic was a challenge that forged tight bonds. "Nurses have a really good way of banding together, it's a team-oriented job," Fields said. "And people really band together in hard times."
How she makes a difference: As one of 1,296 clinical nurses hired by Duke University Health System between March 2020 and March 2021, Fields arrived when finding talented nurses was an especially high priority. While the pandemic required more staff members, new additions to all three of Duke's hospitals also created demand for staff. "We hired a lot of people who wanted to be part of the solution and help their community and serve in some way," said Alyson Parker Gordon, assistant vice president of New Talent Strategies for Duke University Health System. Fields, a natural extrovert, found special meaning during the pandemic by spending time with brave young patients who couldn't have outside visitors due to COVID-19 restrictions. "I walk out of my job most days feeling like I made a difference because I was able to bond with these kids," Fields said. "They impact my life more than they know."
---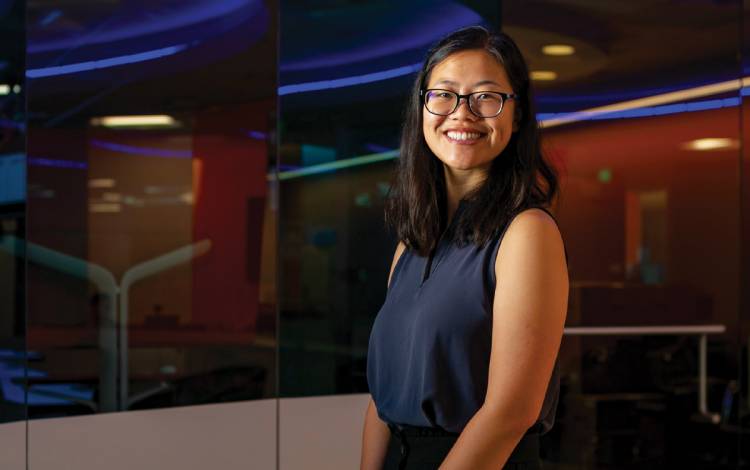 Anni Yan
Analyst, IT
Office of Information Technology (OIT), Academic Services and Research Computing
How she got here: With Anni Yan's final two semesters in Duke's Digital Art History and Computational Media master's program falling during the pandemic, the December graduate wanted stimulating and stable work. In April, when she joined the Office of Information Technology (OIT), she found it. The university's Central Administration area added 94 new colleagues between March 2020 and March 2021. In her role, Yan teaches coding to students and researchers in programs such as Code+. Starting this fall, she'll teach Innovation Co-Lab workshops. "It's about breaking down barriers, giving people this new tool and showing them how to use it so they can succeed in whichever field they're studying," Yan said.
What made her feel a part of Duke: Other than a handful of campus visits, Yan has worked from home in Raleigh. But teaching online Code+ workshops for students with colleagues over the summer helped her feel grounded. "It made me feel like we were a team," she said.
How she makes a difference: The number of people employed in U.S. higher education dropped 13 percent from February 2020 to December 2020, according to the U.S. Bureau of Labor Statistics. Amid challenging times, Duke made sure new hires supported key institutional goals. The Academic Strategic Plan, "Together Duke," encourages students to explore ways to weave technology into co-curricular endeavors. By teaching coding languages such as JavaScript, Yan is at the heart of that educational effort. Whether a doctoral candidate in Biology or undergraduate seeking a transition to engineering, she helps them sharpen skills that pay off in the future. "Just like how we want all of our students to be able to write coherently, we want everybody to have at least minimal fluency in digital and computational areas," said Kornbluth, Duke's provost.
---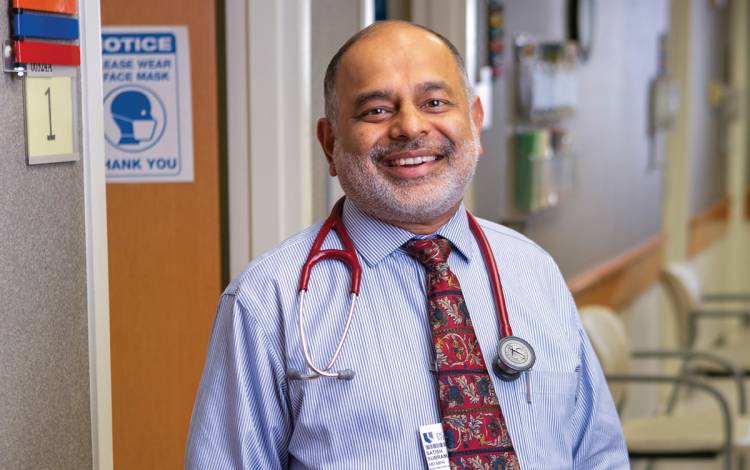 Dr. Satish Subramaniam
Assistant Professor of Family Medicine and Community Health
Employee Occupational Health and Wellness
How he got here: The prospect of teaching medical students about occupational medicine at a top-tier institution drew Satish Subramaniam from Tacoma, Washington, where he oversaw occupational health for a group of hospitals, to Duke's Employee Health and Occupational Wellness (EOHW) team. The bulk of his interview process unfolded prior to the pandemic, though he made a final campus visit in May 2020.
What made him feel a part of Duke: Once on the job, Subramaniam acclimated quickly as the employee health team was heavily involved in COVID-19 contact tracing, testing operations and the employee vaccination push. Subramaniam works on-site, seeing employee patients, developing return-to-work plans and helping guide vaccination clinics. His colleagues have made sure he has everything he needs. "I always felt that I was taken care of and part of the team," he said. "That's what made the transition so smooth." Subramaniam also had familiarity with Duke since his son, Sanjay Satish, is a senior.
How he makes a difference: Subramaniam's hire reflects Duke's commitment to keeping the workforce mentally and physically healthy. EOHW is comprised of clinical services, Personal Assistance Service and LIVE FOR LIFE, the employee wellness program. Originally designed to address an employee's total health and well-being, the unit led the way during the pandemic, developing the workforce COVID response with prompt testing, contact tracing and support of employees with coronavirus. "We have the leadership of the University and Health System in our corner, making sure that, as much as possible, we have the resources we need," said Dr. Carol Epling, director of EOHW.
---
Veronica Ciocanel
Assistant Professor
Departments of Biology and Mathematics
How she got here: Veronica Ciocanel, a 2012 Duke graduate, was excited to join her alma mater's faculty last summer. But the idea of moving from Columbus, Ohio, where she was doing post-doctoral research, to North Carolina was daunting. She selected an apartment through a virtual showing, met colleagues over Zoom and, last July, made the nearly eight-hour drive with her husband. "It was definitely a strange time to move," she said.
What made her feel a part of Duke: Working from home, Ciocanel still feels connected to campus life. She's met colleagues on hikes and appreciated their kind gestures, including giving her a Duke Mathematics T-shirt and coffee mug upon arrival. But working with students cemented her connection to Duke. She's served as a mentor for undergraduates in the Association for Women in Mathematics and helped students with research projects and competitions. She also taught in-person courses on linear algebra and interdisciplinary modeling.
How she makes a difference: The Academic Strategic Plan states that interdisciplinary thinking "allows us to tackle research questions that call for a wider range of skills, perspectives, and knowledge bases than any one scholar can possibly possess." Ciocanel's approach, which uses applied math to model unpredictable happenings inside cells, embodies Duke's interdisciplinary goals. Her presence in a field that's largely male furthers another goal, also from the Academic Strategic Plan, of increasing "the pipeline of underrepresented female and minority faculty." Said Ciocanel, "Women are still an underrepresented minority in the mathematical sciences, not just at Duke but everywhere."
---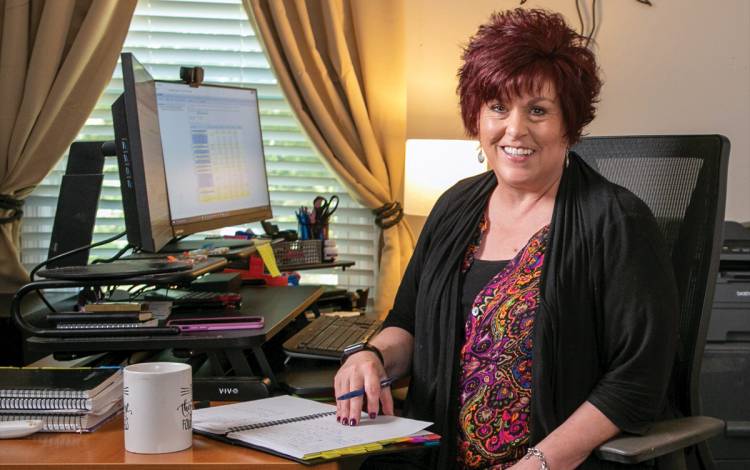 Lorrie Robbins
Grants & Contracts Manager
Human Vaccine Institute
How she got here: In two decades in research administration at other universities, Lorrie Robbins always heard positive remarks about Duke's employee benefits and collaborative atmosphere. When the opportunity arose to join the Duke Human Vaccine Institute in June of 2020, she jumped at the chance. Working from her Cary home, Robbins hasn't seen her campus office, but she is enjoying remote work, an arrangement Duke offers for certain positions as part of post-pandemic plans. "I've gained back two hours," said Robbins, who previously commuted to Chapel Hill each day. "I feel more productive and
more focused."
What made her feel a part of Duke: Robbins was concerned about feeling disconnected, but Duke's Learning and Organization Development (L&OD) revamped new employee orientation, moving to bi-weekly virtual events and adding information about Duke's history, campus and culture. "It's critical to have this kind of experience so you can get a sense of belonging," said Keisha Williams, assistant vice president for L&OD, a unit in Duke Human Resources. Robbins built connections through video meetings and messages of gratitude delivered by leaders and supervisors. "They tried to make everybody feel like they were really part of a community," Robbins said.
How she makes a difference: Robbins, part of the School of Medicine's research administrators, handles administrative elements of the Human Vaccine Institute's cutting-edge research on infectious diseases, which is central to Duke's COVID-19 response. Working on projects such as cancer and HIV, she creates grant applications, oversees how funds are spent and ensures projects comply with institutional and federal regulations. "I can't think of a better mission," Robbins said. In the past year, Duke's research community has been involved in many pandemic-related projects. As a result, the School of Medicine, which houses the largest segment of research operations, filled approximately 500 positions – most in research-related roles. Duke is one of the largest biomedical research enterprises in the country. "We're getting a lot of funding from the government," said Denise Motley, assistant vice president for Human Resources, Central Recruitment and Staffing. "We can't fill the positions quick enough."
---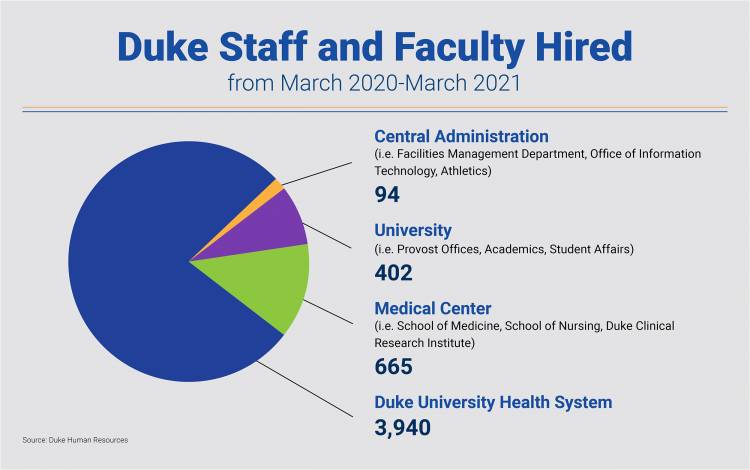 Photography by Megan Mendenhall and Jared Lazarus, University Communications.
Send story ideas, shout-outs and photographs through our story idea form or write working@duke.edu.