Duke Staff and Faculty Can Designate Gender Identity, Pronouns
Beginning Sept. 7, staff and faculty can select gender identity, pronouns and preferred first name in Duke's personnel database
At the bottom of every email, sandwiched between her job title and contact information, Sophie Williams lists her gender pronouns.
Next to the words, as if to preemptively answer the question of why they're there, she includes a link to a resource guide that explains how getting these words right often plays a big role in making people feel respected. 
"It's a really simple way to use language to create a more inclusive, affirming, and welcoming environment for all, particularly transgender and non-binary members of our community," said Williams, senior director of strategic communications for Duke Student Affairs.
Starting on Sept. 7, Duke University and Duke University Health System staff and faculty will be able to designate their gender identity, pronouns and preferred first name in Duke@Work, the self-service website that offers faculty and staff the ability to view and update personnel information. Duke students already select their pronouns and preferred first name in DukeHub, and these are visible on class rosters and to advisors.
Pronoun and gender identity information entered by faculty and staff will be confidential. Aggregate demographic data will be used for federal reporting and to guide efforts at Duke to create a more inclusive climate and to recruit and retain a diverse workforce.
Providing an opportunity to self-report also helps Duke – one of many institutions now offering the option – comply with a federal executive order enacted earlier this year requiring entities that receive federal contracts or grants to protect employees from discrimination based on several factors, including gender identity.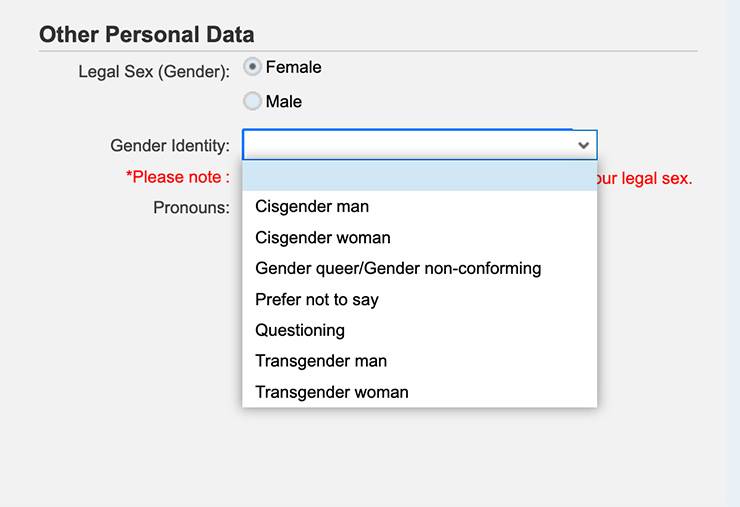 "It's important for people to take this opportunity to self-identify to help us understand what our community looks like," said Sophia Brelvi, director of Affirmative Action and Compliance Programs for Duke's Office of Institutional Equity (OIE). "We really want to make sure that we are implementing programs or introducing practices that really make that substantive, systemic change and reflect the needs of everyone in our community. The more accurate data we're able to gather around community demographics, the more it will dictate how we respond and make sure our campus is a healthy environment."
Staff and faculty can enter their information by visiting the online self-service portal and making updates under the "My Profile" tab. Faculty and staff can select pronouns and gender identity from drop-down lists and type in a preferred first name. Updating gender identity does not impact an employee's personnel record for sex assigned at birth, which requires a separate process through a Duke Human Resources personal data change form.
As part of a potential second phase of implementation, Duke is exploring the possibility of allowing staff and faculty who provide their informed consent to share personal pronouns on compatible campus systems such as the Duke Directory. Gender identity would remain restricted to the confidential personnel database to protect privacy.
"This is the first step in a multi-step plan to help acknowledge members of our community appropriately," said Mary McKee, director of Duke Identity Management and Security Services.
For community members such as Williams, the director of strategic communications for Student Affairs who lists her pronouns in her email signature, the option to identify will likely inspire others to share their pronouns as well.
"By modeling using our pronouns, we can work toward creating spaces and environments where everyone feels a greater sense of belonging and respect," Williams said.
Send story ideas, shout-outs and photographs through our story idea form or write working@duke.edu.