Working in a New Normal: A Balance of Science and Self-Care
Whether in a lab or at home, Sarah Goetz continued to be led by her curiosity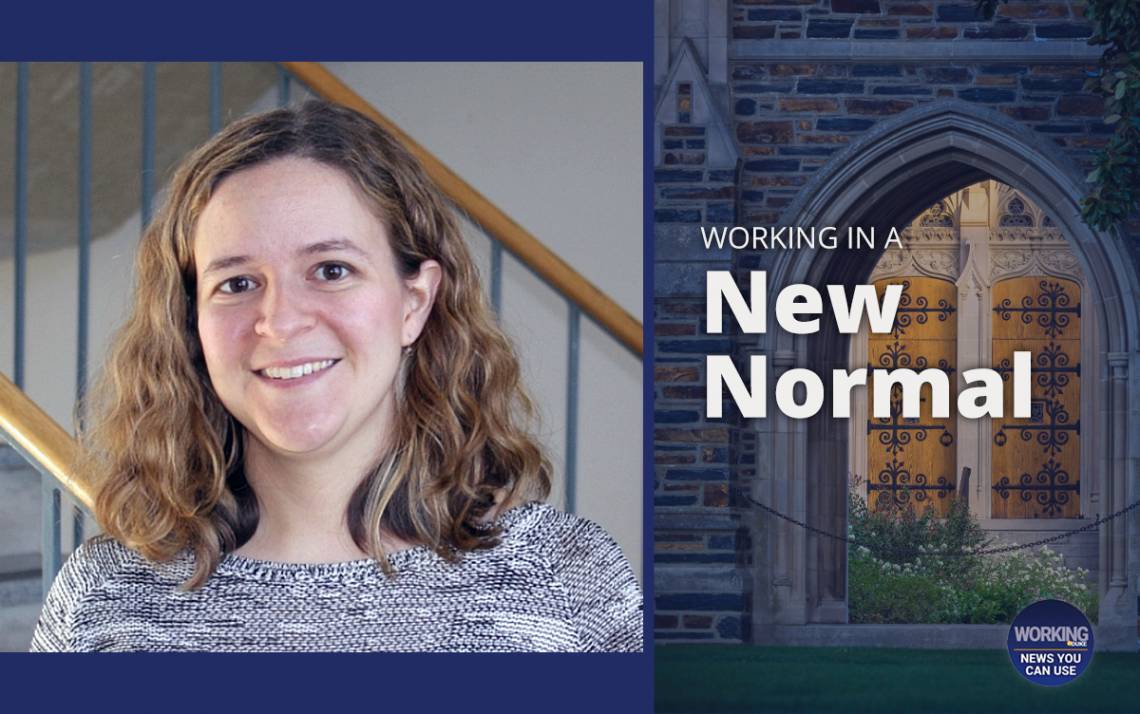 Name: Sarah Goetz
Position: Assistant Professor of Pharmacology and Cancer Biology
Years at Duke: 6
What she does at Duke: The pieces of a cell that are of most interest to researchers in Sarah Goetz' lab are the cilia, which act like small antennae on the outside of each cell, receiving signals from nearby cells and the surrounding environment. The questions Goetz's lab are exploring involve how the cilia work and how, when they don't function properly, the mixed signals can result in neurodegenerative diseases such as cancer. 
"We increasingly know that these structures are linked to different human genetic disorders," said Goetz, who oversees a team of four full-time lab staff members and a handful of graduate and undergraduate students.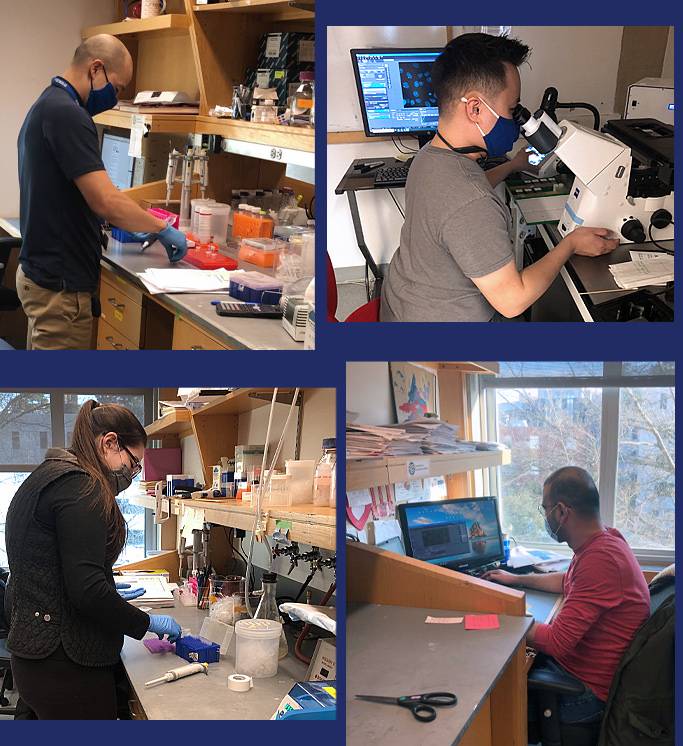 How her work has changed since the pandemic: Much of Goetz' work involves studying the cell development of mice. When the pandemic forced much of Duke's lab-based work to slow down or pause in the spring of 2020, the only work that went on in the lab was to keep the mice colony going.
A few months in, some on-site work was able to resume, provided lab staff wore masks and had no more than four people on site at one time. But most of the work of Goetz's team was remote as team members worked on manuscripts for papers based on pre-pandemic data. 
"In those first few months, our work shifted a lot," said Goetz, whose lab returned to regular work arrangements earlier this year.
What aspect of her work is she most proud of during the challenging times? Goetz's pandemic experience came with the twist of having one of her lab's post-doctoral students join the team just before the pandemic started, and another lab technician hired during the pandemic.
Training new team members was a challenge, but Goetz said she was thrilled with how well they adapted to new roles in a difficult time.
"They've just been able to do a lot without as much help as would have normally been made available to them," Goetz said. "They've been able to learn what they needed to and they showed a lot of personal motivation and drive to get that done."
What did she miss about campus? While working remotely, Goetz missed the chance to walk around campus. Prior to the pandemic, she'd often take breaks and venture from her lab in the Levine Science and Research Center to other parts on campus such as Perkins Library and Abele Quad.
"I've definitely missed that," Goetz said. "Working from home, you have to make a more conscientious effort to go out and walk around. On campus, that just seems to happen more naturally."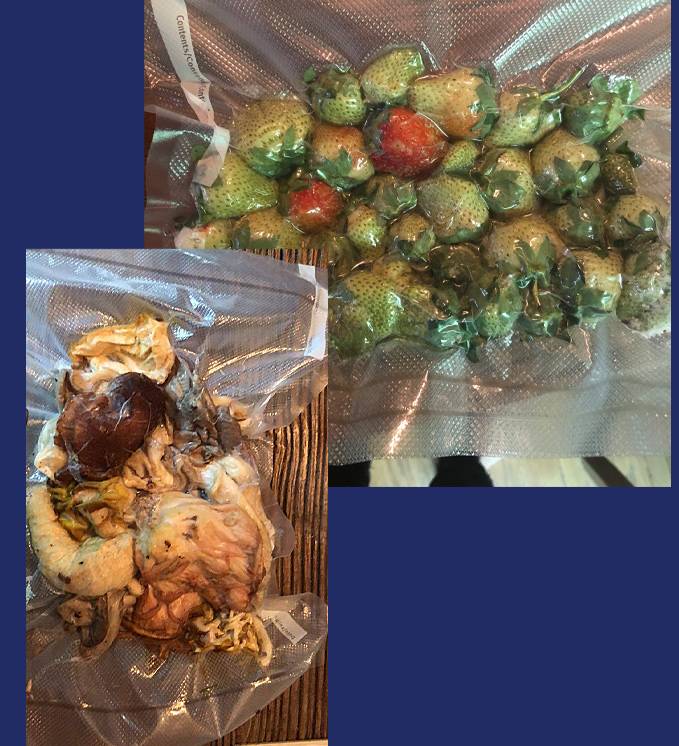 What helped her get through the pandemic? While many home cooks dove into baking during the pandemic, Goetz decided to focus on pickling. By harnessing the fermentation powers of lactobacillus bacteria, Goetz was able to find tasty ways to pickle things such as strawberries and mushrooms.
"It's been interesting and fun," Goetz said. "It's pretty easy. You don't really have to do anything. You just vacuum seal the thing you want to pickle, and all it needs is salt and anaerobic conditions. The salt kills all of the other microbes that would be in there, and the lactobacillus, which can tolerate the salt, will grow and pickle anything you're trying to pickle." 
Best lesson from the pandemic: Like many during the pandemic, Goetz faced the daunting challenge of balancing her busy work and home lives. Goetz was also helping her son, Owen, finish first grade and navigate second grade virtually. She said trying to manage work and life, and realizing that she couldn't do everything, helped give her some perspective.
"I've realized that you sometimes don't have the ability to do everything you want in the timeframe that you want, and that's OK," Goetz said. "I think things have worked out."
Something most people don't know about her: Before she arrived at Duke, Goetz used to be an avid home brewer. While living in New York, where she was a post-doctoral fellow with the Memorial Sloan-Kettering Cancer Center, she picked up the hobby and mastered the art of making a particular saison which used rye, wheat, barley and a Belgian yeast variety that thrived in warmer environments.
"New York apartments are always hot," said Goetz, who admits it's been a while since she brewed anything. "They're amazingly hot in the winter and, with one little window air-conditioner, they stay hot in the summer. So that beer worked out really well in my hot little apartment. It would always come out really well."
How are you working in a new normal? Tell us about it by writing to us or completing this story idea form.