And the 2021 Duke Time Off winners are…
See three grand prize images and 15 other amazing photos from Duke staff and faculty who took time away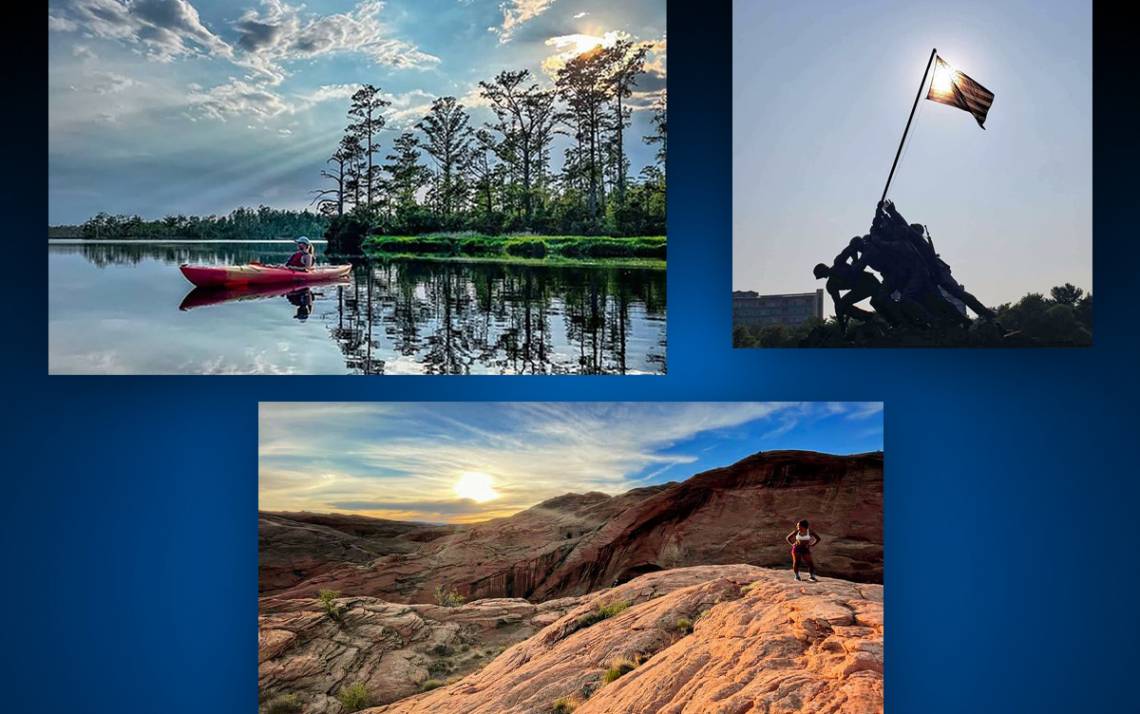 Whether traveling up the street, backpacking to breathtaking views, visiting family or celebrating important milestones, Duke faculty and staff shared unique places and moments they've enjoyed during time off this summer.
At least 420 photos were shared in the 2021 Duke Time Off photo campaign, which ran from late May through Aug. 9, highlighting how staff and faculty use their time off benefit. Of the submissions, here are three grand prize photos, employee-shutterbugs and 13 amazing photos from the campaign.
Thank you to all who participated.
Grand Prize: Mark Benton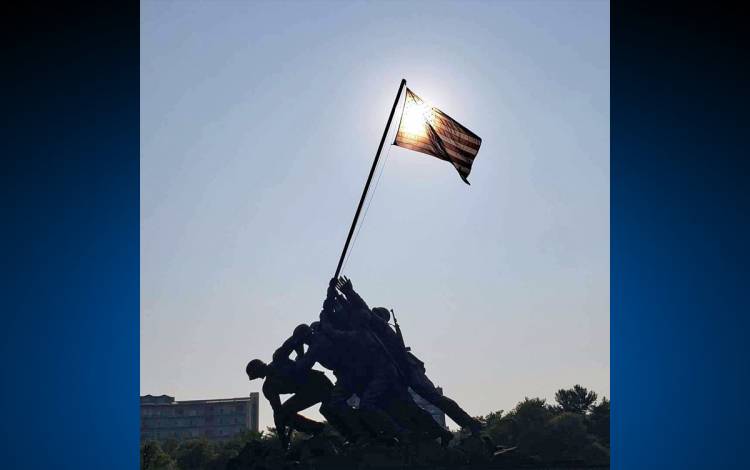 During a camping trip to Virginia's Loft Mountain this summer, Mark Benton and his family decided to extend vacation an extra day to drive to Arlington National Cemetery to visit the U.S. Marine Corps War Memorial.
The memorial has always been a special place for Benton, a neurodiagnostic lab tech, who served in the Marines from 1990 to 1994. Over the years, Benton has traveled to visit the bronze statue more than 10 times, taking some of his closest family and friends with him to contemplate its meaning.
"I've always grown up with a huge respect for the military," Benton said. "I've just had the ultimate respect for the Marine Corps and all the military services. It's someplace where I can go to reflect and remember."
Benton captured this moment at the memorial during the Sunset Parade, a free evening performance that includes music from the United States Marine Drum and Bugle Corps.
Benton will receive a $100 gift certificate to the Durham Performing Arts Center.
Grand Prize: Bridget Pickle
Bridget Pickle, a research technician in Lab Animal Resources, took a trip to the Outer Banks leading up to Memorial Day Weekend with her friend Tim Brown, a nature photographer.
During the trip, the two booked an evening private kayak tour down the Alligator River, where they saw black bears, a red wolf, snakes, snapping turtles and an osprey, among other animals. While on the river, they took this photo of Pickle looking out over the river with the sun setting behind her.
"I was really scared to kayak," Pickle said. "For about the first hour, it took me a while to figure out how to navigate. By the time we got to the point we took the picture, I was just getting the hang of it, and I was able to relax and enjoy the views."
Pickle will receive a virtual painting package from the Duke Lemur Center, courtesy of the center.
Grand Prize: Meera Gandhi
Any chance she has had during the COVID-19 pandemic, Meera Gandhi, a physician assistant at Duke Urgent Care, has planned trips to hike through nature and get away from it all.
Over Memorial Day Weekend, Gandhi and her partner, Sameer Sood, hiked through Utah, with stops in Escalante and Moab. In her photo, Gandhi is pictured looking out over the picturesque views of southern Utah after scaling rocks and trekking through Coyote Gulch in Escalante.
For her, the trip represented reconnecting with nature during much-needed time off.
"It's just a peaceful state where I was able to feel so full of life, like my heart was exploding with nature's beauty and peace," Gandhi said. "Even though everything is going on with COVID, it was a nice reassurance that we still have this beautiful world to appreciate."
Gandhi will receive an overnight stay with breakfast for two at the Washington Duke Inn, courtesy of the Washington Duke Inn.
Employee-Shutterbug
Michael Royster
Duke University Store's Michael Royster shared many photos throughout the summer of his family's excursions, including a fifth-grade graduation celebration, a Durham Bulls baseball game, a day trip to Eno River State Park and a vacation to Fort Macon on the North Carolina Coast.
In this photograph, Royster's youngest son, Aiden, tumbled down the beach doing one-handed cartwheels in shallow water.
Employee-Shutterbug
Kara Bonneau
As part of a three-week trip to Europe in August, including stops in Estonia, Sweden and Denmark, Kara Bonneau competed in two triathlons and two 5k events. In this photograph, Bonneau, the director of the North Carolina Education Research Data Center, holds up a medal she received after competing in Ironman 70.3 in Tallinn, Estonia, where she finished fourth in her age group.
"I enjoyed all of the places I visited and the whole experience was great," Bonneau said. "Perhaps not the most relaxing way to use time off, but I feel very fortunate to have been able to take such a challenging and memorable trip."
13 Amazing Photos
Sydney Mitchell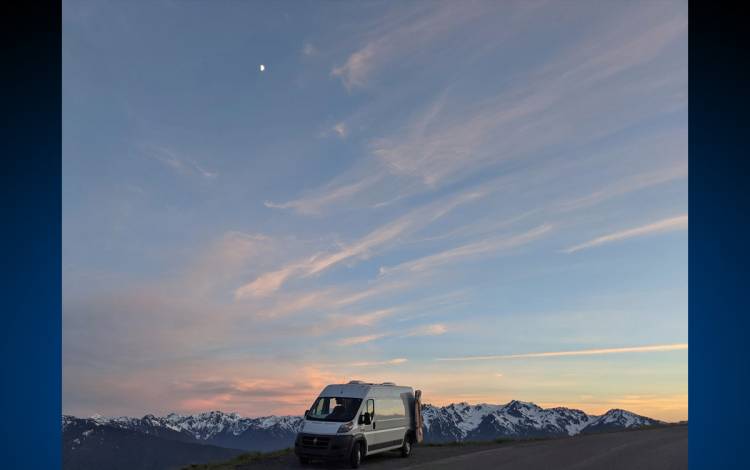 Occupational therapist Sydney Mitchell captured Hurricane Ridge in Olympic National Park on the last night of her van and camping road trip from Salt Lake City, Utah, to Seattle.
As part of the trip in June, Mitchell visited six national parks along the way, hiking and rock climbing the Pacific Northwest.
"I love being outdoors and camping, and it really helps me with recharging while I am away from Duke," Mitchell said.
Bill Snead
Before taking time off for prostate cancer surgery in June, Bill Snead of University Communications weaved through the 11-mile "Tail of the Dragon" on a motorcycle with his wife. Traversing the famous winding route, which is partially in western North Carolina and Tennessee, became an important memory during recovery from an operation.
"This will be the last time I'll be able to ride for a few months while I recover, so it was nice to be able to spend so much time riding motorcycles that weekend to make memories to hold me over," Snead said.
Lauren Howard
Lauren Howard's trip to Indiana to see her sister in June included plenty of laughs. In this photo, Howard, who works for Duke Cancer Institute, enjoyed time in the pool with her niece.
"It was a long drive to get there, but I was able to work remotely from there and take some #DukeTimeOff to spend precious time with family," Howard said.
Will Alexander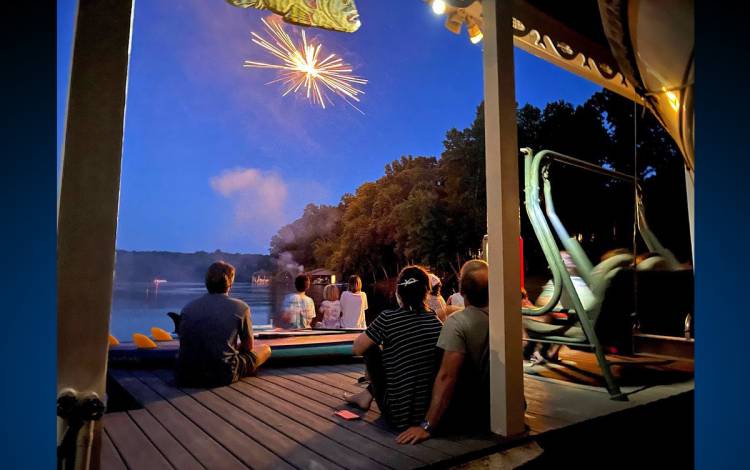 Almost every year since 2005, Duke Neurology Administration senior writer Will Alexander has reunited with college friends at his parents' lake house on Lake Gaston in Virginia. After missing out in 2020 due to the pandemic, nine adults and 12 children made the trip this summer a success.
"This year, we were all able to see each other for the first time since the pandemic and enjoy fireworks," Alexander said.
Sierra Foxx
Sierra Foxx, business manager for Parking and Transportation Services, booked a cooking class with Monique Hines from Food Vibez Way, LLC for her daughter Emma's 6th birthday on July 23.
During the class, Foxx's daughters learned how to create and bake pepperoni pizza and Oreo cheesecake cookies.
"The girls loved it and can't wait to do it again," Foxx said.
Grace Hall
Grace Hall, a clinical research coordinator in Emergency Medicine, had a bird's-eye view of the shoreline while hang gliding with one of her children this summer. An ultralight aircraft carried Hall's hang glider 2,000 feet into the air, where they were set free, and an experienced professional helped them glide back down to the ground.
"We were able to experience the natural beauty around us without a care in the world," Hall said. "It was awesome!"
Babs Wise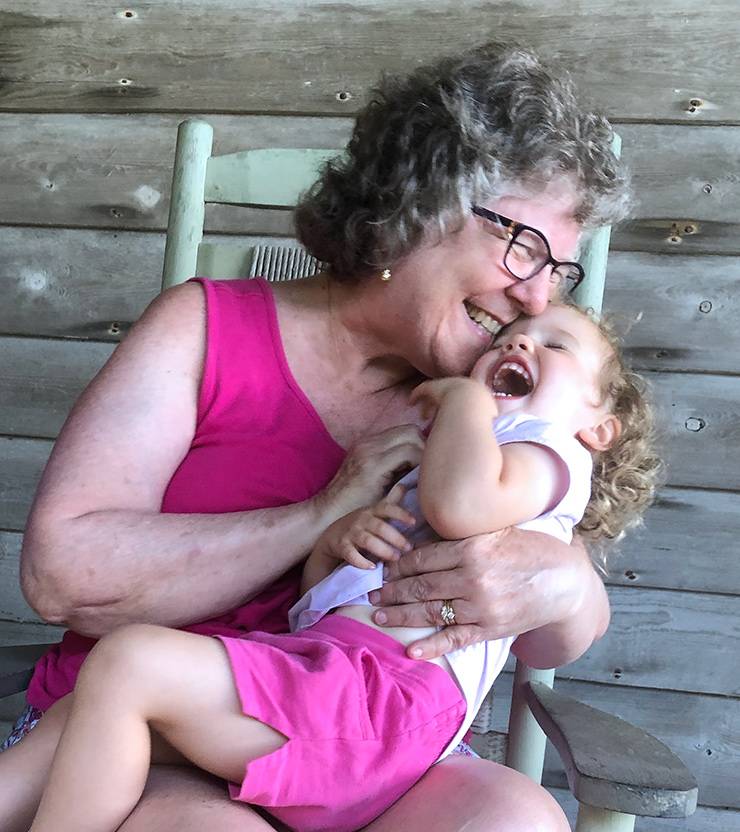 Family time was at the center of a two-week vacation at Pawleys Island, South Carolina, for Babs Wise, director of Scholar Programs for the Office of University Scholars and Fellows.
"This photo is of my 2-year-old granddaughter and me — totally relaxed and enjoying each other in a porch rocker," Wise said.
Jacquelyn Yanik
While visiting San Diego, California, this summer, Duke Performance Services management engineer Jacquelyn Yanik took this photo of her dog Jemma in front of the "doggie flights" water bowls at Bivouac Ciderworks, a craft cider brewery and restaurant.
"Can life get any better?" Yanik asked.
Domonique Redmond
A trip to Las Vegas at the end of May celebrated big milestones for Domonique Redmond and her family, including her son's graduation from Grambling State University in December and the 25th wedding anniversary for Redmond and her husband.
During the four-day trip, Redmond, assistant director of Strategic Initiatives and Planning for the Office of Durham & Community Affairs, stopped for a picture on top of the STRAT Hotel, Casino & Skypod, with her family.
"With our oldest living in another state and our youngest preparing to leave for a summer internship, this time away allowed us to come together and celebrate family, health and well-being before our busy lives pulled us apart again," Redmond said.
Rick Bedlack
Rick Bedlack, professor of Neurology, and his wife are longtime comic book fans who enjoy attending Comic-Con. After going on hiatus in 2020, they returned to attend "Terrificon" in Norwich, Connecticut, at the end of July.
"We love going to comic cons to see all the fun costumes and artwork," Bedlack said. "We have been going to "Terrificon" in Norwich, Connecticut for the past few years, except for 2020 of course. It is one of our favorites because of its proximity to our families, and to lots of great food."
Elizabeth Evans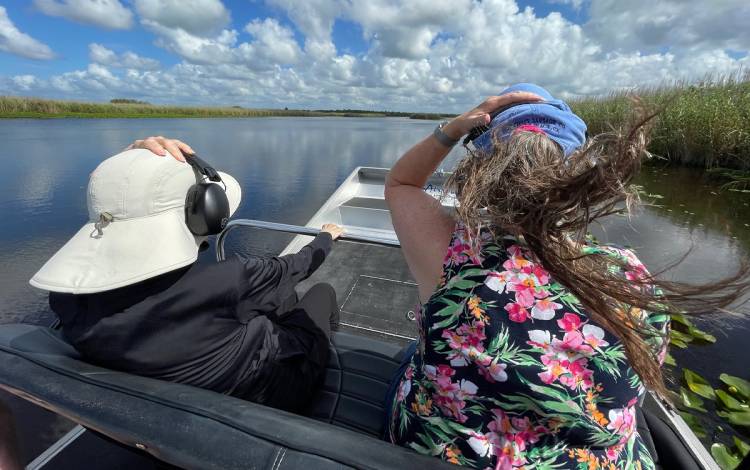 Though staycations are much more frequent for her than vacations, Elizabeth Evans of the Duke Clinical Research Institute decided to get away from Durham for a week to visit family in Winter Park, Florida, and celebrate her 60th birthday.
During the vacation, she and her family took a boat out on the St. John's River in Sanford, Florida.
"It was two hours of zipping through the marshes, catching glimpses of lots of wildlife (yes, there were ALLIGATORS!!) and enjoying the incredibly beautiful scenery," Evans said.
Kristi Nyberg
After receiving her COVID-19 vaccination doses, Kristi Nyberg, an administrative specialist with Duke Regional Hospital, spent her time off by visiting with her mother, Carol Steeples, who is 90.
"This picture is very special because we lost my Dad to COVID last September, and this was the first time I actually got to have any contact with my Mom since his death," Nyberg said. "They both tested positive, and Mom didn't have any symptoms, but we lost Dad."
Jeremy Ashton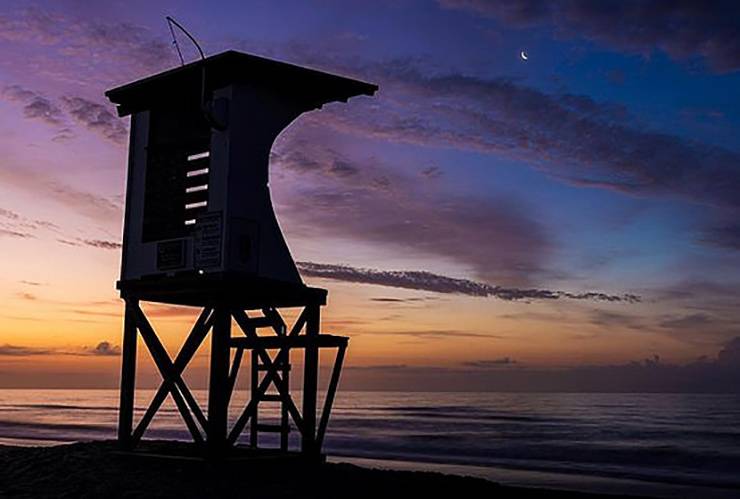 After missing out on a vacation in 2020, Jeremy Ashton of the Nicholas Institute for Environmental Policy Solutions snapped this picture of the dawn sun rising over Wrightsville Beach this summer.
"Our last family vacation before the pandemic was a beach trip, so it felt fitting that we got back out on the road a year and a half later with another visit to the North Carolina coast," Ashton said. "I've missed sunrises at the beach."
See more 2021 summer photos from the summer by searching #DukeTimeOff on Twitter, Instagram and Facebook.