Department Spotlight: Office of Health Equity Works to Erase Disparities
Duke Cancer Institute's Office of Health Equity turns focus on historically underserved communities
Department: Office of Health Equity in Duke Cancer Institute
Years at Duke: 9
Number of employees: 6
What they are known for: Angelo Moore, program manager for Duke Cancer Institute's Office of Health Equity, has the sobering statistics close at hand when asked about cancer disparities facing historically underserved populations. He points out that Black men are more than twice as likely to die from prostate cancer than any other group. A higher percentage of Black women die from breast cancer than any other group.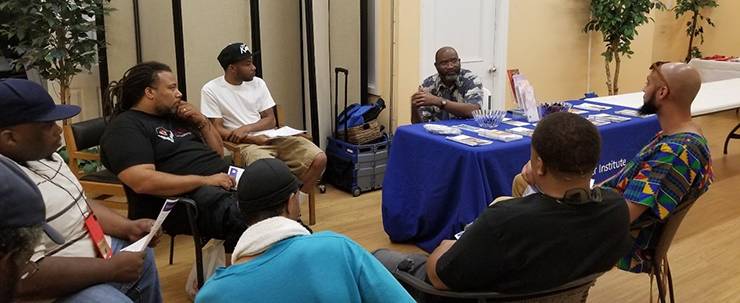 With three aunts who died from cancer and a cousin who survived a cancer battle of her own, Moore can put a personal face on these figures. And it's that experience that provides the motivation to lead the work of the Duke Cancer Institute's Office of Health Equity.
"Closing these disparities has always been a passion for me," said Moore, who joined the office in May 2019 and previously spent 25 years in the U.S. Army.
The office, which was formed in 2012, works to close these gaps by spearheading community outreach and engagement efforts aimed at educating historically underserved communities about cancer prevention and the importance of getting screenings as well as assisting these community members in getting access to necessary cancer screenings and treatment if needed.
Moore said, prior to the pandemic, his team of educators and patient navigators would spread this message by organizing free-of-charge prevention and screening events, and be fixtures at community events, health fairs, church gatherings, and anywhere people from historically underserved populations got together. They'd give out information and work individually with people to find ways to overcome barriers like not having health insurance or a lack of awareness about the risks of cancer.
"A lot of times people will say they weren't aware of different services, or they didn't know about different signs or symptoms of a specific cancer until they heard a presentation that we gave or received some of our materials," said Kearston Ingraham, Office of Health Equity data analyst and evaluation specialist.
How COVID-19 affected their work: Early last year, the COVID-19 pandemic forced the face-to-face style of the office's outreach work to change.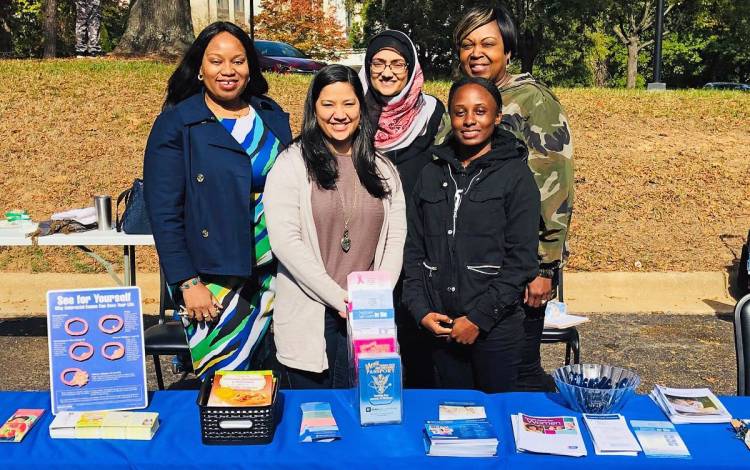 "It was hard not being able to be out in the community because of the restrictions we have due to the pandemic," Moore said. "However, we've learned to be innovative and started some programs that we can do virtually."
Among the initiatives that took shape during the pandemic was a Community Health Ambassador program which the Office of Health Equity team members provide virtual trainings for leaders in faith and community organizations about how they could spread the word about preventing and screening for cancer, hypertension and diabetes. The program also provided information on how to set up a health advocacy team within their own organization. So far, the program has reached more than 50 organizations in 30 North Carolina counties.
"These ambassadors are able to reach people that we aren't able to reach ourselves," Moore said.
The office has also held virtual events providing information on specific types of cancers, such as a Spanish-language Facebook Live event organized with the Mexican Consulate in Raleigh which drew 469 participants.
What they can do for you: While the Office of Health Equity's public-facing work gets plenty of attention, it's only part of what the office does. After it gets community members thinking about how they could address a cancer-related health concern for themselves, or someone close to them, the Office of Health Equity staff, most of which are trained patient navigators, can help guide them through the process of getting help.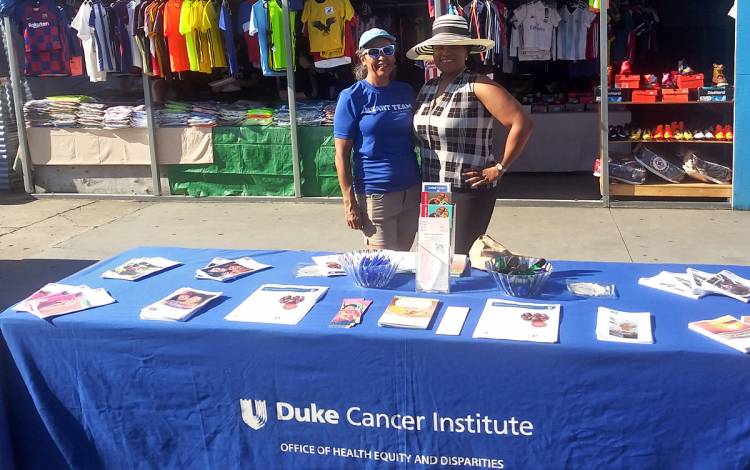 The office's navigators can help figure out complicated insurance situations, connect uninsured or under-insured people with free or low-cost health care options and even help people find cancer care options outside of Duke Health System.
"Everybody has different barriers that keep them from getting the health care that they need," Moore said. "Our patient navigators are there to help overcome those barriers. We want to make sure nobody falls through the cracks of the healthcare system when it comes to cancer-related care."
Significant achievement: When the COVID-19 pandemic began, it quickly exacerbated the health care disparities that already existed in our community. As a way to help bring care and resources to the historically underserved Latinx population, volunteers from both within Duke and from the Durham community formed the Latinx Advocacy Team & Interdisciplinary Network for COVID-19, which came to be known as LATIN-19.
Among the 56 LATIN-19 volunteers from Duke University and Duke Health System were four of the six members of the Office of Health Equity staff. Their understanding of community outreach, education and networking helped LATIN-19 improve access to testing and contact tracing, increase the amount of Spanish-language information available and helped reduce the infection rate among Durham's Latinx population.
That work led to the entire LATIN-19 team earning a 2020 Presidential Award, the highest honor given to Duke staff and faculty members.
Get involved: With the pandemic coming under control, the Office of Health Equity will be able to offer a scaled-down version of their annual Men's Health Screening program on Saturday, September 25, 2021 at Lincoln Community Health Center. Several free screenings will be available for men 40 or older. Please call the office number below or email at DCI-OfficeofHealthEquity@dm.duke.edu for additional information.
If you know someone who has a potential cancer-related health concern and is having trouble receiving cancer care, you can contact the Office of Health Equity at 919-684-0409 for guidance.
Send story ideas, shout-outs and photographs through our story idea form or write working@duke.edu.