Working in a New Normal: The Power of Art for Health
Bill Gregory creates coloring books and art exhibits for Duke Health patients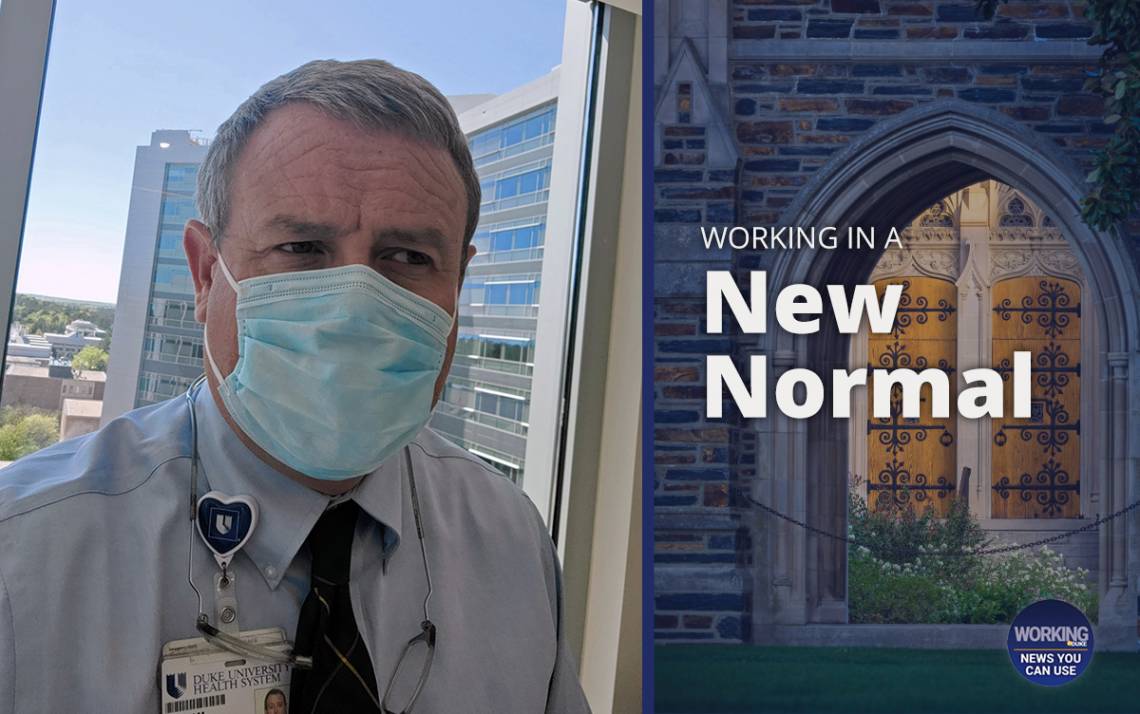 Name: Bill Gregory
Position: Visual Arts Program Coordinator, Arts & Health at Duke
Years at Duke: 5
What he does at Duke: Gregory provides joy to employees and Duke Health patients and families.
Each year, he delivers about 3,000 art kits that contain a journal, playing cards and coloring book that Gregory created with scenes from Sarah P. Duke Gardens, Duke University Chapel and other campus spots.
Gregory also helps plan and set up exhibits at Duke University Hospital, Duke Eye Center, Duke Cancer Center and Duke South using paintings, drawing and mixed-media work from Arts & Health at Duke's 4,000-piece collection.
"We choose uplifting art that is going to put a smile on people's faces," Gregory said. "We hope someone can look at a piece of art and have a brief moment of relaxation, away from all the stress of work or their health."
How has his job changed since the pandemic: Gregory worked from home for six weeks and then returned to campus to serve as a symptom monitoring screener for four months at the entrances of Duke University Hospital, Duke Medicine Pavilion and Duke South.
"I had great satisfaction in knowing I could return to campus and play a small part in keeping things operational," Gregory said. "It was exciting watching people show up every day to do their jobs. You could feel a team spirit in the air."
After returning to his work with Arts & Health at Duke late last summer, Gregory dropped off the art supplies off outside of patient rooms or passed them to nurses.
"Arts & Health limited our patient contact in 2020," he said. "Working as a screener was a great way to interact with patients and employees I otherwise wouldn't get to see," Gregory said.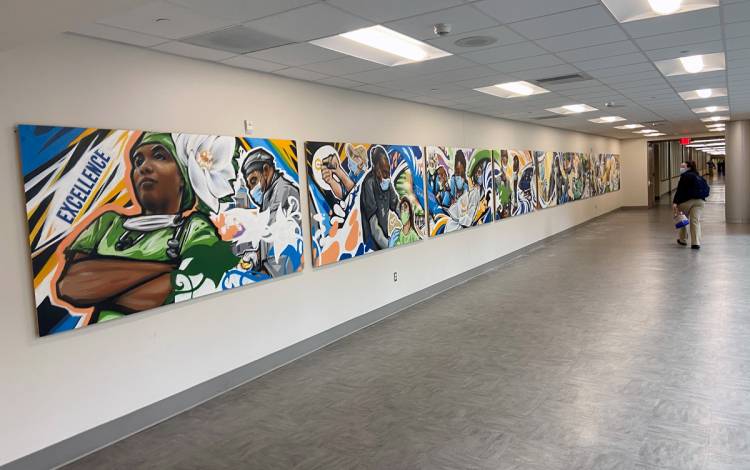 What aspect of work he is most proud of during the challenging times: Gregory and his three colleagues in Arts & Health at Duke commissioned Raleigh artist Sean Kernick to create an eight-panel mural in the north concourse of Duke University Hospital.
The mural depicts Duke employees who worked on the frontlines through the pandemic.
"It's our way of celebrating everyone who showed up to work every single day," Gregory said.
TV show or series that has gotten him through: Gregory watches "It's Always Sunny in Philadelphia" when he needs a pick-me-up. The series, which has 14 seasons, is about five friends who own an Irish bar in Philadelphia.
"It's a mindless opportunity to laugh," Gregory said. "You don't have to think too hard watching it."
Lesson learned during COVID-19: Limit your news intake.
Gregory felt overwhelmed when he scrolled through social media and news websites in the early days of the pandemic. He relied on messages from Duke leaders to understand the latest updates.
"I took comfort in knowing the information I was getting about COVID-19 was as close to the source as you can get," Gregory said. "That made things a little less intimidating."
How he maintains well-being: Every few weeks, he visits his favorite fishing holes at Pisgah National Forest, Falls Lake State Recreation Area and Jordan Lake State Recreation Area. He fishes for trout, bass and red drum.
"For me, being on the water or in the mountains is my therapy," he said. "Getting disconnected is how I enjoy spending my time."
Something most people don't know about him: Gregory managed "Urban Angler," a fly-fishing shop in New York City, for nine months in 2003. He helped lead fishing trips for "Urban Angler" to Montana, the Florida Keys and the Caribbean Sea.
"Fishing allowed me to see the world," Gregory said.
How are you working in a new normal? Tell us about it or nominate a colleague by writing to us or completing this story idea form.