Working in a New Normal: New Arrival Feels at Home
After joining Duke mid-pandemic, Fletcher Fair found his groove
Name: Fletcher Fair
Position: Management Engineer, Performance Services
Years at Duke: 1
What he does at Duke: As a whole, Performance Services uses data to measure, monitor and improve the organizational performance of Duke University Health System. And when the leadership of a specific part of the system wants a closer look at operations, they seek out the Quality Analytics team, which Fletcher Fair joined in June of 2020.
By looking at patient outcomes and finding connections and trends in the digital records of their treatments, Fair and his colleagues can draw helpful conclusions about the quality and safety of a specific area.
"We work collaboratively with stakeholders to see how they're doing, what specific areas we can target for improvement" Fair said.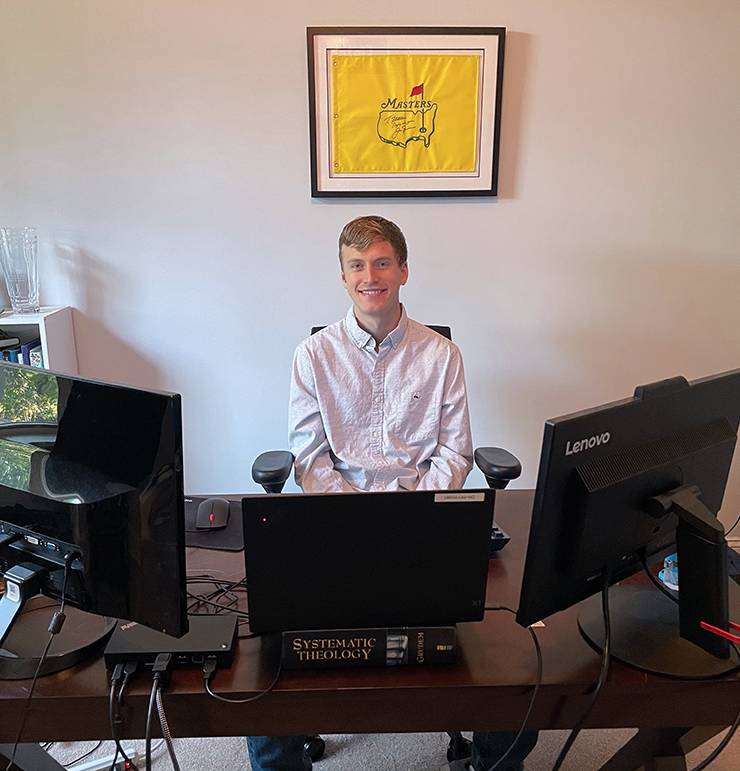 How his job has changed during the pandemic: Fair visited the Performance Services workspace in Hock Plaza during his October 2019 job interview, when he was finishing up his degree at Auburn University. When he finally joined the staff in June of 2020, the fast-paced collaborative office environment he saw earlier had been replaced with a remote work situation over Zoom.
"It hasn't looked like what I would have thought, but it's been a positive experience," Fair said.
While he's happy with the way his team has remained tight while working remotely, there is one small disappointing aspect of the arrangement.
"I bought this big peacoat because I thought the winters were going to be cold and that I would be wearing a suit and walking back and forth to the hospital a lot," Fair said. "I have worn it one time."
What he's most proud of about his team's work during COVID-19: From the time of his interview and throughout his time on the job, Fair knew that the work of his team directly affected the level of care provided to Duke patients.
When talking with staff members from Duke University Hospital or the Duke Cancer Center, he hears how the findings his team produces give caregivers the information they need to do their jobs better.
While he's worked mostly from home throughout the pandemic, recently Fair has come into the Performance Services offices in Hock Plaza more regularly. He said driving past Duke University Hospital on his way to and from work has been an inspiring sight.
"It's a great reminder of the purpose of what we're doing," Fair said.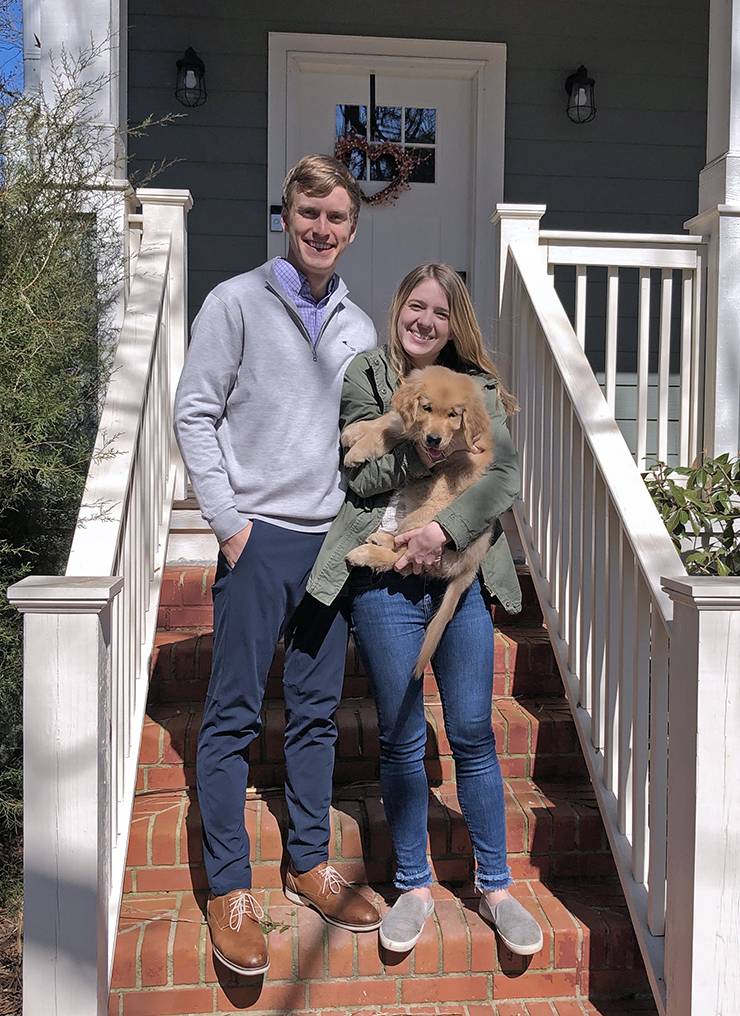 What he likes about working from home: In February, Fair and his wife Mary Grace adopted a Golden Retriever puppy named Thach. With Mary Grace, a nurse who works at Duke clinics, Fair has been the one who has walked Thach at lunchtime and kept him from running roughshod through the house.
"It has made life a lot simpler to work from home, especially when going through the task of trying to train a puppy," Fair said. "I don't know how we would have done it if I wasn't at home."
What has gotten him through the pandemic: Both Fletcher and Mary Grace have found that exercise has been a healthy outlet. They don't particularly enjoy running, so when a gym near their home reopened, they both joined and now take part in regular masked, distanced workouts.
"It's been fun because my wife and I can kind of go together and we can do the same workout and both be really challenged," Fair said. "And I think it's been huge for our mental health to be able to exercise."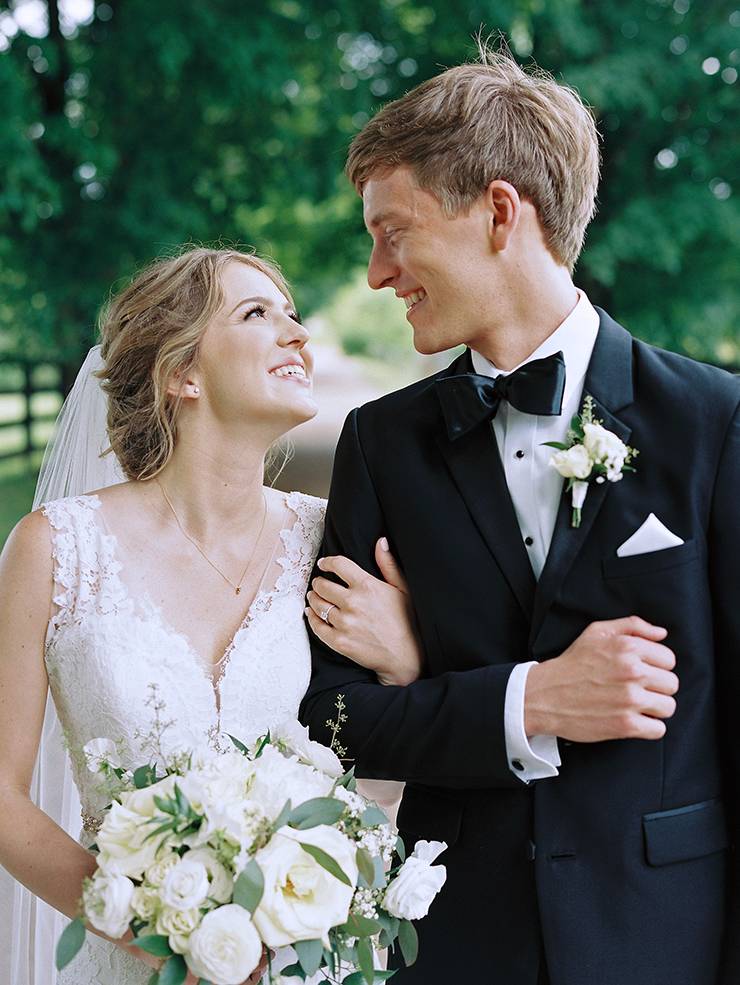 Lesson learned during COVID-19: For the Fairs, the past year had presented plenty of curveballs. Prior to the pandemic, they were planning a big wedding in Mary Grace's hometown of Nashville. Instead, they settled for a small event in Mary Grace's parents' backyard last May.
They also moved to Durham, where they knew nobody, in the midst of a pandemic. But they've been able to make friends in their Durham neighborhood and found a welcoming faith community at the Christ Central Church.
"If I look back on the past year, one of the biggest takeaways is that things don't always go the way that you planned them, but that doesn't mean that it's not going to turn out to be good," Fair said. "This is not how I would have drawn it up, but it's turned out to be really sweet."
Something most people don't know about him: For his last year at Auburn, Fair worked for the branch of CRU, a Christian campus ministry. In that role, he met with students and talked about faith and life over coffee or games of pick-up basketball.
Fair's relationship with his faith was cemented when, after a spiritually unsatisfying and empty-feeling freshman year at Auburn, he began to make deep connections with others through CRU. So getting the chance to return the favor held a special meaning.
"People on those type of roles did outreach to me and that changed my life," Fair said. "I felt more fulfilled, I felt like I had more hope and a clearer picture of who I wanted to be."
How are you working in a new normal? Tell us about it or nominate a colleague by writing to us or completing this story idea form.