Colleagues Who Lift Spirits in Pandemic Times
Meet Duke employees who build camaraderie with a DJ session and more
They weren't performing on Broadway, but that didn't curb their enthusiasm.
Dressed in white lab coats, scrubs and colonial garb, four acquaintances from Duke and elsewhere danced and sang a modified version of "My Shot" from the hit musical "Hamilton."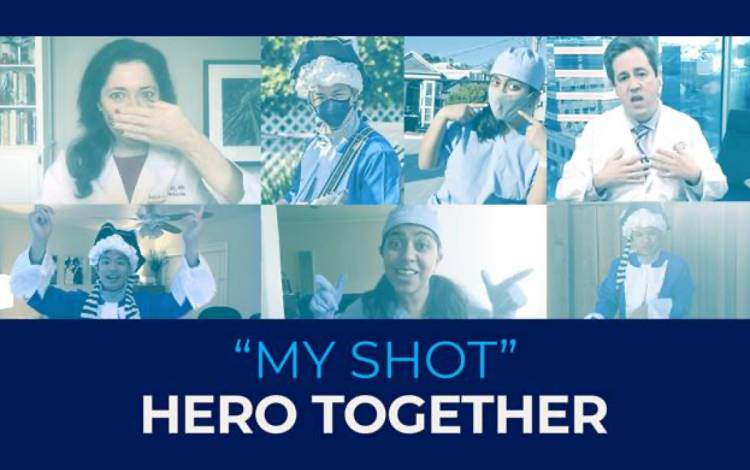 "So tired of isolation. Bring on the vaccination. I am not going to miss my shot," they sang.
Using smartphones and Zoom meeting footage, the video recording of the performance spotlights doctors and nurses who rap to lyrics written by Emily O'Brien, associate professor in Population Health Sciences, while performers puts on masks and images of Duke employees getting vaccinated appear on the screen.
"The news is still pretty dire, and everyone is working incredibly hard, so I thought a fun project like the video would be a good way to lift our spirits," said Adrian Hernandez, one of the vocalists and professor of medicine and vice dean and executive director of the Duke Clinical Research Institute. "Hopefully, it'll make you smile and encourage you to get your shot."
Across Duke, employees are bringing a reprieve from challenging times with videos, humorous memes, inspiring quotes and even an online DJ hour. A good laugh creates strong social bonds and reduces cortisol – a primary stress hormone, according to Tyler Higgs, assistant professor in psychiatry and behavioral sciences.
"Your team needs to give itself permission to be silly," Higgs said. "Putting emojis or gifs into an email, sharing funny videos in a newsletter, those little acts are a way to have some bonding and improve well-being."
See how some employees at Duke are brightening days.
Put the needle on the record
With imaginary headphones pressed against her ear and purple lights flashing on a virtual background of a disco dance floor, April Dudash threw her arms into the air as Rihanna's "We Found Love" started playing during a Zoom gathering.
About 15 employees immediately joined Dudash on Zoom, shimmying at their desks and dancing in their offices to the beat of the music.
"Y'all are giving me a workout," Dudash told them. "Look at all your moves."
Soon after the pandemic outbreak, Dudash started hosting "Café DJ Zoom," playing her favorite upbeat music and songs by request. Dudash, who usually has a virtual disco background behind her, dances at her desk and encourages attendees to do the same.
She started "Café DJ Zoom" after getting rave reviews for playing music ahead of virtual town hall last May. Dudash now hosts the online dance party once a month for any employee who wants to join.
Staples for each Café DJ Zoom include MC Hammer's "U Can't Touch This," "We Are Family" by Sister Sledge and Elton John's "I'm Still Standing."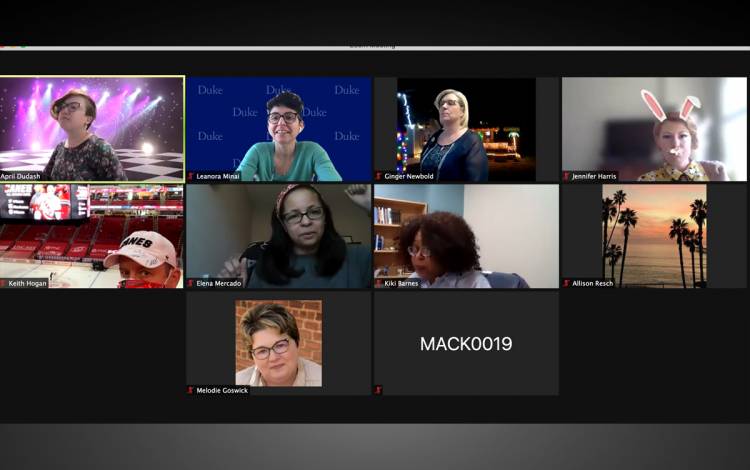 "Music fills my heart and makes me feel so joyful, and I know it does the same for others," Dudash said. "Café DJ Zoom can be whatever you want it to be: an easy listening experience, a dance party, exercise or therapy. It's a way we can lift each other up."
Keith Hogan, HVAC foreman for Duke Regional Hospital, attends most Café DJ Zoom sessions while on a lunch break. Hogan loves hearing Earth, Wind & Fire's "September" and "Let's Dance" by David Bowie.
"The dance party always makes my day better," Hogan said. "I leave Café DJ Zoom energized. You feel the stress and pressure of the day just leave you. April is amazing for doing this."
Employees interested in joining a Café DJ Zoom can send an email to Dudash.
Quotes that inspire
An area on a dry erase board is devoted to motivational messages, and each day, a new quote makes its way on to the board in the Duke Raleigh Hospital Sterile Processing unit:
"Think good thoughts. Do good deeds."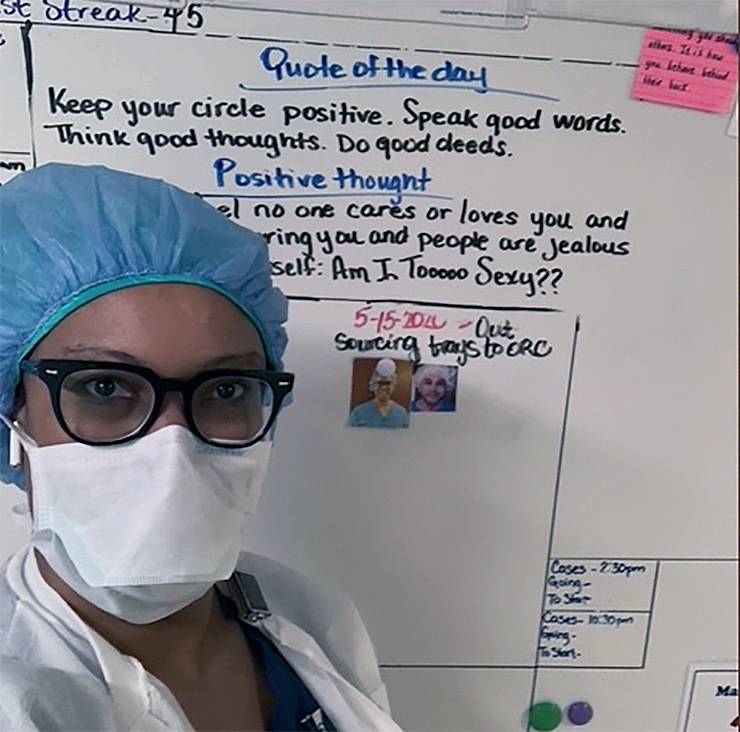 Taneshia Walker, manager of sterile processing for Duke Raleigh, is behind the tradition, which started in 2016 with Walker posting quotes such as "Every new day is a chance to change your life" on her office door and "Dream big and work hard" in the hallway.
She now adds a daily quote to the dry erase board to boost morale as the hospital treats COVID-19 patients.
"Affirmations have always been very important to me," Walker said. "I've found that they're a good way to create positive attitudes."
She also shares positive and funny quotes at the end of each morning meeting. And recently, colleagues started bringing their own quotes to the meeting.
"Taneshia has been like a ray of sunshine for our team," said Christina Dickerson, a sterile processing technician lead. "Especially in the early days of COVID, I could pull a positive quote out of my brain and repeat it to myself to get a spark."
A fun spark to routine email
At first glance, the image in Lynn Perkins' email contains nothing more than a white rug. Stare at it longer, and you'll begin to see the outline of four paws, a black nose and the ears of a small dog blending into the rug.
"Day 3. Humans still think I'm lost," the image says.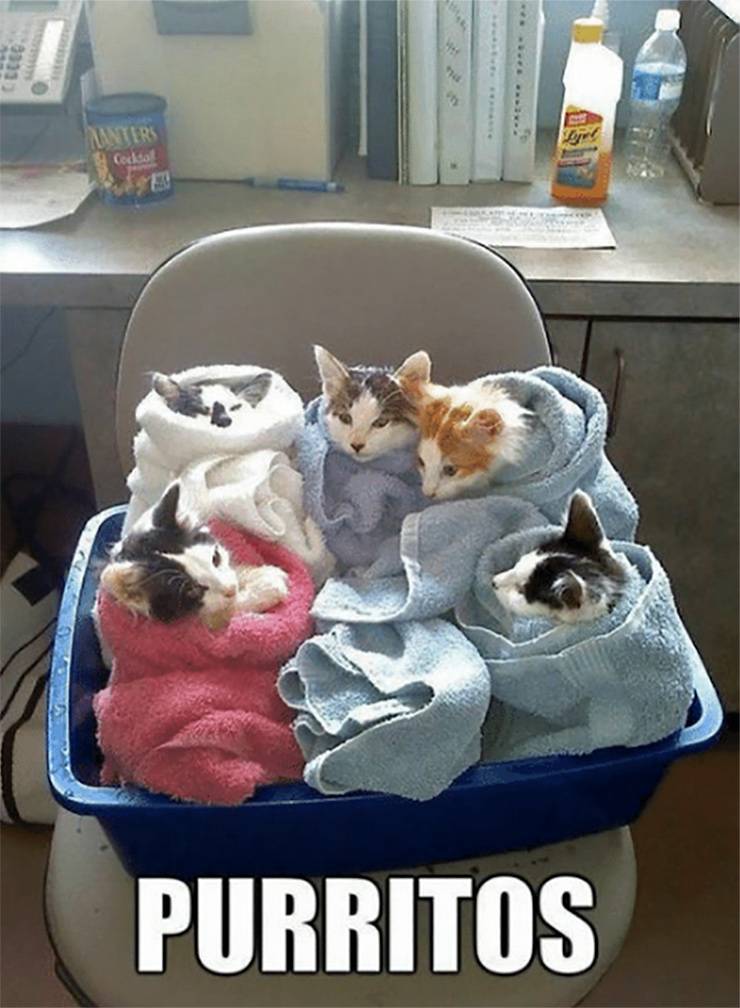 The photo is part of Perkins' goal to inject levity into her monthly email reminders to employees to complete their timecards.
Last spring, Perkins, a project leader in Mega Trials for Duke Clinical Research Institute (DCRI), started adding a funny meme, always featuring animals, as a way to engage colleagues while working remotely.
The memes show off wide-eyed cats playing with ribbons with "Omg! Omg!" text accompanying the photo, a dog covered in red lipstick that it chewed up and cats bundled into blankets with the text "Purritos."
"When we were in the office, we'd have gatherings, do potlucks or have some other activity," she said. "The memes are a way to make people smile with a repetitive email I have to send. It's my little way of enhancing relationships."
Shelley Brunson, clinical trials specialist for DCRI, said the email reminders about her timecard are something she looks forward to.
"I'm appreciative for the memes because every little bit of humor counts," Brunson said. "Laughing has been my best medicine for stress."
Got a story idea? Send ideas, shout-outs and photographs through our story idea form or write working@duke.edu.