Working in the New Normal: The Show Keeps Rolling for Athletics
Amid challenges, Emily Hunter and her team continue to bring Blue Devils games to audiences
Name: Emily Hunter
Position: Director of Live Events and ACC Network, Duke Athletics
Years at Duke: 3 years
What she does at Duke: Hunter helps Duke fans get closer to the action, whether they're on campus or not. She oversees the Blue Devil Network team responsible for producing content for in-game video boards at Brooks Field at Wallace Wade Stadium and Cameron Indoor Stadium and makes sure teams from ESPN have everything when producing games for ESPN networks or the ACC Network.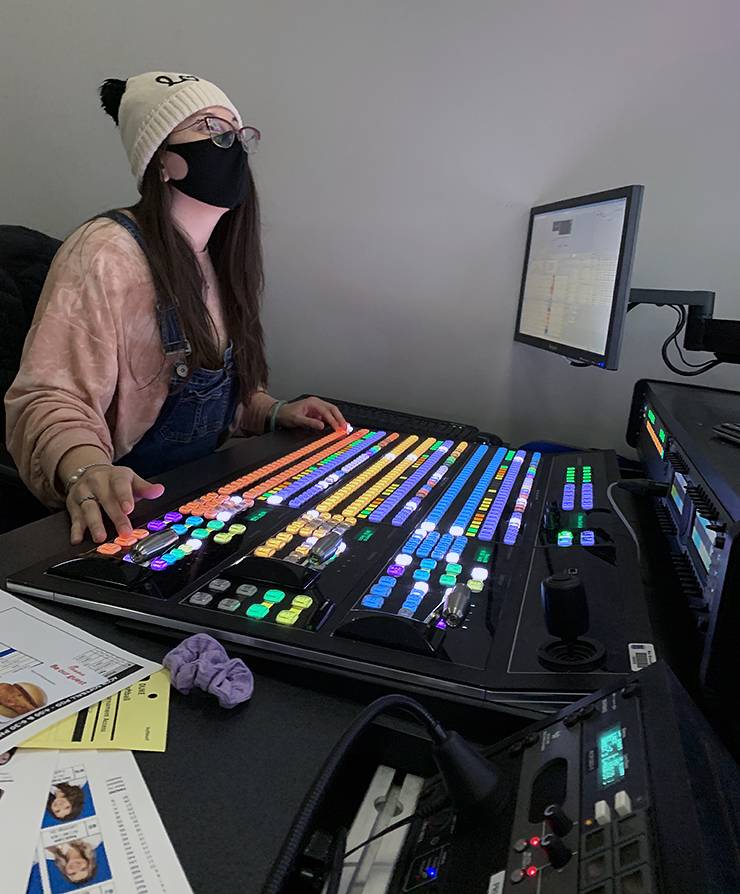 How her job has changed since the pandemic: Much of Hunter's work takes place in the high-tech broadcast control room in Blue Devil Tower. But since the onset of the COVID-19 pandemic, the room, which also has plexiglass dividers between workstations, has had a limit of six people – about half of its normal capacity – to help with physical distancing.
And the work Hunter and her team does in there has increased as sporting events at Duke unfolded without fans due to COVID-19 safety protocols. In-game video boards were in use for football and men's basketball as a way to give players a more authentic in-game atmosphere. Meanwhile, ACC Network broadcasts of most Duke sports continued to be managed by Hunter and her team.
In the past, ESPN would send down a production truck for football games and run its broadcast from there. Twice last fall, ESPN broadcasts were run out of the Blue Devil Tower control room, using a combination of ESPN and Duke staff members.
"Hopefully we'll have more of that in the new normal," Hunter said. "It was pretty fun."
What aspect of your work are you most proud of during these challenging times? The challenges faced by Hunter and her Blue Devil Network team went beyond COVID-19 safety and more responsibility. With the virus causing schedules for most teams to change often, her team had to regularly shift around work priorities and be flexible. Hunter said she appreciated how willing her team was to adjust on the fly and maintain and positive attitude.
"They're rock stars," Hunter said. "They've taken on the challenge of producing it all on our own and run with it. They're awesome. They've been great through all of this."
How she maintains her well-being: Hunter said that daily yoga breaks have been helpful, allowing her to get mentally centered, focus on her breathing and feel present in the moment.
And just as beneficial have been the long walks she takes with her dogs, Falcon, a 5-year old cocker spaniel, and Vader, a 4-year old lab-pitbull mix.
"He's a big boy, he's 70 pounds," Hunter said. "He's probably closer to 80, but I'm going to say 70 because the vet wants him to get down there."
During the early days of the pandemic, when athletic events were paused and she had more time at home, the periodic walks with Falcon and Vader helped clear her head and got her outdoors. And the feisty-but-friendly relationship between her two dogs ensured things never got dull.
"They play a lot," Hunter said. "They sound like they're wrestling for the last treat every time they play, though."
Lesson learned during COVID-19: For Hunter, the past year has underscored the importance of keeping a positive attitude. She said it's not just healthy for her own mental well-being but it can also help those around her.
"I've tried not to let little things get me down and just maintain a positive attitude," Hunter said. "I think that's the hardest part because it's tough. There's all this stuff happening with the pandemic, you watch the news, and it can bring you down. And with the cancellations and events moving around, it can be hard to keep your head up. Working in a control room, if one person is down, it can bring everybody down. So just maintaining a happy, upbeat attitude and letting the small things roll off your back is a big thing."
Something most people don't know about her: While Hunter grew up in Florida, she's got roots in another sun-splashed state. Hunter was born in Hawaii and lived there until she was six.
"I've never been back because it just never worked out," Hunter said. "But this summer, we're planning a family trip – my mom, my dad and my brother – and we're going to go back. We're super excited!"
How are you working in a new normal? Tell us about it or nominate a colleague by writing to us or completing this story idea form.