Two Duke Students Receive Udall Scholarships
Award recognizes students with a commitment to careers in the environment or Native American tribal public policy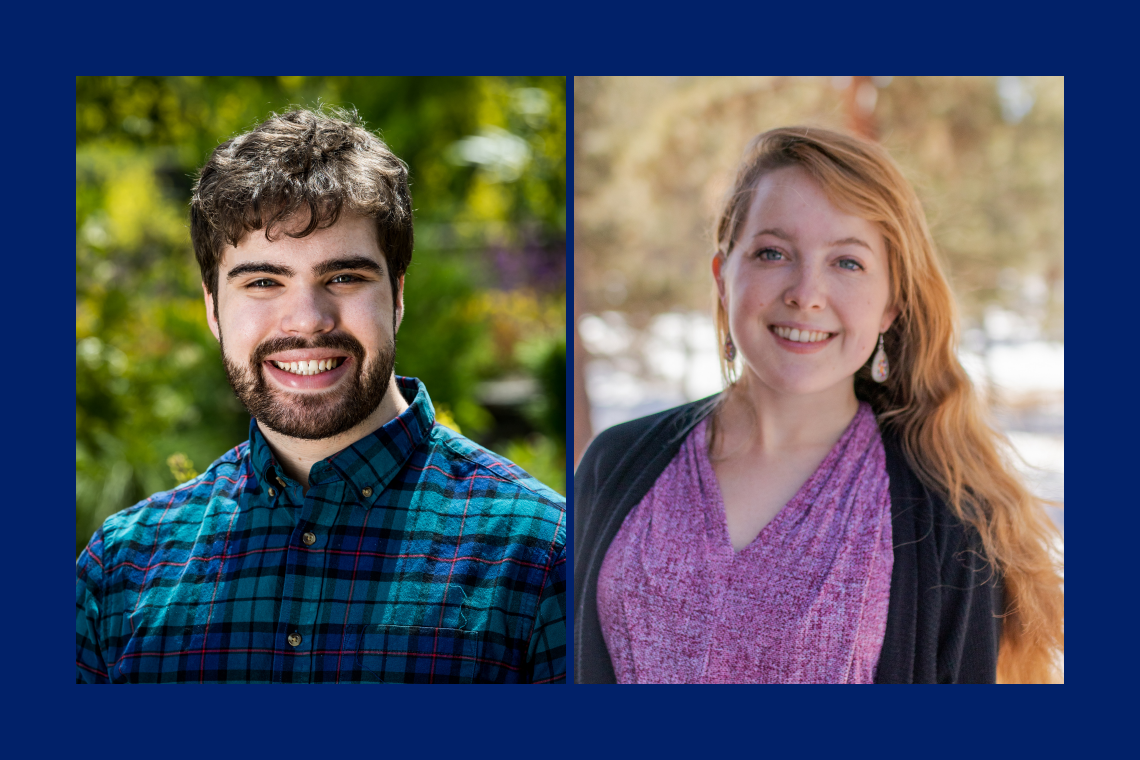 DURHAM, N.C. -- Two Duke University students are recipients of the Udall Scholarship, which recognizes students who have demonstrated a commitment to careers in the environment or Native American tribal public policy. 
Junior Joy Reeves of Frederick, Maryland, and sophomore Quinn Smith of Albuquerque, New Mexico, will receive the scholarships. Reeves is one of 37 scholars chosen for her work with environmental issues; Smith is one of nine scholars chosen for his work in tribal public policy.
Reeves is majoring in environmental science and policy and is a Huang Fellow, studying science communication. She is also a published author, having written her book, "Growing Up in the Grassroots: Finding Unity in Climate Activism Across Generations," while at Duke. 
Reeves is an Alumni Endowed Undergraduate Scholar and has participated in the Duke Climate Coalition, the Duke Energy Club and the Duke Environmental Alliance. She has done research on saltwater intrusion into coastal forests with the Wright Lab. 
Ultimately, Reeves aspires to earn a master's degree in environmental management and work in the area of energy justice, helping to ensure that marginalized communities benefit from renewable, sustainable energy resources.
Smith is a citizen of the Chickasaw Nation who is majoring in public policy and history with a concentration in documentary studies. He plans to use his skills as a documentarian and creative writer to bring attention to issues of indigenous justice and create public pressure for positive change. 
At Duke, Smith has worked with Duke Gardens as a researcher, creating audio documentaries of indigenous communities throughout the Carolinas describing their relationship with the land. 
Smith has been a Hart Leadership Fellow and a Kenan Institute Scholar's Fellow and plays violin in the Duke Symphony Orchestra. He has actively worked to recruit more Native American students to Duke through his work with the Native American Student Alliance, the Duke Native Student Fly-In program and Duke Admissions.
Smith has also worked for the federal Indian Arts and Crafts Board, creating a photodocumentary about the Blackfeet Nation and Glacier National Park for the Museum of the Plains Indian. 
Currently he is an intern for the All My Relations podcast, which explores indigenous issues, and he is working on a documentary about the Chickasaw Nation's efforts to revitalize the Chickasaw language.
A 20-member independent review committee selected this year's group of Udall Scholars on the basis of commitment to careers in the environment, Native health care or tribal public policy, leadership potential, record of public service and academic achievement. The review committee also awarded 55 honorable mentions, which included Duke juniors Ayden Case and Carsten Pran.
Duke students and alumni can receive support for opportunities like the Udall Scholarship from the Nationally Competitive Scholarships team at the Office of Undergraduate Scholars and Fellows. For more information on the Udall Scholarship, visit www.udall.gov.