Comments Sought for Regular Review of Medicine School Dean Mary Klotman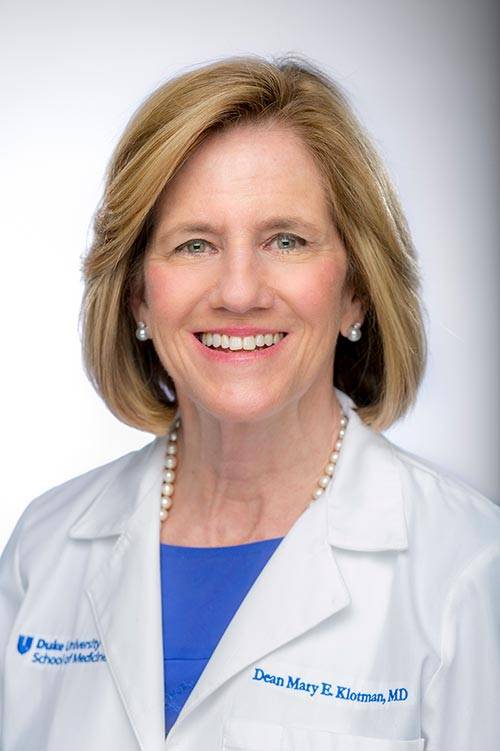 Regular reviews of school deans are conducted in the fourth year of their five-year term by a faculty committee. Such a committee has been appointed to review Mary E. Klotman, dean of the Duke University School of Medicine, who has served in her post since 2017.
Bill Boulding, dean of the Fuqua School of Business, will chair the committee.
Other members include:
Gary Bennett, vice provost for undergraduate education, and director, Duke Global Digital;
Jiaoti Huang, chair of pathology;
Viviana Martinez-Bianchi, director of health equity, department of family medicine and community health;
Kathleen McGann, vice chair, office of pediatric education;
Cynthia Shortell, executive vice chair, department of surgery, and chief, division of vascular and endovascular;
Scott Soderling, chair of cell biology;
Allen Song, director, brain imaging and analysis center, radiology;
Paula Tanabe, vice dean for research, School of Nursing; and
Joanne Wilson, professor, medicine/gastroenterology.
A nationally recognized leader in academic medicine, Dean Klotman served as chair of the Department of Medicine in the Duke University School of Medicine for seven years prior to her current post. She earned her undergraduate and medical degrees from Duke University and returned to Duke in 2010 from Mount Sinai School of Medicine.
The charge to the committee poses several questions for the review, including
Strategic leadership of the school, including faculty recruitment, retention and promotion as well as the overall vision of the school;
Commitment to diversity and to interdisciplinary research and education;
Communication with faculty, staff and students;
Administrative competencies including budgetary development and oversight;
Relationships with other schools and offices of the university; and
Fundraising, and more general development activities including donor and alumni relations.
The committee invites members of the Duke community to share thoughts on these matters, or on any others that are pertinent to the review.
The committee will keep all comments confidential, and no comments will be attributed to individuals in the final report prepared for Provost Sally Kornbluth and Chancellor Eugene Washington. Comments may be delivered to any member of the committee or electronically to Rukmini Balu, chief of staff to the chancellor for health affairs, at rukmini.balu@duke.edu.
The report should be submitted to the provost and chancellor by Aug. 2, 2021.