2021 Algernon Sydney Sullivan Award Honors Generous Spirits
Award recipients embody humanitarian service in Duke, Durham and abroad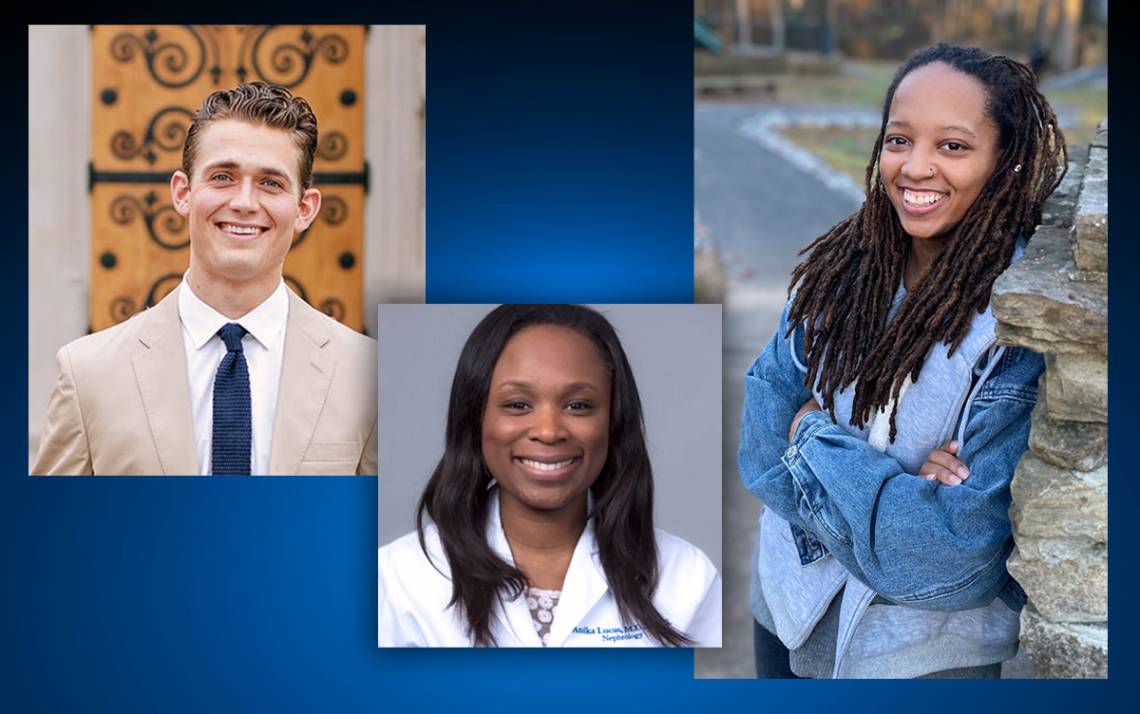 Duke honored the altruism of Duke staff member Anika Lucas and students John Amodeo and Tatayana Richardson on Friday with the Algernon Sydney Sullivan Award. 
The award recognizes one graduating senior and members of the faculty, staff or graduate student body from Duke University or Duke University Health System for outstanding commitment to service. 
Provost Sally Kornbluth and Leslie Parkins, assistant vice president and director for civic engagement, honored the recipients during a virtual ceremony on Friday. Parkins and Kornbluth cited the winners' deep dedication to care for others and make the world a better place.
"This award is presented to individuals who exhibit qualities of selflessness, service, character, integrity and depth of spirituality," Kornbluth said. "These are exceptional members of our community."
The Algernon Sydney Sullivan Award was established in 1925 to honor the memory of Sullivan, a southerner who became a prominent lawyer, businessman and philanthropist in New York in the late 19th century. The award recognizes individuals who exhibit qualities of selflessness, generosity of service, nobility of character, integrity and depth of spirituality. 
This year's recipients were chosen by two Duke selection committees who review nominations and recommend honorees to the Office of the Provost. 
Learn more about the 2021 winners: 
Anika Lucas
House Staff, Duke Department of Medicine's Nephrology Division
Anika Lucas combines passions for medicine and theology to help people around the world. 
As a chair for Duke's Women in Nephrology Group, Lucas has fostered mentoring programs and hosted speakers to talk to the group about women's health. Lucas also served on the American Society of Nephrology Diversity and Inclusion Committee, where she helped with implicit bias training for nephrologists.
"In both her personal and professional life, she exudes a sense of optimism and purpose that inspires those around her to be better doctors, better parents and better people," said Duke faculty Matthew A. Sparks, Christina M. Wyatt, Myles Wolf and Ruediger W. Lehrich in their nomination. 
Lucas has taught elementary school students in underserved areas of Detroit and planned voter registration and smoking cession campaigns around Philadelphia. She also traveled to Kenya to build a dormitory and lecture on kidney disease, stress management and healthy living.
"This trip solidified my dual callings for medical and spiritual care," Lucas said. "I'm honored and challenged to improve the lives of others."
John Amodeo
Ph.D. student, Duke University School of Medicine's Program in Cell and Molecular Biology
The Sullivan Award committee selected John Amodeo for displaying a generosity of service in a short time at Duke.
Amodeo, who began his Ph.D. program in the fall of 2020, has been a steady presence at the COVID-19 vaccination clinic in the Karsh Alumni and Visitors Center. He arranges transportation, logs patient information and manages traffic flow. Amodeo is also a leader in Duke's Biosciences Collaborative for Research Engagement team, a graduate student program designed to unify Duke's bioscience community. He helps celebrate and promote diversity through the program with outreach events, fundraisers and social gatherings for individuals from underrepresented communities. 
"Although it may seem unusual to recommend a student who so recently matriculated at Duke, John has already distinguished himself at Duke in so many dimensions," Beth A. Sullivan, associate dean for research training for Duke Molecular Genetics and Microbiology, said in her nomination.
Outside of Duke, Amodeo co-leads a bible study that provides emotional, physical and spiritual support. He also teaches in a children's ministry that provides free childcare for families in Durham.  
"Much to Duke's credit, there is an astounding number of opportunities to serve and support others," Amodeo said. "This allows me to live my convictions and to pursue self-sacrifice, service and spirituality."
Tatayana Richardson
Duke University Senior 
Tatayana Richardson, a senior majoring in religious studies and African and African American studies, helps Duke students and students in Durham achieve academic and personal success.
Richardson is part of the Duke Peer Advising Program, where she helps first and second-year students form mentoring relationships with faculty, navigate online course registration and decide on academic interests. She designs lesson plans, meets weekly with local students and leads a book club on Black and Latinx writers for Duke's North Carolina LiteracyCorps, a statewide consortium helping with the educational needs of local communities.
Richardson also delivered the student sermon at Duke University Chapel in March.
"Remarkably reflective, her passion for justice, brilliant mind and steadfast commitment to an expansive vision of the beloved community have made her a prominent leader at Duke," Jennifer Knust, professor of religious studies, wrote in her nomination. "Tatayana's selflessness, generosity, integrity and spiritual depth are readily apparent to us and to so many."
Richardson's passion for faith-based activism took her to the U.S.-Mexico border in 2019. While there, she researched the difficulties of migration, discussed LGBTQ+ immigrant rights and learned about immigration rights and laws. 
"I will forever be grateful for this honor," Richardson said. "Thank you to my community, who have made it possible to be the awesome human being I am today."
The nominees for each Sullivan Award category include:
Faculty/Staff/Graduate Student Category
Abdullah Antepli, Duke Sanford School of Public Policy 
Stafford Balderson, Dept. of Surgery/Physician Assistant for Cardiovascular & Thoracic Surgery
Monica Bodd, School of Medicine, Duke Divinity School
Kimberly Bradsher, Neurosurgery
Rosalinda Canizares, Physical Therapy & Occupational Therapy
Patrick Codd, Neurosurgery
Alexandria Da Ponte, Biomedical Engineering
Anne Derouin, School of Nursing
Sara Emory, Psychiatry Clinical Services, Duke University Health System
Joseph Govert, Medicine / Pulmonary & Critical Care
DeAnne Harrison, Development & Alumni Relations, The Fuqua School of Business
Ethan Hicks, Civil and Environmental Engineering
Catherine Kastleman, Nicholas School of the Environment
Annette Lancaster, Clinical Placement Office for the MSN Program at Duke School of Nursing
Marc Losito, Sanford School of Public Policy/National Security ad Tech Policy
Kirsten Overdahl, Environmental Analytical Chemistry
Nicole Stantial, Molecular Genetics & Microbiology
Emily Stewart, Franklin Humanities Institute
Kathleen Tobin, Neurosurgery
Khanh Vien, Biology Department
Sarahn Wheeler, Obstetrics and Gynecology
Julian Xie, MD/MPP
Undergraduate Student Category 
Alejandra Gomez, Public Policy Studies and Minor in Education
Victoria Bevard, Philosophy
Got something you would like for us to cover? Send ideas, shout-outs and photographs through our story idea form or write working@duke.edu.