Playlists To Get You Through the Pandemic
Duke colleagues create special playlists to stay in tune while working remotely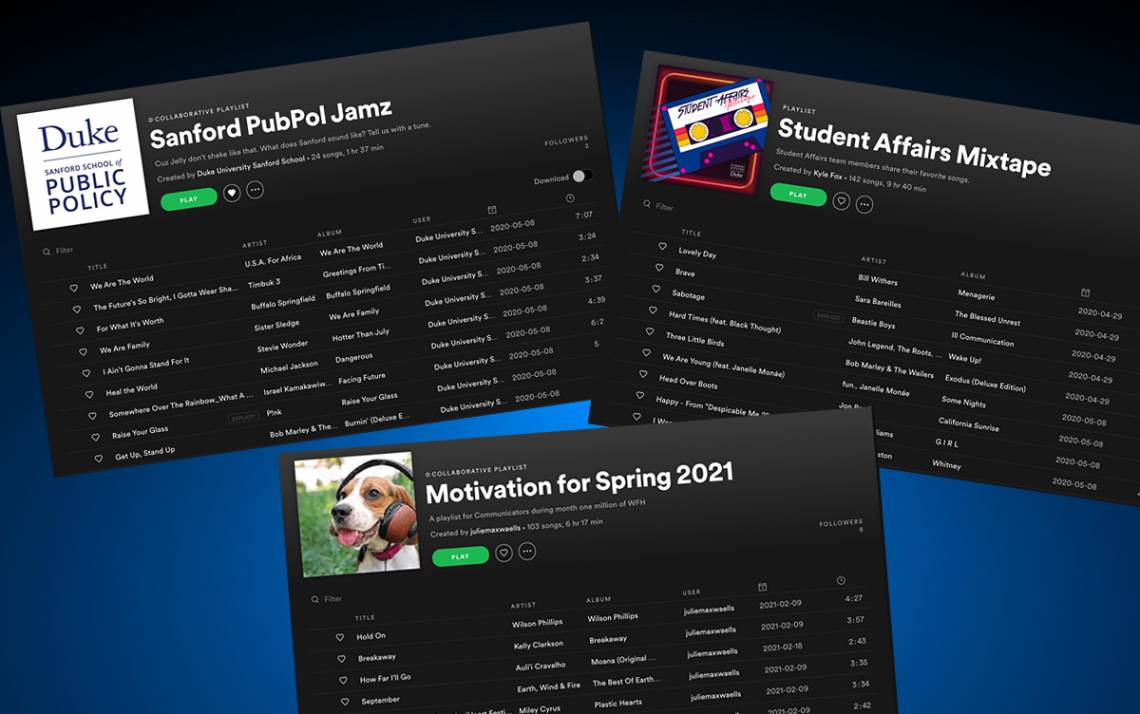 While working from home, Julie Maxwell finds inspiration from music.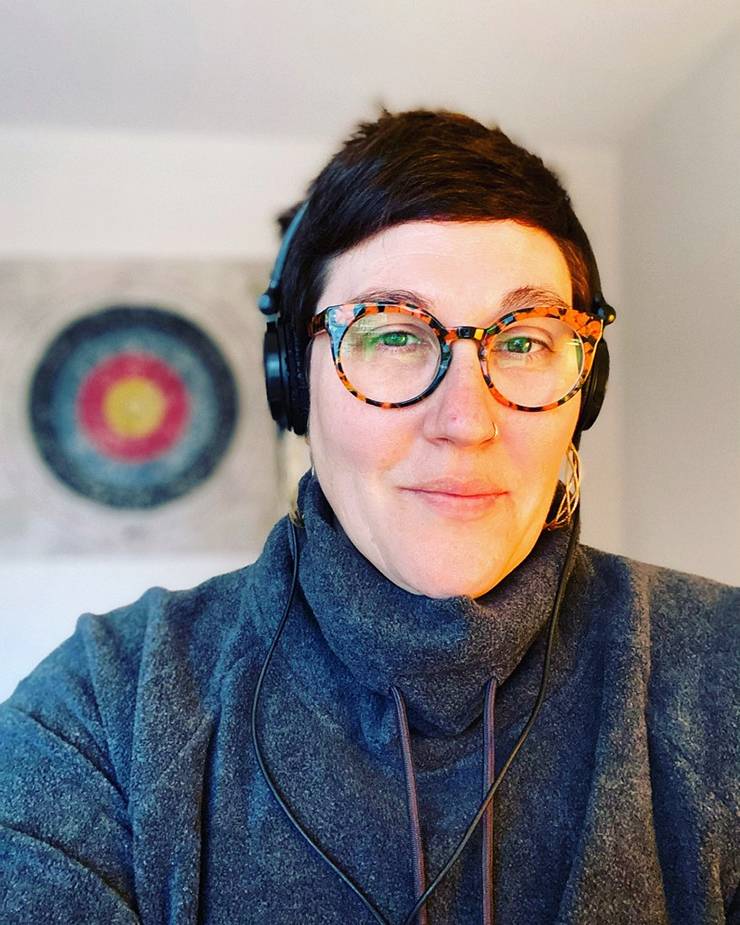 Dolly Parton's "9 to 5." The disco throwback of Dua Lipa's "Levitating." And the bass guitar riffs in "Sabotage" by the Beastie Boys.
The songs are a sample of the 103 tracks on the six-hour playlist, "Motivation for Spring 2021," that Maxwell created in February after asking dozens of colleagues for music that helps motivate them.
"Life has been so sedentary since the pandemic," said Maxwell, program coordinator for Duke's Islamic Studies Center. "I needed a spark. Music has always been a great energizer and mood-booster for me."
Listening to music helps us focus and tune out distractions, but it also lifts moods and fosters bonds among people and communities.
"Coworkers can connect over their interests in the same genre of music or share why certain songs resonate with them," said Anthony Kelley, associate professor of the practice of music at Duke. "Music is a blueprint for creating personal connections while we are siloed away from each other."
Check out some music playlists.
Student Affairs Mixtape
Kyle Fox gets to know colleagues in Duke Student Affairs five songs at a time.
Fox, who co-manages the "SA Break Room," a monthly newsletter of light-hearted content for 500 department colleagues, includes five songs that a staff member is listening to with reasons why they recommend each track. He also adds the songs to the unit's Spotify playlist, "Student Affairs Mixtape"
"Student Affairs Mixtape" playlist has 142 songs, including "Magic Shop" by Korean pop group BTS, "Love Unreal" by heavy metal band Black Label Society and Aretha Franklin's "Freeway of Love."
"Different songs resonate with different people, so we've formed a really eclectic playlist," Fox said. "It's fun to take a listen and try to guess who might have submitted the song."
Shelvis Ponds Jr., a residence coordinator with DukeReach, recommended "Deep End" by Xavier Omär for its message of connecting to a loved one during difficult times and "Get Free" by Mereba for its reminder that liberation is on the other side of struggles.
"Music is a way for me to process where I'm at emotionally," Ponds said. "If I'm having a rough day, then I want a song like 'Get Free' that's going to encourage me to get through it. I wanted to share that song with my coworkers in case it helps them."
Sanford PubPol Jamz
Judith Kelley, dean of the Sanford School of Public Policy, once entered a Zoom meeting with fellow Duke University deans playing "The Night Won't Last Forever" by pop-country singer Michael Johnson.
The song had been in Kelley's head for a few days, ever since she listened to it on the Sanford School's "Sanford PubPol Jamz" playlist.
"The song's lyrics, 'I know the sun is gonna shine sometime,' signified a message of hope we can all use," Kelley said.
In May of last year, a group of Sanford communicators asked staff, faculty and students to pick a song that represented the school's mission to improve lives through public policy. Submissions such as Sister Sledge's "We Are Family," "Don't Stop Believin'" by Journey and Bruce Springsteen's "We Take Care of Our Own" rolled in to make a 24-song playlist.
Carol Jackson, digital communications strategist, submitted the medley of "Somewhere Over the Rainbow" and "What a Wonderful World" recorded by Hawaiian singer Israel Kamakawiwoʻole.
"Graduation was nearing at the time, and the playlist seemed like a good idea to unite us during a time when we're all celebrating together," Jackson said. "We could spread some joy."
Kelley added John Lennon's "Imagine" for the song's vision of a better world.
"'Imagine' overlaps with so many of our school's goals to contribute to a better world," Kelley said.
Blue Devil Boost
Early on in the pandemic, Working@Duke asked staff and faculty to share songs that lifted their spirits during these unprecedented times.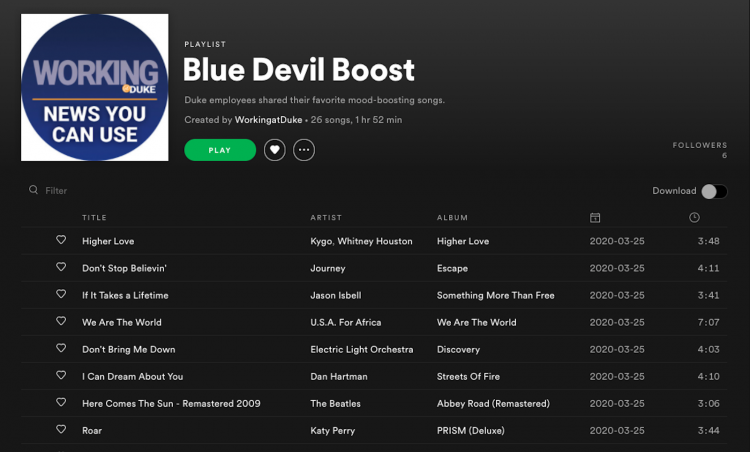 Listen to "Blue Devil Boost" for tracks by Billy Idol, The Beatles and Katy Perry.
Melodie Goswick, director of supply chain for Duke Regional Hospital, submitted "I Can Dream About You" by Dan Hartman.
"I love the tempo and lyrics," Goswick said. "It just brightens my mood and makes me want to dance."
Send your ideas, shout-outs and photographs through our story idea form or write working@duke.edu.