Duke's Presidential Award Winners Meet the Moment in 2020
From a global pandemic to reckoning with inequality, winners rise to unprecedented challenges
From frontline health workers helping patients, to staff and faculty members figuring out everything from surveillance testing to remote teaching, everyone at Duke responded to the COVID-19 pandemic in their own way.
The challenges facing Duke in the past year were varied and numerous, and the Duke Presidential Awards for 2020 recognize the historic contributions.
The Presidential Awards program, organized by the Office of the President in partnership with Duke Human Resources, recognizes individuals and teams from the University and Health System who best demonstrate the values that define and shape Duke as an institution. The awards are the highest honor given by Duke to staff and faculty members. Many of this year's winners helped Duke rise to the challenge of the COVID-19 pandemic and the difficult national dialogue on race and social justice.
"I am delighted to congratulate this year's Presidential Award winners, who were selected from our most competitive ever field of nominees," said Duke University President Vincent E. Price. "Over the past year, we have faced unprecedented challenges as a community, and the leadership of these awardees has helped keep us safe, healthy, and engaged—and on course toward a more inclusive and vibrant future for Duke. We can all be proud to call them colleagues."
On April 14, 2021, celebrate the Presidential Award honorees virtually during a video premiere honoring the winners.
Here are the Presidential Award recipients for 2020.
TEAM WINNERS
Duke Human Vaccine Institute
Since 1990, the Duke Human Vaccine Institute (DHVI) has been a leader in developing vaccines and treatments for infectious diseases. So from the earliest days of the COVID-19 pandemic, the 13-member DHVI team played a key role in Duke's response. The DHVI's Regional Biocontainment Laboratory team trained hospital workers about protective equipment and helped establish methods for researchers to safely study the virus. The DHVI's Denny Lab developed an in-house test processing method that allowed the university's surveillance testing system to keep a close watch on COVID-19's effect on campus.
"The DHVI team has performed outstanding clinical and translational research, and with incredible efforts of testing, has helped to keep the campus safe," Duke University School of Medicine Dean Mary Klotman wrote in her nomination for the awards.
DHTS Telehealth
When the COVID-19 pandemic began, it became clear that Duke would need to greatly expand its telehealth offerings in order to safely serve patients. Much of the work of quickly building and maintaining the infrastructure for comprehensive video visits was taken up by a 13-person team from Duke Health Technology Solutions.
The results of their work were hard to miss. In January of 2020, Duke health care providers conducted around 100 video visits. At the height of the pandemic, Duke conducted around 2,000 visits per day.
"The teamwork demonstrated by these cross functional and multi-disciplinary individuals was impressive, and it remains so," wrote nominator Matt Roman, DHTS chief digital strategy officer. "This team has performed work that will be foundational to the growing digital health platform to better support the patients of Duke Health going forward."
Duke Health Marketing and Communications
In the early days of the pandemic, the job of providing accurate and timely information about the threat of the virus, what community members should do to stay safe, and what Duke was doing to respond, was especially critical.
Media relations strategists Erin Hull, Shawn Rocco and Mike Garrison rose to the moment, using video, photography and storytelling to document the courage of front-line workers and dedication of Duke employees who worked behind-the-scenes to support Duke's patient care and campus safety efforts.
"Armed with their cameras, this video team put their jobs first and themselves on the front lines to help hospital leadership communicate to employees and the public about the steps being taken to keep everyone safe,"  wrote Deborah Geiger, director of content strategy for Duke Health Marketing and Communications.
Duke Family Medicine
On March 13, 2020, a handful of Duke Family Medicine staff members tested the first Duke students for COVID-19. Months later, as thousands of Duke and Durham community members were tested in a large on-campus drive-through tent, the staff of Duke Family Medicine was still at the heart of the operation. In addition to learning and refining testing protocols, maintaining safety procedures and training other staff members helping with the effort, a core group of 23 Duke Family Medicine staff members played a pivotal role in tracking the spread of the virus.
"The pandemic has brought out the best in many of our health care teams across the Duke system," wrote nominator Geri Wahlay, a clinical nurse with Duke Family Medicine. "It has allowed us the opportunity to step up and show the community at large the Duke values that we live every day. This team at Duke Family Medicine has been at the forefront of the outpatient response in helping Duke to not only take care of the patients, but the employees and students as well."
Student Contact Tracing
A key part of Duke's safe fall semester was played by the Duke Student Contact Tracing team, which stayed on the trail of COVID-19 when it touched campus. The team of 17 full-time redeployed staff members and around 100 part-time volunteers learned how to interview students who had positive COVID-19 tests or could have been exposed to the virus, helping get them quarantined.
The team's mix of dedication, compassion and respect helped limit the virus' spread and allow Duke to complete a successful semester of on-campus instruction.
"They stepped up to provide their strengths and transferrable skills to a project that they were just learning themselves," wrote nominator Laura Andrews, associate dean of students. "Team members had never worked together before but they immediately set to their task with respect and trust in each other to accomplish this work in the name of safety for our Duke and Durham community."
LATIN-19 Team
Early on during the COVID-19 pandemic, Duke faculty members convened the Latinx Advocacy Team & Interdisciplinary Network for COVID-19 (LATIN-19). Made of 56 volunteer members drawn from Duke University and Duke Health system, and with backgrounds in health care, public policy, education, business and community activism, the group worked to identify and remedy pandemic-related disparities facing the Latinx population. The group helped improve access to testing, contact tracing and care for the Latinx community, increase the amount of Spanish language COVID-19 information available and guide state and local policy changes. All of these steps helped reduce the infection rate among Durham's Latinx community.
"Every aspect of this group has been extraordinary," said Duke University School of Medicine Dean Mary Klotman. "They have taken their commitment to our community and turned it into action, filling huge gaps in providing support, advocacy, information and care for our Latinx community in North Carolina."
Cameron Wolfe and Thomas Holland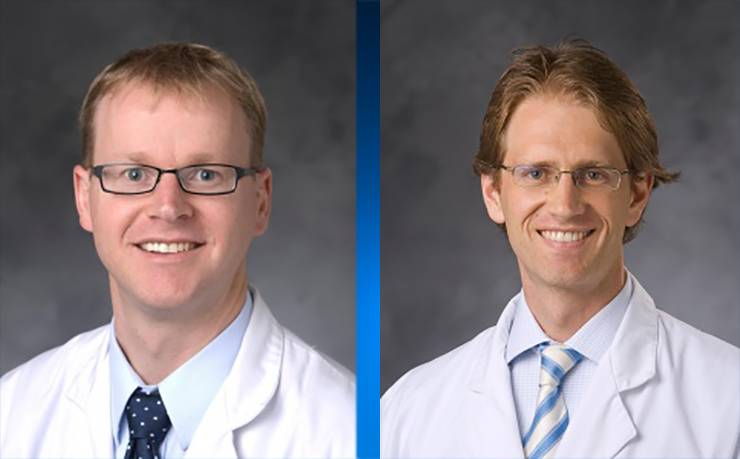 Thomas Holland, a hospitalist and infectious disease physician, led in-patient clinical teams caring for COVID-19 patients while helping Duke's other infectious disease experts better understand the challenge the virus posed. Meanwhile, Cameron Wolfe led Duke's Biological and Emergency Preparedness team, offered his expertise to Duke's vaccine distribution effort, helped design the Atlantic Coast Conference's COVID-19 safety plans and became the reassuring face of Duke's pandemic response to the community and world.
"Their efforts are having an impact locally at Duke Health as well as globally," wrote Kathleen Cooney, the George Barth Geller Distinguished Professor of Medicine Chair of the Department of Medicine and one of the pair's nominators. "They represent the best of Duke Health and have worked tirelessly during the pandemic to directly address this public health crisis."
INDIVIDUAL WINNERS
Charley Kneifel, Senior Director, Duke Office of Information Technology
Prior to the COVID-19 pandemic, Charley Kneifel had earned a reputation for a collaborative spirit and ability to find creative ways for technology to help Duke run more efficiently. But once COVID-19 forced Duke's information infrastructure to take on new challenges, Kneifel led the charge.
Among other efforts, Kneifel played key roles in developing a secure information infrastructure which allowed Duke team members to work together despite staying distance. He also helped create the SymMon app and the infrastructure behind it, giving Duke a key cog in its COVID-19 safety plan.
"Charley has advanced collaborative and inclusive approaches throughout the university and health system; promoting the exploration of how technology can improve the processes and efficiencies needed across the health system and campus," write one of his nominators, Duke OIT Senior Director Robert Johnson.
David Arrington, Chief Financial Officer, Associate Dean for Finance and Administration, Sanford School of Public Policy
Colleagues credit David Arrington for helping set a tone of selflessness and inclusion at the Sanford School both with his positive attitude and willingness to meet challenges head on.
When the COVID-19 pandemic forced much of the school's staff to work remotely, Arrington volunteered to serve as the Return To Work Coordinator, answering colleagues questions about safety protocols and university policies. Prior to 2020, he also pushed for a more equitable atmosphere at the school by helping develop fair hiring guidelines and setting up gender-neutral bathrooms.
And in his role overseeing the schools buildings, he's also been known to move furniture, set-up tents to help with physical distancing and even pull weeds on the grounds.
"He works tirelessly on behalf of the school and all employees to create a community culture," said Sanford School Dean Judith Kelley. "David truly embodies the values of our university in his actions, words and decisions. Every day, David brings Duke's shared values to the forefront of his work – respect, trust, inclusion, discovery and excellence."
Erin Wood, IT Analyst, Senior, Duke Cancer Institute Information Systems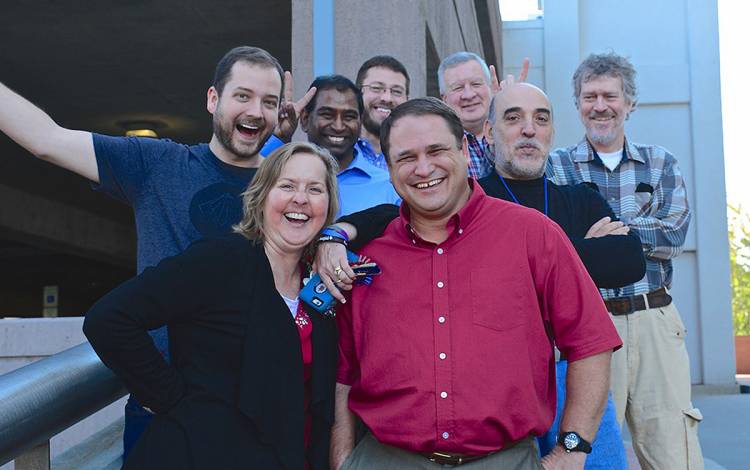 As a stage 4 colon cancer survivor, Erin Wood throws herself into the work of the Duke Cancer Institute, and her other roles as an advocate for and colon cancer awareness and a sympathetic supporter of colon cancer patients.
While continuing to undergo treatment, she remains a dedicated and positive colleague for her teammates.
"Erin constantly shows an incredibly positive attitude and spirit, a dedication to Duke's patients and staff, and has an intricate understanding of what the staff and patients need from the unique perspective she readily provides," wrote nominator Geoffrey Chenger, Duke Cancer Institute Information Systems IT Manager. "Not only have I never heard her complain about any of this, she stays so positive that it is an inspiration to all of us. Her spirit reminds all of us why we are really coming to work today."
John Anderson, Chief Medical Officer of Duke Primary Care, Assistant Professor, Family Medicine and Community Health
During his 35 years at Duke, John Anderson has demonstrated the value of collaboration and accountability. That came into focus during the COVID-19 pandemic, when he gave his team the freedom to create innovative solutions to the unprecedented challenges the COVID-19 pandemic posed.
As a result, Duke Primary Care was able to quickly build systems to effectively and safely deliver testing and care to the wider community. He also kept the large Duke Primary Care team informed and inspired through regular online town hall meetings.
"Throughout his career and even more so during this pandemic, Dr. Anderson has demonstrated his leadership in his ability to tap on shoulders and be a strong proponent of raising up leaders," write Duke Primary Care Physician Lisa Nadler, one of Anderson's nominators. "He frequently reminds us that it 'takes a village' with a continuous emphasis on teamwork and leading by example."
Kafui Dzirasa, Ranga Rama Krishnan Associate Professor Associate Professor of Psychiatry and Behavioral Sciences; Assistant Professor of Biomedical Engineering, Neurobiology and Neurosurgery 
In addition to doing groundbreaking research using neuroscience, bioengineering and computational approaches to examine the roots of mental illness, Kafui Dzirasa is a tireless advocate for, and mentor to, underrepresented minorities in science and medicine.
He's worked to create a lab defined by inclusion and become a national voice on issues of racial inequality in science and academia.
"Dr. Dzirasa is a truly unique member of our community: a trailblazer, an innovator, a caring colleague, an activist and an inspirational leader across many dimensions," wrote Moira Rynn, chair of Duke's Department of Psychiatry & Behavioral Sciences and one of Dzirasa's nominators. "He is a powerful force for positive growth and change at Duke, and his contributions make our institution—and the world—a better place."
Robin Miller, Associate Vice President of Disbursements and Training, Duke Finance
Prior to the pandemic, Robin Miller had a big job overseeing many of the financial transactions that keep Duke's complicated enterprises going. But when COVID-19 struck, Miller spearheaded efforts to change payroll, reimbursement and other payments from paper processes to electronic ones while also ensuring compliance and approval methods stayed in place.
Miller, who is retiring later this year, also helped meet the needs of both her team members who shifted to remote work and those that were required to continue to work on-site.
"While her resume of accomplishments is impressive, her legacy will be the behaviors, the positivity and the collaboration she demonstrated along the way," said nominator Gwen Hall-DiFabio, director of the Office of Education for Research Administration and Finance. "People pull rabbits out of hats not because of magic, but because Robin inspires, encourages, believes in them and puts them in a position to succeed."
Victoria Krebs, Associate Dean of Students, Title IX Outreach and Response, Office of Student Conduct, Dean of Students Office
Using her combination of empathy, selflessness and attention to detail, Victoria Krebs provides timely, thorough and thoughtful responses to allegation of sexual misconduct on campus.
She has also been a reliably calming presence to her colleagues during stressful times such as the onset of the COVID-19 pandemic, and makes herself available to help with major campus events such as family weekend, new student move-in and the last day of classes.
"Victoria is a trusted confidant, compassionate leader and a tireless advocate for fairness and equality," wrote nominators Associate Dean of Students Amy Powell and Assistant Dean of Students David Frankel. "Her colleagues across Student Affairs and the larger university deeply appreciate her excellent work and unfailing good attitude."
Michael Howard, Managing Director of Recreation Facilities, Duke Recreation & Physical Education
As Duke students returned to campus in the fall of 2020, Michael Howard's job was to figure out how to allow them to exercise safely in the Wilson Recreation Center. With Howard leading the charge, the Duke Rec team was able to implement a plan that covered cleaning protocols, spacing policies and a scheduling system that allowed students to reserve times to work out. And as the events of 2020 sparked dialogue on issues of race, Howard consistently lent his voice to campus committees and initiatives aimed at social justice.
"The fact that we were able to keep our doors open for the entire semester was a major victory for our department, all thanks to Michael," wrote Chris Policastro, director of recreation facilities for Duke Rec and Howard's nominator. "He is passionate about making positive changes in our community."
Got something you would like for us to cover? Send ideas, shout-outs and photographs through our story idea form or write working@duke.edu.